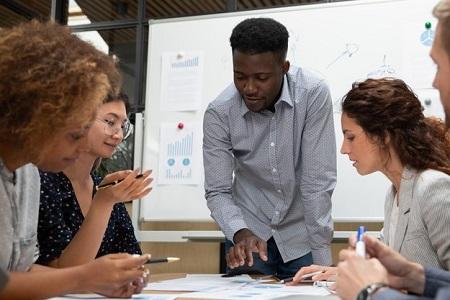 FPG is committed to addressing the critical issues of equity, diversity, and inclusion and the ways educational inequality, barriers to inclusion, and systemic racism impact the lives of children. In 2019, FPG created the Equity, Diversity, and Inclusion (EDI) Office as part of a strategic planning process that identified these issues as core values and made the culture of FPG a key priority. The EDI Office is led by Betsy Ayankoya, FPG's director of equity, diversity, and inclusion. Ayankoya and the EDI Office provide guidance and assistance to individual FPG projects and staff in examining practices, policies, and behaviors that support an anti-racist and culturally welcoming environment. In addition, Ayankoya facilitates groups and provides training on welcoming diversity, bias, and prejudice reduction.
The Marvin H. McKinney Scholars Program in Research, Practice, and Policy at FPG honors FPG collaborator and Executive Leadership Board emeritus member Marvin H. McKinney, PhD, who has spent his career committed to breaking down barriers of racial and economic inequality that put children at risk. The goal of this summer internship program is to create and support a pipeline for individuals who attend historically Black colleges and universities (HBCUs) and are interested in pursuing careers in child development.
For more information and to apply for the McKinney Scholars Program, click here.
RACE Committee Publications
Prior to the creation of the EDI Office, FPG's award-winning RACE Committee elevated awareness, promoted dialogue, and facilitated a positive work climate, while fostering the development of culturally attuned and culturally relevant work. The committee also conducted a public awareness campaign about racial equity that incorporated these resources:
Betsy Ayankoya, MEd, is a senior technical assistance specialist, an associate director of the Early Childhood Technical Assistance (ECTA) Center, and the director of equity, diversity, and inclusion (EDI) here at FPG. In a recent Q&A, Betsy was asked why focusing on equity, diversity, and inclusion as an Institute is so important to our mission. She replied, "Our mission is to advance the lives of children. So, we think about the work we do and who it impacts ... all of us are thinking, ultimately, about the kids and the families. We need to be doing work that supports them, that is inclusive, instead of introducing barriers. Doing this EDI work allows us to examine the decisions we are making within our projects and examine how equity is part of the work we're doing. When you're making decisions, have you considered the real needs of those you're serving? Have you considered their perspectives and what works for them and why? Are we just working from a theoretical place, or are we including stakeholders on these projects that have direct experiences with these groups? As individuals, we also need an equity framework, so we bring that to our projects."
Learn more about FPG Equity, Diversity, and Inclusion Director Betsy Ayankoya in this article.
Director of Equity, Diversity, and Inclusion
919.962.7313 
Assistant Director of Equity, Diversity, and Inclusion
919.966.8324
Equity, Diversity, and Inclusion Resources