Self-Regulation Snap Shot #3: A Focus on Elementary-Aged Children
from the Office of Planning, Research and Evaluation
2018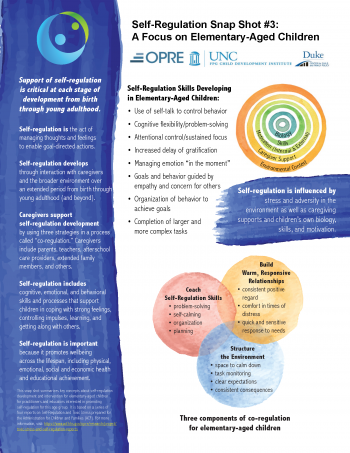 This snap shot is one of several from a series on self-regulation through each of six phases of development. FPG's Desiree Murray and Duke Center for Child and Family Policy's Katie Rosanbalm co-authored the series.
You also can access the other snap shots from the series.
Each brief is available for free and for re-use without permission.
Available here:
Self-RegulationSnapshot#3.pdf
Citation:
Murray, D. W., & Rosanbalm, K. (2018). Self-regulation snap shot #3: A focus on elementary-aged children (OPRE Report #2018-12). Washington, DC: Office of Planning, Research, and Evaluation, Administration for Children and Families, U.S. Department of Health and Human Services.