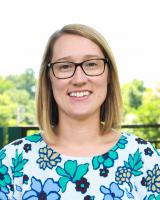 Jenna Montgomery Armstrong
Implementation Specialist
Campus Box 8180
Chapel Hill, NC 27599-8180
Education
North Carolina State University
North Carolina State University
The University of Alabama
Human Development and Family Studies,
The University of Alabama
Biographical Statement
Jenna Montgomery Armstrong, PhD, is an implementation specialist with the Impact Center at Frank Porter Graham Child Development Institute at The University of North Carolina at Chapel Hill. She partners with communities, coalitions, and state agencies to optimize the outcomes and sustainability of population level evidence-based interventions using implementation science. Also, she participates in ongoing implementation evaluation to promote the production of generalizable knowledge in implementation science to decrease gaps among research, practice, and policy.
Dr. Montgomery Armstrong received her PhD in School Psychology from North Carolina State University where her research focused on the prevention of maltreatment through evaluation of evidence-based parenting programs with vulnerable families such as those experiencing homelessness. During this time, she was fortunate to earn funding from several internal grants/awards within North Carolina State University and a Doris Duke Fellowship for the Promotion of Child Well-Being that supported her research. Dr. Montgomery Armstrong is a license eligible psychologist in the state of North Carolina and has experience providing direct psychological services in various community settings with an expertise in providing trauma informed parent-child assessment and intervention. Dr. Montgomery Armstrong is passionate about making evidence-based practices accessible to underserved families.