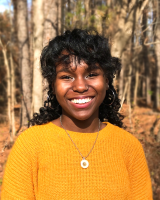 Jordan Thomas
Campus Box 8115
Chapel Hill, NC 27514-3616
Education
Psychology | Concentrations in Neuroscience and Spanish,
The University of North Carolina at Chapel Hill
Biographical Statement
Jordan Thomas graduated from the University of North Carolina at Chapel Hill with a BA in Psychology and minors in Neuroscience and Spanish. She works as a Social/Clinical Research Assistant at the UNC Frank Porter Graham Child Development Institute (FPG) in many capacities.
She began her career at FPG working on a grant renewal application with the Carolina Consortium on Human Development. Now, she works with Dr. Sherika Hill assisting her research on rurality and youth mental health. Under Dr. Hill, Jordan conducts research for grants and manuscripts; data capture, synthesis, analysis, interpretation, and dissemination processes; and dynamic data visualization using the latest software and website design. Through her work with the FPG Policy Division, Jordan also works with Dr. Diana Fishbein on projects related to translational research, research to policy translation, and implementation science. Lastly, Jordan serves as the Program Manager of the Carolina Seminar Series, headed by Dr. Aysenil Belger.
Jordan's individual research interests includes parenting and parent-child relationships across the lifespan with a particular focus on improving mental health outcomes in diverse and underrepresented individuals and families in terms of race, ethnicity, gender, and sexuality.