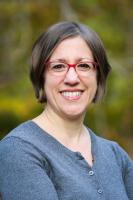 Mary E. Bratsch-Hines
Advanced Research Scientist
Sheryl-Mar North, Room 124
Campus Box 8040
Chapel Hill, NC 27599-8040
Academic Affiliation
Adjunct Assistant Professor
Education
University of North Carolina at Chapel Hill
University of North Carolina at Chapel Hill
University of North Carolina at Chapel Hill
Biographical Statement
Mary Bratsch-Hines, PhD, is an advanced research scientist at Frank Porter Graham Child Development Institute at The University of North Carolina at Chapel Hill. Her research interests include language and literacy development, professional development for pre-K and elementary teachers, effective classroom practices, child care quality and stability, normative outcomes for children of color, and rural families and schools. Mary is Co-PI for the Targeted Reading Intervention (TRI), a web-based coaching professional development program for early elementary classroom teachers. TRI was designed to help teachers in low-resourced schools implement differentiated reading instruction for students. Results show significant word recognition and reading comprehension gains for students with low fall literacy skills. TRI is currently funded by the Institute of Education Sciences (PI: Steve Amendum, Univ. of DE) to examine the efficacy of the TRI for English learners.
Mary has worked for several years on the Family Life Project (FLP), a birth-cohort study of a representative sample of children born in six PA and NC high-poverty rural counties. Using FLP data, Mary has investigated child care instability (e.g., sequential changes, multiple concurrent arrangements). She was awarded an R03 from NIH to continue her work in child care instability. Mary also provides statistical assistance for an FLP grant funded by NIH (PI: Vernon-Feagans).
Finally, Mary is project director of Early Education in Rural North Carolina, an Early Learning Network (ELN) study funded by Institute of Education Sciences (PI: Margaret Burchinal, UNC). UNC is one of six partners (MDRC, Ohio State, UVA, UN-Lincoln, and UC-Irvine) conducting in-depth research in a variety of educational settings to identify malleable factors associated with children's school readiness and achievement as they move from pre-K to elementary school.
In her role on these projects, Mary coordinates recruitment, data collection, management, and analysis, and professional development implementation and fidelity. She actively writes manuscripts and grants aiming to help understand and improve children's educational outcomes, particularly related to language and literacy.