New Issue of Early Developments Draws on the Visionary Writing of James J. Gallagher
Date Published:
02/10/2014
From Research to Practice:
Professional Development, Technical Assistance, and Implementation Science
the introduction from the newest issue of Early Developments,
drawing from the visionary work of the late James J. Gallagher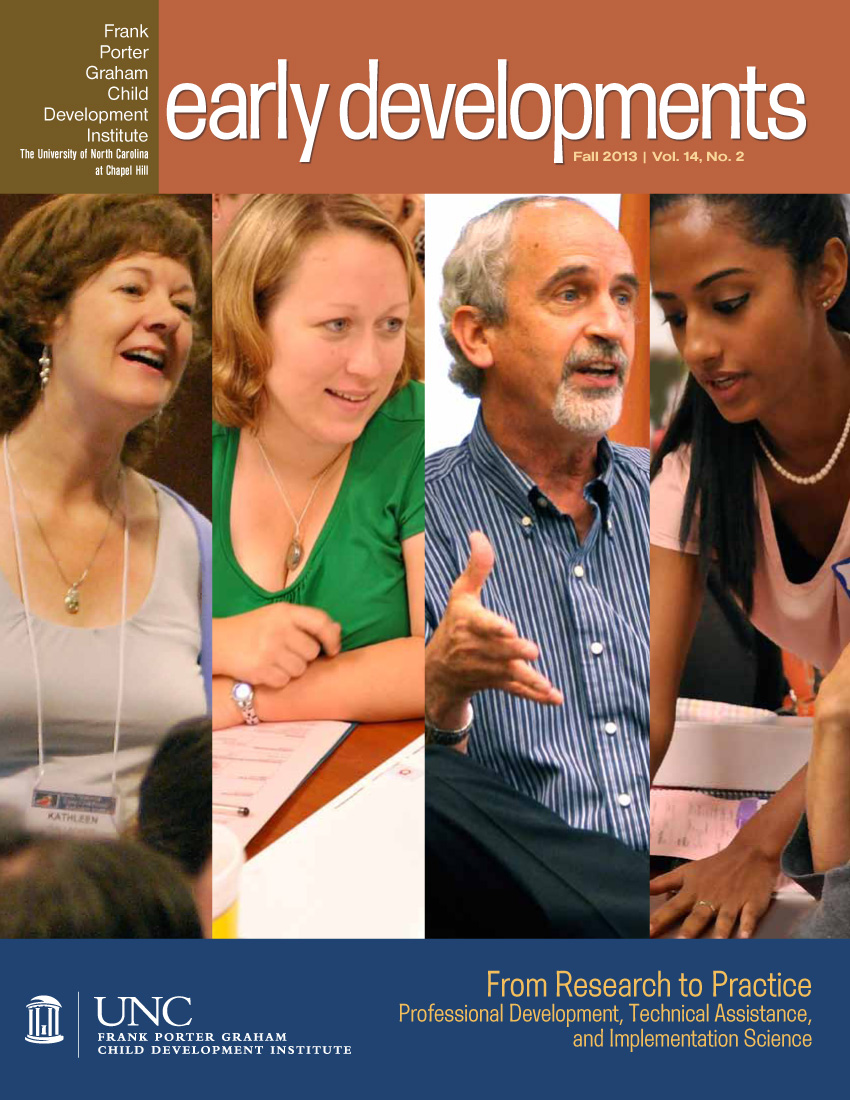 In a recent article for the Roeper Review, FPG senior scientist emeritus James J. Gallagher called for the end of political attacks on teachers. For Gallagher, a former director of FPG, such attacks render us demonstrably weaker as a nation in the face of our international competitors" and are symptomatic of our nation's unilateral "educational disarmament."
"We can only imagine the roar of outrage if there were suggestions to cut half our Marine Corps units, put our aircraft carriers in mothballs, and reduce our satellite scanners by 60%," he wrote. "Yet we stand by while the core of our educational enterprise at all levels is bruised and dismembered."
In the same article, Gallagher also quoted the Business Roundtable, which in 2008 deeply feared the implications of such disarmament:
"One of the pillars of American economic prosperity—our scientific and technological superiority—is beginning to atrophy even as other nations are developing their own human capital. If we wait for a dramatic event—a 21st century version of Sputnik—it will be too late. There may be no attack, no moment of epiphany, no catastrophe that will suddenly demonstrate the threat. Rather, there will be a slow withering, a gradual decline, a widening gap between a complacent America and countries with the drive, commitment, and vision to take our place."
For Gallagher, education is a matter of U.S. security: "If the national defense plans for the 21st century are based on brains, not just bombs, then we need time and concentrated effort to create conditions where our education system turns out intelligent citizens ready to build a society that is impervious to outside influence or economic attack." In turn,he proposed steps toward developing a world class educational infrastructure.
As we present our Fall 2013 Early Developments, James J. Gallagher's "Educational Disarmament, and How to Stop It" is especially salient. For decades, FPG has been dedicated to providing many of the kinds of support and resources that he suggests expanding for our nation's troops—the teachers, administrators, and decision-makers on the front lines. This issue of Early Developments provides examples of the many ways that FPG contributes knowledge and expertise—beyond conducting research—to our educational system and other human services... more [see p. 5]
Browse the contents on the new Early Developments.
DS