Webcam Coaching and Pioneering Teachers Revolutionize Reading Instruction in NC
Date Published:
10/09/2013
For immediate use
Just outside the two-stoplight town of Norlina, NC, Northside Elementary stands at the forefront of reading instruction. Teachers at the Warren County school are part of an innovative pilot program in rural NC that has used live webcam coaching to help teachers with over 600 struggling readers.
Along with educators in five other NC counties, Northside's teachers have been collaborating with UNC's Frank Porter Graham Child Development Institute and UNC's School of Education on the Targeted Reading Intervention webcam project. The project uses a literacy coach, based at UNC, who provides real-time feedback by webcam to teachers while the teachers work in 15-minute one-on-one sessions with students. Each teacher can see and hear her literacy coach, and the coach can see and hear her as she works with the student.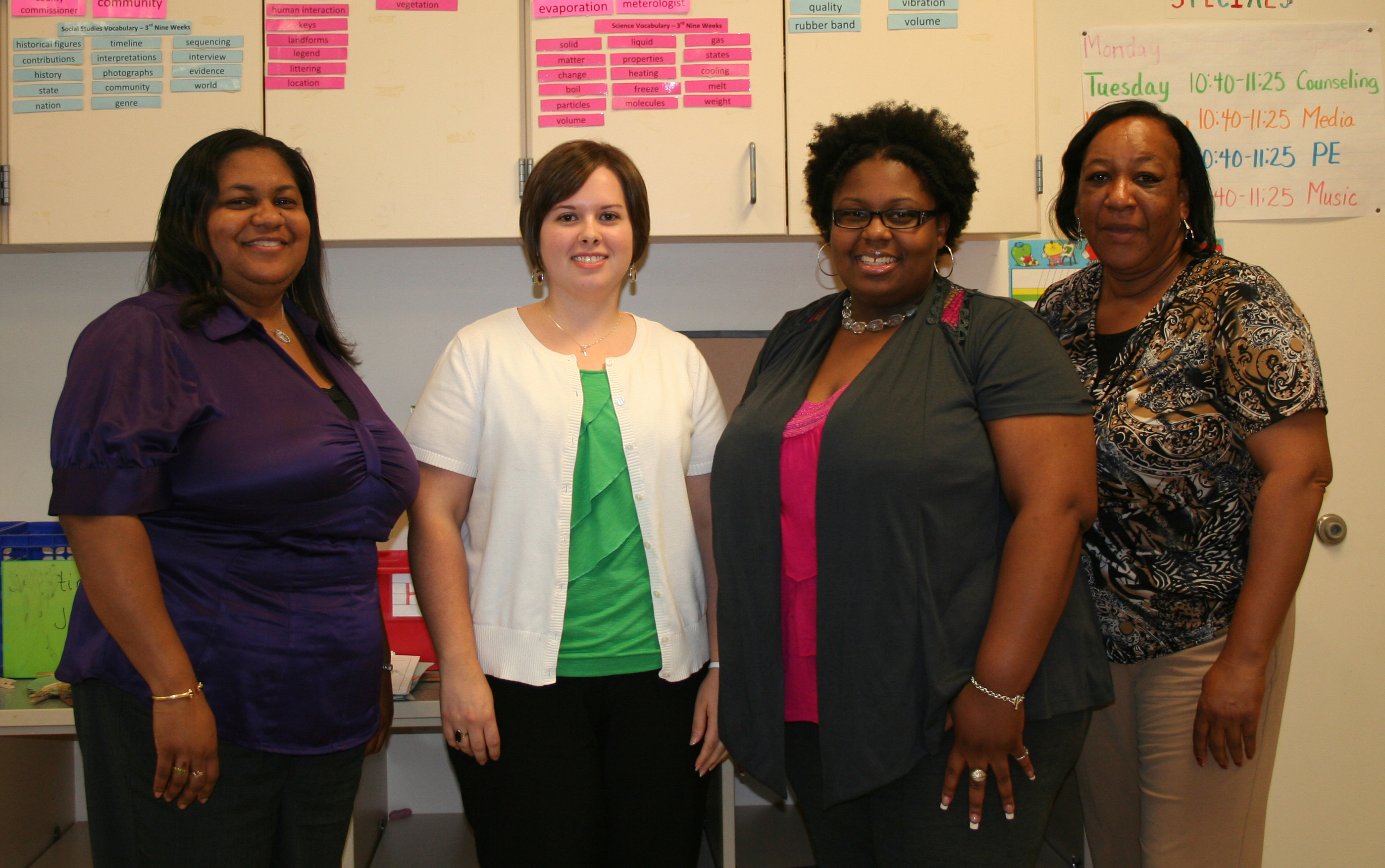 "Reading is the foundation for learning in school," says Lynne Vernon-Feagans, FPG Fellow and William C. Friday Distinguished Professor in UNC's School of Education. "And with the Targeted Reading Intervention, struggling readers are gaining at the same rate as their peers."
Such rapid gains are atypical for struggling readers, according to Vernon-Feagans, who developed the Targeted Reading Intervention's webcam approach. She says the TRI also is less disruptive to classrooms than other interventions.
Vernon-Feagans believes the project has the potential to place the state's teachers among the nation's elite in early reading instruction, and not only because of its classroom effectiveness. "You can't believe how inexpensive it is," she says. Instead of districts covering the costs of employing a reading specialist, hiring one-on-one tutors, buying a new curriculum, or paying the travel expenses of experts to remote rural areas, now a half-time graduate assistant can web-coach up to 12 teachers already in place in the schools.
"I'll be honest. At first, I was against it," says Katherine Wilson (far right), a kindergarten teacher at Northside. "I didn't see how I was going to pack something else into the school day. But it really does work."
Wilson is one of four teachers at the Warren County elementary school completing a certification program in the TRI. Joining her are Kendra Davis, Maryanne Henry, and Kristal Cozart (left to right), and together these teachers will help to sustain the TRI project at Northside by serving as coaches for their colleagues.
"We're the pioneers," says Davis, who teaches second grade. "Kids really love it, too. They show tremendous growth in their comprehension and fluency. They just get really motivated."
"The TRI builds confidence," says Henry, who adds that her first graders have valued the one-on-one time with her that the TRI provides. These sessions focus on reading for fluency, word work (a variety of strategies for helping students manipulate, say, and write words), and guided oral reading.
"It makes kids more willing to take risks with their reading," adds Henry. "They try harder words."
Northside student Kamaria Davis has received the TRI from Henry, and both the teacher and Kamaria's mother, Denise Davis, saw marked improvement in Kamaria's reading during the school year. "It helped Kamaria understand what she's reading," says Davis. "Now she's more interested in reading alongside me and in me reading stories to her."
Third grade teacher Kristal Cozart says the gains made by one of her previous students even helped to lessen sibling rivalry. "Two brothers that attend our school used to always fight and argue with each other," says Cozart. "The younger one, in kindergarten, could read, but the older one, in second grade, couldn't. Once the older one started making progress with his reading, they could read together and things calmed down at home."
At the other end of the TRI webcam, the FPG lead coach who works with Northside's teachers is Elizabeth Cutrer, a doctoral student in UNC's School of Education. "This is far more than a reading intervention," says Cutrer. "The TRI helps teachers really learn how to teach reading. Relationships take off with students, and the teachers see magical things."
According to Cutrer, children come to understand the TRI process so well that one student by herself even led the FPG coach through an entire session over the webcam. Another student who had learned the TRI model in her first grade class helped a fellow struggling reader by trying to teach it to him.
"I have enjoyed my teachers using the TRI," says Northside principal Sheila Washington. The TRI veterans at her school say the intervention has provided a toolkit they can use to teach their students.
In addition to Northside, elementary schools in Columbus, Franklin, Hertford, Person, and Wayne counties have used the TRI to help over 100 North Carolina teachers with struggling readers. Because even most remote NC schools have online access to free iChat or Skype services, the TRI team believes its webcam coaching can be effective in rural and non-rural schools across the entire state—and beyond.
"This is the new way of doing things," Cutrer says. "The pioneers at Northside prove that if you can make an impact on a teacher, then she'll impact the lives of many children and colleagues."
Contact:
Lynne Vernon-Feagans
Principal Investigator, The Targeted Reading Intervention
Fellow, UNC's Frank Porter Graham Child Development Institute
William C. Friday Distinguished Professor, UNC's School of Education
919.966.5484; 919.843.5623
lynnevf@email.unc.edu
See also: Live Webcam Coaching Helps Struggling Readers Make Rapid Gains
FPG grants permission to publish this story in part or in its entirety.
Image credit: Northside Elementary School teachers Kendra Davis, Maryanne Henry, Kristal Cozart, and Katherine Wilson (left to right), courtesy of UNC's Frank Porter Graham Child Development Institute.
D. Shaw