Life Journey Through Autism: An Educator's Guide to ASD (Level 1 Supports)
2017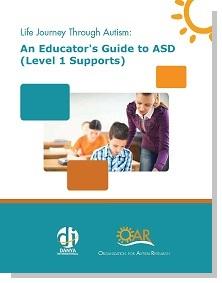 Autism Spectrum Disorder (ASD) is a complex group of disorders that presents numerous challenges within the inclusive classroom setting. This book provides guidelines for meeting the level 1 support needs of the child with ASD in your class, from elementary to high school. Specifically, the guide contains information on:
Understanding common characteristics of ASD (Level 1 Supports) and how they affect children differently in the classroom;
Promoting positive social goals and educating peers to avoid bullying;
Collaborating with parents and the student's IEP team; and
Implementing strategies to better facilitate learning in the student with ASD (Level 1 Supports).