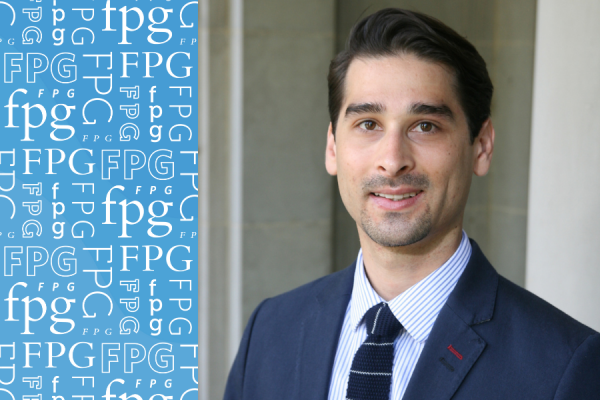 Carr excited to return to FPG and continue investigating early childhood education
Robert Carr's path to his current role as a research scientist at UNC Frank Porter Graham Child Development Institute (FPG) began in a Head Start preschool classroom in San Diego, CA. Working there as the coordinator of a volunteer program, he saw the benefits that Head Start provided to children and families. Yet, every year, he watched as children graduated from the program and he wondered whether those benefits would continue to last. That question has been the guiding force in much of his research since then and it's what motivated him to pursue his doctorate in education at UNC.
While earning his PhD at UNC, Carr's training and research experiences at FPG provided him with multiple opportunities to interrogate this question. He says that while working with an "all-star" team of mentors at FPG, he investigated how preschool programs benefit children's development—including the federal Head Start preschool program and North Carolina's NC Pre-K program. He also looked longitudinally as children transitioned into elementary school to investigate how their experiences in kindergarten contributed to the persistence of the preschool program boost.
His final year in the doctoral program culminated in a dissertation study that documented the Head Start boost and investigated children's classroom environments in kindergarten. This research was supported by the Head Start Graduate Student Research Grant from the U.S. Administration for Children and Families.
After earning his PhD, Robert completed his postdoctoral research training at the Center for Child and Family Policy at Duke University, where he led an investigation showing that the long-term effect of NC Pre-K was larger in school districts with lower rates of growth in academic achievement.
After completing his postdoctoral research training in September, Carr returned to FPG to continue investigating early childhood education programs, policies, and practices. Carr is working alongside Sandra Soliday Hong, PhD, an advanced research scientist at FPG who also leads the Institute's policy division. Together with the pre-K evaluation team, Carr and Soliday Hong are working on studies of pre-K programming in North Carolina and Georgia, in collaboration with education leaders in both states.
Looking back on lessons learned during the past several years as he thinks ahead to the future of research on early childhood education, Carr notes that the COVID-19 pandemic exposed a fundamental truth about early childhood education programs in the United States. "This work is essential" he says. "Early childhood educators were officially designated as 'essential workers' in many states and localities during the earliest days of the pandemic. But the truth is their work has always been essential and always will be."
As a researcher, Carr recognizes there are many big questions facing the field of early childhood education today and he believes those questions will no longer focus on whether children should participate in an early childhood education program. Instead, the field is becoming increasingly focused on how to measure and improve the quality of experiences children are having in these programs, an effort to which he is eager to contribute.
In future research, Carr aims to explore beyond the experiences children have during a single year of preschool in order to consider the scope and sequence of learning experiences children have as they progress across childhood, beginning at birth and extending through school. At the same time, he looks forward to working with educational leaders to design systems that can provide consistent, high-quality learning experiences across time. "Experiences should build in complexity and sophistication from the earliest ages and stages of development," says Carr, "leading to a smooth entry into kindergarten and then on to later success in school."
One of the reasons Carr returned to FPG is because it allows him to continue working in North Carolina where, he notes, local innovations in early childhood programs and policies have informed practice and policymaking more broadly. "I love living in North Carolina because I truly believe that understanding what works in our state can inform decision-making across the United States," he says. "I am excited that our state leaders have taken the initiative to create the B-3 Interagency Council to facilitate coordination and collaboration between our Department of Health and Human Services—where many of our early childhood programs are housed—and our Department of Public Instruction—where K-12 education is housed."
Soliday Hong says that she is thrilled that Carr has joined the pre-K evaluation team at FPG. "Dr. Carr is a fantastic colleague and brings a wealth of knowledge in quantitative research methods and expertise in early childhood transitions that will greatly benefit our pre-K work in Georgia and North Carolina," she says. "He will also participate in FPG's early career mentoring program where he will receive support in developing an independent program of research."
Carr is equally pleased to be back at FPG, where he aims to build on the Institute's historic legacy of research on early childhood education programs and advance the organization's mission. "I originally came to FPG in 2013 intent on learning how to conduct impactful research on early childhood education. My experiences as a student at FPG taught me how to generate evidence that could be used to inform policies and practices to promote positive outcomes for children," he says. "I have returned home to FPG in 2022 to apply what I have learned and pursue a career in research with these same intentions in mind."