The UNC Frank Porter Graham Child Development Institute (FPG) was founded in 1966 by a small group of scientists who had a vision—to conduct research that would make a difference in children's lives, support families, and inform public policy. Since its inception FPG has recognized that every child deserves a safe, healthy, and stimulating childhood; and our work has been dedicated to making this experience a reality for all children. For more than five decades, our research, evaluation, implementation, technical assistance, and outreach have shaped how the nation cares for and educates children.
Your Gift Matters
Our success in securing highly competitive grants and contracts has enabled us to build one of the largest early childhood research institutes in the country, but individual contributions like yours make the difference. Your charitable contribution to FPG is more than a gift. It is a demonstration of your commitment to helping children and families thrive. It shows that you understand the complex issues facing young children today and that you want to partner with us for a better tomorrow. Read more about the impact of your gift.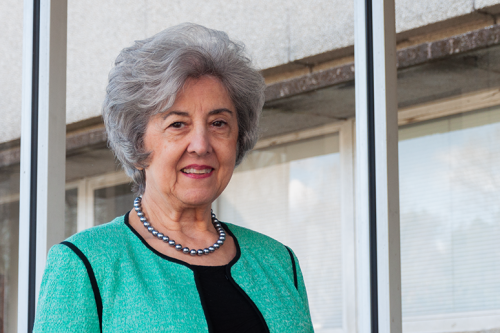 Encouraging collaboration and new ideas
Early in her career as a clinical psychologist, Barbara Wasik, PhD, noticed how engaging with other professionals opened her mind to new and different ideas. These opportunities inspired a lifetime of learning that she continues to pay forward for others. "I personally benefited from meeting professionals who motivated and challenged me to expand my work," said Wasik, a longtime researcher with the UNC Frank Porter Graham Child Development Institute and William R. Kenan, Jr. Distinguished Professor emerita at the UNC School of Education. "Knowing the positive influence these occasions had for me has led me to make similar opportunities available for others at FPG and on UNC's campus." Read the full story.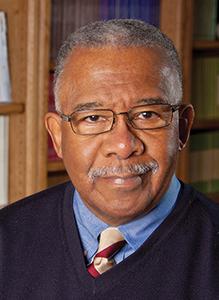 Marvin H. McKinney, PhD, has spent his entire career committed to breaking down barriers of racial and economic inequality that put children, and their meaningful development in this world, at risk. Now a program dedicated to supporting and cultivating young scholars who are driven to build careers in areas that advance the lives of children bears his name. The Marvin H. McKinney Scholars Program in Research, Practice, and Policy at the UNC Frank Porter Graham Child Development Institute honors McKinney, a former postdoctoral fellow at FPG, longtime educator and collaborator, and emeritus member of FPG's Executive Leadership Board. Read the full story.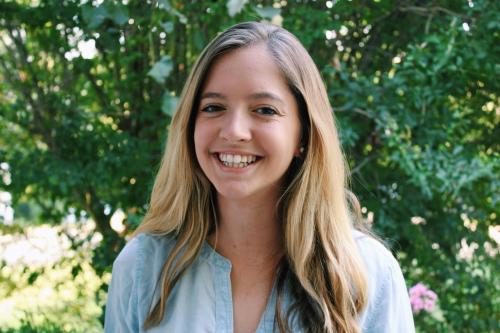 Recognizing student research
Anna Morgan, a 2020 graduate of UNC-Chapel Hill from Raleigh, NC, has always been interested in what makes us human. At Carolina, she chose to major in psychology, where she quickly learned how research could lead to answers for her biggest questions about how human beings—especially those with special needs—navigate the world, and how she could be a part of improving the human experience for all. In recognition of her commitment to investigating the tools children and adolescents need to live their best lives, Morgan received the inaugural Barbara Davis Goldman Award for Excellence in Undergraduate Research, which acknowledges an outstanding undergraduate student who has participated in research activities at FPG. Read the full story.
The Barbara Davis Goldman Award Fund
Equity Research Action Coalition
FPG Child Development Institute Distinguished Speaker Series
FPG Child Development Institute Inclusion Fund
The James J. Gallagher Dissertation Award Fund
The Joanne Erwich Roberts Memorial Fund
The Marvin H. McKinney Scholars Program
National Clearinghouse on Autism Evidence and Practice
How to Give
You can make a charitable gift by mailing your check payable to UNC-Chapel Hill to:
UNC Frank Porter Graham Child Development Institute
Attn: Advancement Office
Campus Box 8180
Chapel Hill, NC 27599-8180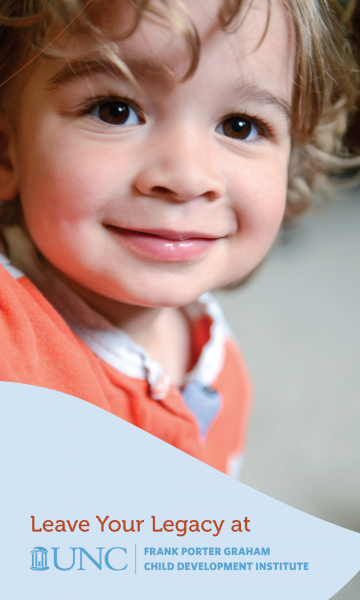 Or, you can make a charitable gift securely online through the University Development website.
Many employers sponsor matching gift programs and will match charitable contributions made by their employees. If your company has a matching gift program, please list the University of North Carolina at Chapel Hill as the charitable organization, tax identification number 56-6001393. The University will apply your match to the same purpose to which you designated your personal gift. You can mail your matching gift form to:
University of North Carolina at Chapel Hill
PO Box 309
Chapel Hill, NC 27514-0309
If you would like to recommend a grant from your donor-advised fund (DAF) to FPG, please contact Alyssa Cataldi for assistance.
In addition, there are numerous financial vehicles available to assist individuals with making thoughtful planned gifts to FPG. You can read our legacy case statement to learn more about how your planned gift would be transformational for the Institute. Please contact UNC's Office of Gift Planning at 800.994.8803 or createalegacy@unc.edu if you would like to discuss gifts of retirement assets, securities, business assets, bequests, or property.
Our Donors
Each year we receive gifts from individuals, corporations, and foundations that make our life-changing work on behalf of children and families possible. Some of our donors make recurring gifts to FPG each month—helping to sustain our work in a critical way. Some of our donors make gifts to FPG every year—faithfully championing our work and transforming lives. To each and every one of our donors, we offer a heartfelt, "Thank you!"