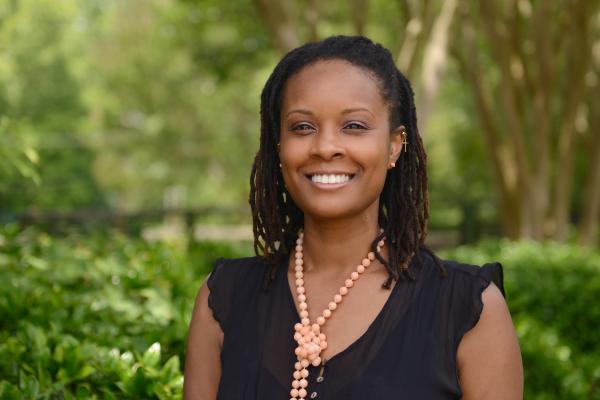 FPG's Sherika Hill to Help Pave the Way From Research to Policy
Sherika Hill, PhD, joined the UNC Frank Porter Graham Child Development Institute June 1, 2020, as Research and Policy Liaison ready to help researchers build bridges between their discoveries and those who will benefit from them most.
Most recently a part-time FPG clinical-social research associate and assistant professor in psychiatry and behavioral sciences at Duke University, Hill's research focuses on the connection between adverse childhood experiences—ACEs—and the significant effects they have on the mental and physical health of adolescents that can carry into adulthood and create generational cycles of trauma.
She has deep experience bringing this research to policymakers and stakeholders, especially as it relates to sharing the latest findings on developmental neuroscience and behavioral epigenetics. Now, she will work with FPG investigators to help them put their own dedicated child development research and practice on the path to policy that changes lives.
"It's important to work with FPG researchers and practitioners to help frame their work in ways that are easily consumable by the public and translational for policy impact," she says. "The more policymakers and stakeholders are aware of the evidence, the more likely they are to put resources where they can make a real change."
With so many investigators working on different content areas at FPG, it could be easy to fall into silos, says Hill. She wants to leverage the obvious links between research teams—and find new ones—that can help FPG investigators spark new areas of inquiry and partnerships, as well as connect them with researchers across UNC-Chapel Hill's campus.
Hill, a clinical and prevention epidemiologist, began her career working as a global portfolio analyst for GlaxoSmithKline, tracking hundreds of genetic research studies conducted in the U.S. and U.K. across seven different disease areas in hopes of shortening the drug development pipeline. In pharma, she says she was "on the tail end of diseases."
"I knew that a lot of these complex diseases could be preventable. Although you might have a genetic predisposition to a disease, whether or not you develop that disease depends on triggers driven by behavioral factors due largely to environmental exposures, social and physical, and personal constraints such as living in poverty or being part of an underrepresented minority group."
Hill left industry to pursue a career in public health. She sought a master's degree in healthcare administration at the UNC Gillings School of Global Public Health to learn about improving health care disparities through health policy and management. She then continued on at Gillings to earn her PhD in both maternal and child health and public policy.
"My postdoctoral work focused on child development, spanning the spectrum from positive youth development prosocial behaviors to psychopathology. Specifically, I wanted to know what puts a child on a course that is maladaptive for their environment and eventually leads to mental health disorders? What can be done to prevent the onset or limit the impairment of the condition?
Being able to address these complex questions is one of the reasons I'm really honored to be at FPG full time now—to be at a place that focuses on child development through an interdisciplinary lens of research and practice. These issues are so layered and intertwined that, to make a real difference, you have to work on it from an Institute level—as opposed to a specialized department—that brings together clinical research, public health, implementation science, and policy translation."