FPG's Ximena Franco Discusses the Benefits of Bilingualism
On Sunday, May 17, FPG's Ximena Franco discussed the latest research on the benefits of early childhood immersion in a second language and the benefits of bilingualism in general. Her presentation was part of "Mi Escuelita Crece" ("My Little School is Growing"), a free event at The Arts Center in Carrboro, North Carolina, to help educate the Chapel Hill-Carrboro community about the significant lifetime benefits of dual-language learning in early childhood and to raise money for a scholarship fund for the Mi Escuelita school.
Dr. Franco has more than 10 years of experience in clinical, life-span developmental psychology, and applied research. Most of this research experience stems from working with ethnically diverse children and families within clinic, school, and community settings. She is especially interested in the study of socio-emotional development of preschool-aged dual language learners.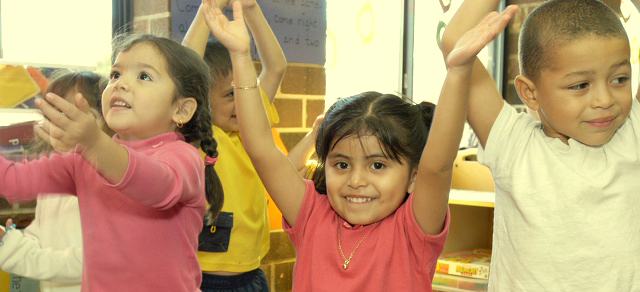 At Mi Escuelita, Spanish-speaking children are supported in maintaining their native language and cultural traditions, while English-speaking children develop a strong foundation for a second language and exposure to a variety of cultural traditions. All children at Mi Escuelita develop an appreciation and respect for cultural diversity.
"Mi Escuelita Crece" also featured brief performances by current Mi Escuelita children and alumni, including the song De Colores and a short presentation on the future of Mi Escuelita. A reception in the Art Center's central gallery followed.
The school is accepting donations to the Mi Escuelita Scholarship Fund, which will supplement tuition for families in the community that may otherwise find it difficult to afford tuition for preschool or who are experiencing temporary financial challenges.
Businesses also can show their support for early childhood education, dual-language learning, and appreciation of Hispanic culture by making sponsorship contributions, which will support the Mi Escuelita scholarship fund. Find out more.