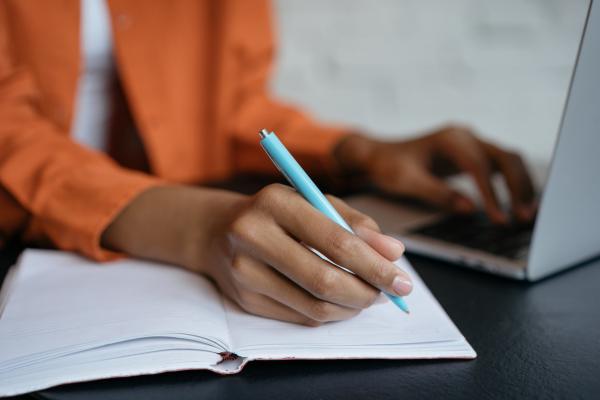 Influencing the next generation of researchers
With its commitment to advancing science, UNC Frank Porter Graham Child Development Institute (FPG) is dedicated to impacting and influencing the next generation of researchers.  During the spring 2022 semester, research professor Iheoma Iruka, PhD, founding director of FPG's Equity Research Action Coalition, mentored four undergraduate students enrolled in Policy 698: Senior Capstone in Public Policy:
Tamira Daniely, a public policy and economics double major with an interest in philosophy, politics, and economics, who will continue on at UNC to pursue a master's degree in public policy;
Annabelle Friedman, a public policy and global health double major whose post-graduation plan is to work in reproductive and maternal health policy for people of color;
Alessandra Quattrocchi, a public policy and political science double major with a Spanish for the Legal Professions minor who will be working for EducationNC, a non-profit education policy news outlet; and
Brooke Shearon, a public policy and history double major who plans to serve as a college advisor with Carolina College Advising Corps.
The students undertook a project to determine the impact of reparations on Black children and families and interrogate whether this is an effective and anti-racist policy. They utilized the 3Ps, Iruka's equity policy framework, which examines policies that protect, promote, and preserve the health, wealth, and education of Black children and families to create conditions for communities of color to thrive. Their tasks included: drafting a literature review to evaluate existing studies of the efficacy of reparations as an anti-racist policy; researching, analyzing, and adding to existing data of national reparation proposals; and interviewing stakeholders in Durham and Asheville.
Their research examined the community impacts of systemic racism, the components of reparations solutions, dearth of reparations initiatives, and barriers advancing reparations in Durham and Asheville. The researchers made policy recommendations regarding reparations initiatives, suggesting an emphasis on policies that preserve the culture, language, heritage, history, and contributions of Black people in America. They also proposed searching for programs that encompass multiple Ps as well as drawing from successful policies when designing future initiatives. They encourage future research that includes community interviews, examines whether local initiatives disincentivize policy action at the federal level, and interrogating how labeling a policy "reparations" affects its success rate. And they stress the importance of centering the experiences of potential recipients when designing policies.
Iruka says that the outcome of the students' research is substantive because it provides a landscape analysis of reparations policies to date, whether the policies are targeted to specific groups (e.g., Black/African American, Native American), and whether the policies are attending to the 3Ps. The students' interview protocols and coding schemes can be used to continue this work while the pilot data they generated can be used for grant proposals.
The project allowed students to think deeply about the research chain from project aims to research questions to methodology, in partnership with a community partner. Being able to figure out how to involve their community partners throughout the whole process helped the students determine how to center the community partners' needs and interests. Iruka says that this has been an amazing opportunity that ensured the students' introduction to research was community-centered and embedded in the needs of the community.
All of the members of the research team commented on the skills they have gained, with Brooke Shearon grateful for the experience she gained in conducting original research and performing community interviews. The students also expressed their appreciation for Iruka's guidance. "It was clear from our first meeting that Dr. Iruka is so passionate about this work, but also really wanted to help us succeed in this project," says Annabelle Friedman. "She gave us a lot of leeway to make decisions about how we wanted our deliverables to work, and provided lots of feedback and encouragement. It was a great way to see how the skills I've learned in my major can be used after graduation."
Iruka notes that one reason she returned to UNC was to engage with and mentor the next generation of researchers, especially those focused on culturally-grounded and strengths-based research focused on the optimal development of Black children, families and communities, which is one of the pillars of the Equity Research Action Coalition at FPG.
"It is not just important but necessary for me to support and influence our next generation of researchers, especially those that are Black, Latine, Indigenous and from racially and ethnically minoritized backgrounds," she says. "The challenges we are faced with and will be faced with in the future will require diverse, innovative thinkers."
The students also found the project beneficial to their own development. "This project gave me a first-hand look at the way policy research is conducted and utilized by independent organizations to advance policy work, which helped me become much more comfortable working in this professional space," says Alessandra Quattrocchi. "I hope to use the skills I learned this semester as I pursue a career advocating for equitable education policy." Her classmate, Tamira Daniely, agrees. "Working on this project allowed me to refine my qualitative research and analysis skills," she says. "I plan to apply these skills in future research and policy spaces."
Iruka believes that this research partnership is a reminder that many undergraduates and emerging scholars have already emerged. "More importantly, they are innovative and inclusive in their thinking," she says. "This amazing work from the students gives us rich and contextualized information, which is an excellent foundation for one of the policies levers noted by the Black Child National Agenda, launched by the Equity Research Action Coalition in November 2021 with the National Black Child Development Institute."