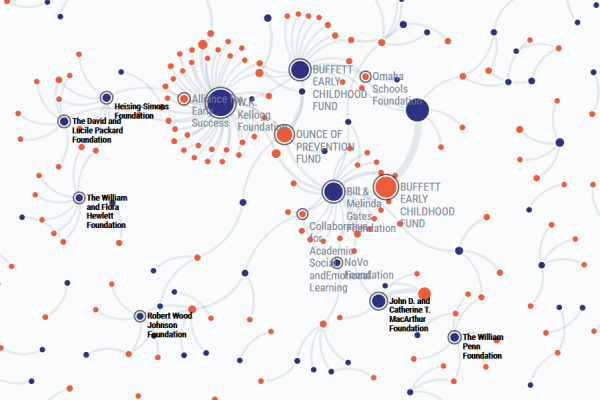 Map of Philanthropic Giving to Inform Field of Early Childhood Care and Education
This month, the Heising-Simons Foundation, Early Childhood Funders Collaborative, and Foundation Center will launch a joint effort to map the last ten years of philanthropic giving in the field of Early Childhood Care and Education. The resulting interactive map of the funding landscape is publicly available and offers a valuable starting place for funders and practitioners to explore historical giving data in the context of demographic and education indicators. The map also includes deep dives into the evidence base around professional development and family engagement efforts, two areas of particular growth and interest to the field. A free webinar about the project will be held starting at 1:00 pm EST on December 12.
Since 2006 private foundations in the U.S. have made grants of more than $6 billion towards improving early childhood care and education, reflecting a deep commitment to the importance of supporting children and their families during this critical developmental period in their lives. This mapping project provides both funders and practitioners alike with a birds eye view on where that funding has been concentrated during the last ten years, where there may be gaps—whether geographic or programmatic—that may need to be filled, and who exactly has been at the funding table.
In addition to mapping the data around grantmaking on this subject there is a deeper dive into the existing evidence around two trending topics in the field, professional development and family engagement. Researchers from the UNC Frank Porter Graham Child Development Institute conducted a systematic review of evidence and summarized findings about the types of interventions and approaches that have led to positive outcomes for children.
Contact:
Sandra Soliday Hong
UNC Frank Porter Graham Child Development Institute
919.966.9513
sandy.hong@unc.edu