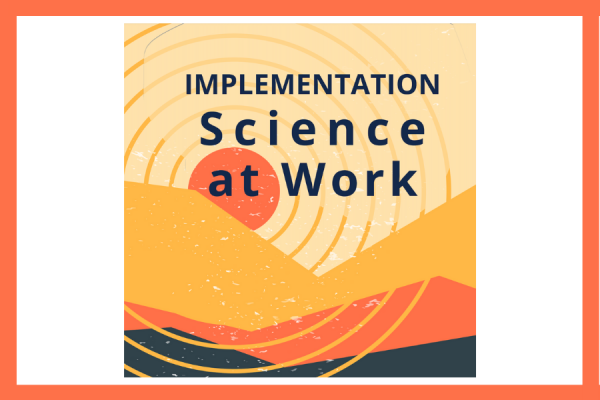 New podcast: Implementation Science at Work
The Impact Center at the UNC Frank Porter Graham Child Development Institute (FPG) has created an exciting new resource, "Implementation Science at Work." The podcast, which dropped its initial three episodes in November, explores questions and strategies in implementation science including tackling community health issues, reducing health disparities, and improving community and population outcomes through building capacity.
Available on Spotify, the podcast features interviews with professionals working with systems, organizations, and communities to implement and scale up programs in an equitable and community-conscious way. The 11 guests featured throughout the first three episodes each discuss the critical role of relationships and partnerships, with a focus on: figuring out whom to partner with; discerning how to approach communities; and understanding that community relationships and partnerships are the greatest strengths to implementation work.
FPG Implementation Specialist Sandra Diehl, MPH, and summer 2021 intern Meera Kumanan led the development of the podcast. In addition to using other methods of field-based capacity building for FPG's Implementation Capacity for Triple P project (Triple P Positive Parenting Program), Diehl and her team decided to explore using stories, which resulted in the podcast. Kumanan, currently a second-year MPH Student at Columbia University Mailman School of Public Health, said that the podcast's intended audience expands beyond professionals implementing programs such as Triple P and includes students who are upcoming leaders in the health and human services field, public health and human services professionals, as well as community leaders.
"I'm seeing the impacts of the podcast in real time as a student sharing episodes with my classmates and hearing their feedback on how the lessons—especially around how to do equitable community-driven work—have helped them think about the type of community engagement work they'd like to do as professionals," says Kumanan, who hosted one of the episodes.
"The podcast makes information accessible, especially since we're not communicating in academic jargon," adds Diehl. "We are really reaching back to our roots and using storytelling and narration to connect with people in our field."
The podcasts are useful to anyone involved in community engagement who wants to utilize equity lenses and frameworks. The content, which offers listeners insights into the breadth and depth of implementation systems, focuses on a community-driven rather than a top-down approach to implementing programs. The production team hopes to add more episodes to the series by summer 2022. Current available episodes are:
Diehl welcomes input on new episode topics and feedback on current episodes: diehl@email.unc.edu.