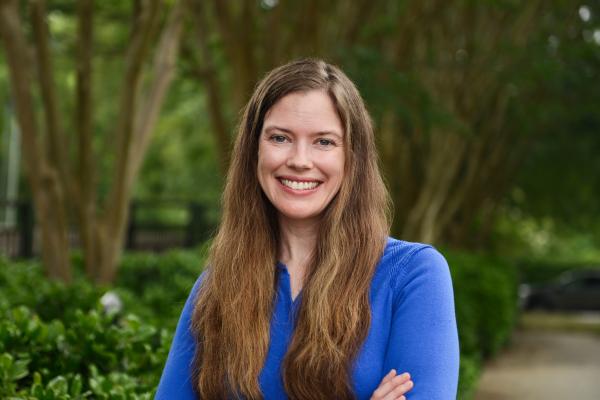 Ann Sam, PhD, is an advanced research scientist at the UNC Frank Porter Graham Child Development Institute (FPG). Her research and professional development interests are rooted in her direct experience as a public school teacher working in preschool and kindergarten classrooms with students with autism. And her work focuses on supporting the use of evidence-based practices for children with autism using a variety of professional development approaches including coaching and interactive, online modules.
What is your role at FPG?
I work on a number of projects at FPG that support the use of evidence-based practices. I led the development of the Autism Focused Intervention Resources & Modules (AFIRM). AFIRM provides free online modules for evidence-based practices for children and youth with autism. Currently, we are developing five new modules based on the new evidence-based practices identified through the systematic review of literature by the National Clearinghouse on Autism Evidence & Practice (NCAEP). I am also Co-Principal Investigator for Supporting Paraprofessionals' Use of Evidence-Based Practices for Students With Autism Spectrum Disorder project. For this project, we created a professional development program to increase paraprofessionals' use of foundational evidence-based practices for elementary students with autism—the Supporting paraprofessionals-Teachers use of Evidence-based practices with Learners having Autism (STELA) program. Previously, I served as a Co-PI on The Efficacy Study for Elementary Learners with Autism Spectrum Disorder (TESELA), which examined the efficacy of the National Professional Development Center on Autism Spectrum Disorder (NPDC) professional development model. I also provide training and support for using the Autism Program Environment Rating Scale (APERS), which is designed to assess quality indicators of programs for children and youth with autism.
What was your path to FPG?
During my undergraduate work at UNC, I interned with the TEACCH Autism Program, which provides diagnostic evaluations, intervention for individuals with autism, and professional development for teachers and providers serving this population. Upon completion of my internship with TEACCH, I knew I wanted to work with individuals with autism and their families. After graduating, I began my career as an inclusive preschool and kindergarten public school teacher. While teaching, I often felt I didn't know how to best meet the needs of my students with autism and was unaware of many specific interventions or resources used to support the social, language, and behavioral skills of students with autism. Based on these experiences and my desire to support students with autism in classrooms, I began my doctoral program in 2008 here at Carolina. During my graduate work, I was fortunate to be funded on an autism leadership grant through the Office of Special Education Program. When I graduated, I accepted a postdoctoral research position at 3C Institute, a small business that focuses on research and development. At 3C, I learned how to apply advanced, innovative technologies to deliver professional development and interventions for students. After completing my postdoctoral work, I returned to UNC as a Research Scientist at FPG. At FPG, my work focuses on supporting the use of evidence-based practices for children with autism using a variety of professional development approaches including coaching and interactive, online modules.
What excites you about FPG?
FPG is such a wonderful, special place and is unique with experts across disciplines including research and evaluation, implementation, technical assistance, and policy. I am always amazed by the wonderful work of my colleagues. Having experts across these different teams creates opportunities for multidisciplinary partnerships to facilitate the translation and dissemination of research to create a meaningful difference in the lives of children and families.
How has your work at FPG supported your own goals and visions?
My goals and visions for my work are based upon challenges I faced as an early childhood teacher. When teaching, I struggled to find information about what strategies or interventions I should use for my students with disabilities. My research and professional development activities focus on two primary areas: 1) using novel technologies to provide interventions to students and professional development to educators; and 2) rigorously researching professional development materials and models for educators to determine effective ways to increase successful implementation of evidence-based practices with students with autism.
I feel very fortunate that all my projects and work at FPG have supported these goals and visions. For example, AFIRM is a free, publicly available website that provides information on evidence-based practices designed for teachers, paraprofessionals, and other practitioners to learn how to plan for, use, and monitor evidence-based practices like prompting, reinforcement, and visual supports. The AFIRM modules have had a tremendous global reach with more than 215,000 users and more than 2,300,000 resources downloaded in 166 countries around the world.
While providing information on evidence-based practices is a critical first step in implementing evidence-based practices, coaching is often needed to increase use in the school setting. In our study on the NPDC professional development model, we found that this embedded coaching model increased the use and fidelity of evidence-based practices by teachers and students made progress on selected IEP goals.
What do you look forward to about the future of the work you do?
Retaining quality teachers, paraprofessionals, and educators is key to building and sustaining programs to support students with autism. However, many educators feel overwhelmed with all the demands placed on them. Over the past 16 months, these demands have increased given the pandemic and limited opportunities for professional development. I look forward to continuing to emphasize creating resources and training/coaching opportunities that tap the expertise teachers already have and support them in learning new skills. I want teachers and educators to have the resources and supports needed to feel empowered, confident, and successful in the classroom.