By: Mary-Russell Roberson
June 1, 2023
A 2023 Preventing Child Trauma Summit Series Article
---
In the past few years, many state agencies in North Carolina have begun to transition to trauma-informed practices to better serve children and families in the state. Members from some of these agencies shared their work at a recent statewide summit focused on preventing and addressing child trauma.
Here are some highlights.
North Carolina Department of Health and Human Services
"We know the right support at the right moment can help children overcome adversity, heal, and lead productive lives," said Charlene Wong, MD, assistant secretary for children and families at the North Carolina Department of Health and Human Services (DHHS). With different organizations and agencies providing support at different moments, coordination and communication is key. "All of us have to work together," she said.
DHHS's three priority areas are behavioral health and resilience, child and family wellbeing, and a strong and inclusive workforce. A big boost in funding is coming with Governor Cooper's $1 billion investment in behavioral health and resilience, funded by the signing bonus for passing Medicaid expansion. One of the many benefits of the investment will be improved access to mental health treatment and support for all, with extra funding for those with complex mental health needs―and that includes children with complex mental health needs who are currently staying for lengthy periods of time in emergency rooms or offices of the Division of Social Services. "We don't have an appropriate place or treatment for [these children]," she said. "The traumas they have experienced and are continuing to experience are heartbreaking."
Wong said emergency rooms were already seeing rising numbers of children and adolescents in mental health crisis before the pandemic hit, and then the numbers shot up even faster. The state currently has too few inpatient beds for children and adolescents and too few mental health professionals for outpatient care.
To help address the dearth of child psychiatrists, DHHS and the Duke Department of Psychiatry teamed up to create NC-PAL, which builds capacity across the state to treat child mental health issues. NC-PAL offers educational opportunities for primary care providers and pediatricians as well as a telephone hotline available daily for primary care providers and pediatricians to consult with Duke psychiatrists on the treatment of children and adolescents with behavioral health concerns. "The value and commitment are phenomenal," said Amy Eaton, MS, in the Division of Social Services. "This is a jewel for our state."
Another resource is 988, the new three-digit nationwide mental health crisis line. Saarah Waleed, MA, LCMHS, in the Division of Mental Health, said, "The youth are utilizing the text and chat [features of 988]. We have seen a huge uptick." If callers or texters are in danger, mobile crisis teams respond in-person. Family support partners are being added to these teams to provide follow-up support for up to four weeks.
On the prevention front, DHHS helps communities develop plans to prevent adverse childhood experiences through programs such as Collaborative Learning Institute (CLI) and Strengthening Systems for NC Children (SYNC). Ingrid Bou-Saada, MPH, in the NCDHHS's Division of Public Health, said, "[The division] uses a public health approach. In all our activities, we are emphasizing primary prevention, we're data driven, and we mobilize communities and partners."
The North Carolina Court System
Despite her 18 years as a juvenile law attorney and a professor at UNC, the first time LaToya Powell, JD, heard of adverse childhood events (ACEs) was just two years ago. "That's very concerning," she said, "because I was in positions of power and authority where I was making decisions about children who came into the juvenile court system―the last several years as a policymaker."
She said most other attorneys and judges were similarly in the dark at the time, but that's no longer the case. As deputy general counsel with the Department of Public Safety, Powell is helping to educate judges, attorneys, and other members of the court system through her work as a member of the Chief Justice's Task Force on ACEs-Informed Courts.
"Many of the kids in our system have incarcerated family members," she said. "Many of them have encountered substance abuse, domestic abuse, mental health issues in the home. All that trauma leads to behavior that lands them in the court system. We are trying to figure out how can we identify those kids early and immediately address the trauma so that we can help [break] the cycle of recidivism."
The task force is creating training and education tools for members of the court system in partnership with the UNC School of Government and the Bolch Judicial Institute at Duke Law. and is working to implement trauma-informed programs, such as the Safe Babies Court Team approach. Safe Babies uses teams and frequent court hearings to support parents and their babies and toddlers in the child welfare system. The goal is to help parents and their children heal and to find permanent placement for the babies as soon as possible, ideally with their parents after participation in supportive parenting programs.
Aidan Bohlander, PhD, a manager with the National Infant-Toddler Court Program at Zero to Three, said children under the age of three experience more maltreatment than any other age group. And because the majority of those in the child welfare system are babies of color, there tends to be disproportionate impact of systems involvement on these children. Bohlander used to work as a social worker in child welfare, which compelled her to pivot her career to focus on making changes to the system. "I was so frustrated with re-traumatization of the children that we are moving through the system," she said.
Studies show that the Safe Babies program helps reduce that trauma: babies spend less time in foster care and reach permanency―often with their parents―twice as fast compared to traditional child welfare. And the positive outcomes are the same regardless of race or ethnicity of the families and children.
Division of Juvenile Justice
William "Billy" Lassiter, MPA, deputy secretary for the Division of Juvenile Justice and Delinquency Prevention, spoke about the role of trauma in the lives of youth in the juvenile justice system and what the division is doing to better serve those youth.
In many cases, he said, childhood trauma explains a young person's presence in the juvenile justice system. In one striking example, he said that when he visited the youth development center for females, he learned that 100% of the young women there had previously experienced sexual assault.
The division is incorporating trauma-informed practices, including assessing incoming youth for adverse childhood experiences and strengths, providing mental health treatment, training staff, and teaching young people skills to help them steer clear of criminal behavior in the future.
At the Cumberland Regional Juvenile Detention Center, a bare outdoor area was transformed into a therapeutic garden with the help of landscape designers, artists, and volunteers. Youth helped design and paint murals on the walls of the garden. Studies have shown the healing properties of being in nature, and sure enough, Lassiter said assaultive incidents drastically decreased after the installation of the garden. "When a kid is starting to act out, we take them outside and help them calm down," he said. "We had a yoga instructor come in and teach them how to be mindful about those experiences. It's amazing how the environment changes things for people."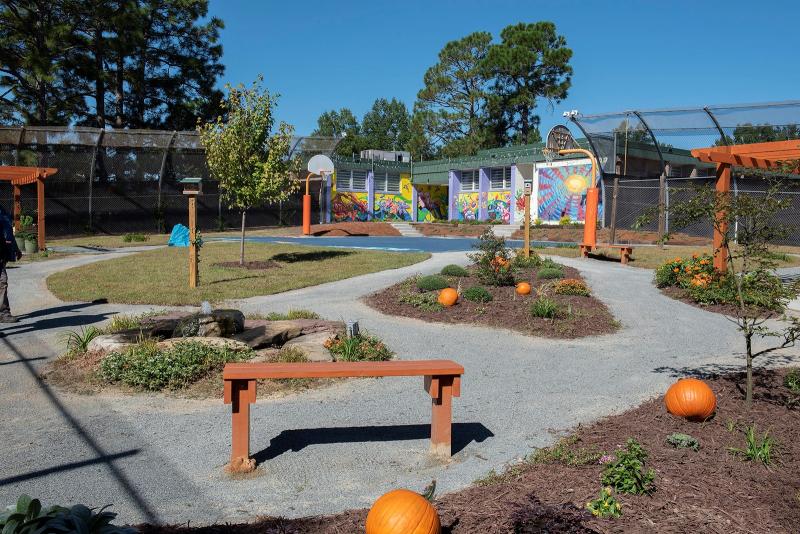 The UNC Frank Porter Graham Child Development Institute's (FPG) FRONTIER program sponsored a statewide summit, "Leveraging North Carolina's Assets to Prevent Child Trauma," April 27-28, 2023. Nearly 150 representatives from academia, community and state organizations, lived experience, philanthropy, government agencies, and governing bodies convened in person, and approximately 230 people joined virtually. The summit was organized by Diana "Denni" Fishbein, PhD, director of translational neuro-prevention research at FPG, and Melissa Clepper-Faith, MD, MPH, translational research program and policy coordinator at FPG. This article is one of a series dealing with issues discussed at the summit; find the full series here.