2014 National Early Childhood Inclusion Institute Announces Pre-Institute Workshops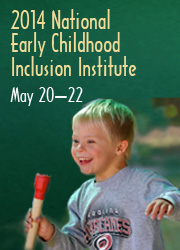 Registration for four special pre-Institute workshops, held in conjunction with the 2014 National Early Childhood Inclusion Institute, is now open.
FPG's Inclusion Institute is the premier event for people from all early childhood sectors who come together to learn, share, and problem-solve about inclusion for young children. Over the course of the popular three-day conference, participants hear about the latest research, practices, programs, and issues in early childhood inclusion from national and international experts. Every year, the Inclusion Institute holds plenaries and over 40 sessions.
FPG will provide the pre-Institute workshops on May 20, prior to the official opening of the Institute at 1 PM. Each pre-Institute workshop is available on a first-come, first-served basis to participants whether or not they also choose to attend the Institute's regular programming.
Please note that registering for each pre-Institute workshop is separate from registering for the three-day Institute itself. The $50 cost for each pre-Institute workshop also includes a continental breakfast and a buffet lunch.
FPG's pre-Institute workshops are as follows:
Demystify Assistive Technology and Inspire the Assistive Technologist in You!
presented by Susanne Milbourne, Sue Mistrett, and Bridget Gilmorini
Evidence suggests that the participation of young, at-risk children in activities that provide a sense of accomplishment, enjoyment, and skill development might protect them against later mental health, academic, and social problems. This session will focus on the use of assistive technology and related strategies and how they can serve as bridges to achieving active participation and opportunities for healthy development. Register here.
Strategies for Effective Teaming and Collaboration
presented by Dathan Rush and M'Lisa Shelden
This interactive, skill-building workshop will focus on the practices and application strategies associated with teaming and collaboration in early childhood intervention (Part C) and Exceptional Children services (Pre-K to age 8).
Register here.
Using Video to Promote High Quality Inclusion Practices
presented by Larry Edelman
Digital video and video conferencing can support inclusion by enhancing a number of key practices including: assessment, documentation, individual and group planning, family support and engagement, self-reflection, coaching, reflective supervision, professional development, virtual participation, and more. This session will review equipment options and recommended practices for shooting, file management, editing, security, and sharing clips. An in-depth resource guide accompanies the session. Register here.
Beyond Preschool: Where Will the Inclusion Journey Take Us?
presented by Nancy Thaler, Duncan Munn, Chris Egan, Kenneth Kelty, and Toni Robinson
Whether navigating the early intervention transition to preschool or the transition from high school to adult, preparation is the key to success. This session--designed for families, advocates, and practitioners--will provide practical information and strategies from a variety of perspectives to navigate challenges and opportunities associated with adolescent and young adult transitions. Register here.
In addition to FPG's pre-Institute workshops, space is also available for the three-day Institute's full slate of programming. You can register here.
For more information about the Institute's programming, please visit: http://inclusioninstitute.fpg.unc.edu/
If you need help with registration for FPG's pre-Institute workshops or for the Inclusion Institute, please contact:
Jay Hargrove
jay.hargrove@unc.edu
919.966.0888