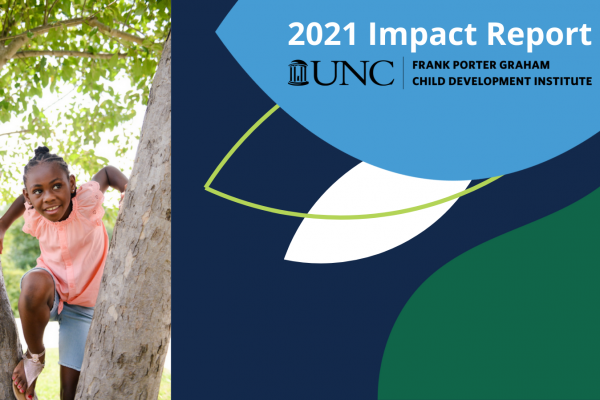 2021 Impact Report reflects priorities outlined in strategic plan
"In reflecting on a year suffused in uncertainty and volatility, I'm so very proud that FPG has not wavered in its crucial work," says Institute Director Aysenil Belger, PhD. "Our achievements this year relate to our ability to be innovative and agile. We've leveraged infrastructure already in place for virtual and hybrid learning to expand accessibility to resources for families, teachers, and providers, both nationally and internationally."
In this year's impact report, you'll see how we continue to work with intention around our top three priorities—partnership, emphasis, and culture—as outlined in our strategic plan.
Partnership is evidenced by the Institute's continued expansion of collaborations throughout UNC and the larger community. FPG's North Carolina Early Learning Network is one of only two programs nationwide to be selected for the Implementation Coaching to Advance Equity in Pyramid: TA Partnership, which will help reinforce equity across North Carolina's more than 300 Pyramid Model implementation classrooms. And we're so pleased with the work our Data Management and Analysis Core did on the UNC COVID-19 Dashboard in partnership with the Department of Epidemiology at the UNC Gillings School of Global Public Health.
With emphasis, we remain focused on scientific rigor and expanding our research portfolio. We are thrilled to be conducting new research examining the relationship between the gut microbiome and anxiety in children. Thanks to a new NIMH grant, Cathi Propper, PhD, and colleagues at UNC will be among the first to explore this. As an Institute, we've invested in a new program designed to examine the impacts of equity in the early care and education space—the new Equity Research Action Coalition. We were pleased to welcome back Iheoma Iruka, PhD, to lead this important initiative.
At FPG, culture represents both who is doing the research and how diversity impacts child development. In last year's report, we told you about a new research pathway at FPG for undergraduate students from NC HBCUs. I'm excited to share that this program—named the Marvin H. McKinney Scholars Program in Research, Practice, and Policy, in honor of a long-time collaborator and friend of FPG—doubled in size this year, welcoming four scholars. And we look forward to continuing to grow this incredible internship. This past year, the pandemic has highlighted inequities in the ways that services and resources are delivered and available, particularly for under-resourced and vulnerable children and families. We hope that the knowledge we are disseminating—which includes cutting-edge information about the impact that racism, violence, abuse, neglect, and trauma have on child development—can inform policy and affect systemic change.