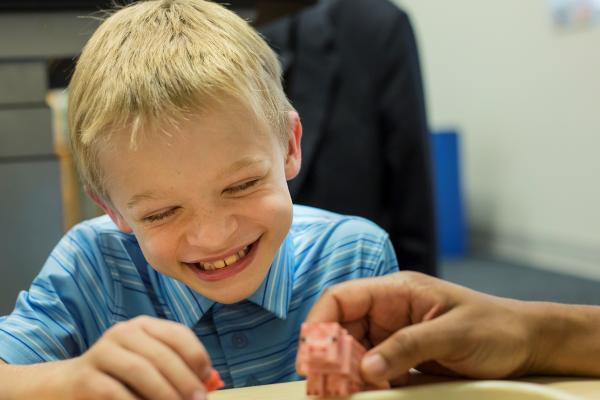 AFIRM Reaches 100,000 Users Around the World
Your support will ensure that we can sustain and expand this important work.
The Autism Focused Intervention Resources and Modules (AFIRM) project at the UNC Frank Porter Graham Child Development Institute has reached a major new milestone with 100,000 users turning to AFIRM for the evidence-based practices that can help learners with autism spectrum disorder (ASD).
The AFIRM project has translated the 27 evidence-based practices identified by the National Professional Development Center on Autism Spectrum Disorder into free, user-friendly online learning modules that increase the knowledge of professionals of evidence-based practices. With funding from the U.S. Office of Special Education Programs, a team that includes Ann Sam, PhD, an advanced research scientist; Ann Cox, now retired; and Sam Odom, PhD, a senior research scientist, first organized the translation of these interventions into free, accessible, user-friendly learning modules.
"Through AFIRM, we are bridging the gap between research and practice by providing resources to professionals that are not only high quality, but are also online and free," says Sam. "AFIRM users represent a sizable portion of all special education teachers in the United States, with over 23,000 registered special education teachers."
These modules are used all over the world by teachers, school professionals and paraprofessionals, families, and anyone who works with learners with ASD. This kind of expert guidance lifts burdens from those who are trying to find effective and high-quality ways to support and encourage their learners. Implementation checklists, user guides, lesson plans, data collection forms, measurement tools, and family support packages are just some of the free resources AFIRM offers.
Each module focuses on:
key components of an evidence-based practice, including the various approaches that can be used with learners with ASD;
behaviors and skills that can be addressed using the practice;
a step-by-step process for applying the practice; and
specific resources that you can download and customize for your own use.
"Parents and teachers have questions about how to best support their children or students with ASD in reaching their goals, and AFIRM has become a go-to resource for answering these questions," says Sam.