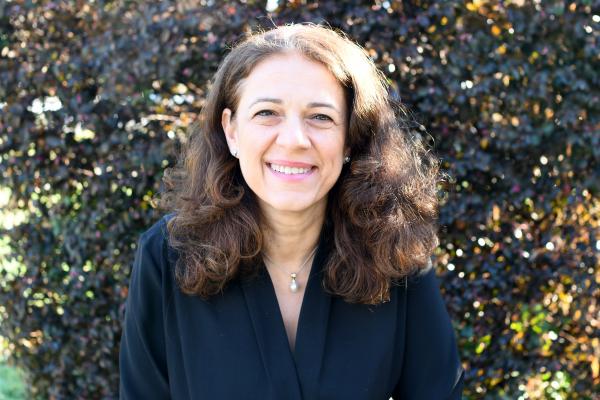 Aysenil Belger Named the New Director of Frank Porter Graham Child Development Institute
Terry Magnuson, UNC Vice Chancellor for Research, has appointed Belger to serve as the new director of the Frank Porter Graham Child Development Institute (FPG). For over 50 years, FPG has been a leader in generating knowledge, informing policies, and supporting practices to promote positive developmental and educational outcomes for children.
FPG is world-renowned for not only the research it conducts, but also the efficiency in which this knowledge is then put into practice through the Institute's efforts," said Magnusson. "Dr. Belger's extensive experience, coupled with her incredible energy, will serve the Institute well as FPG continues to expand its portfolio of research and services."
Belger (right) directs the Neurocognition and Imaging Research Lab in the UNC Department of Psychiatry and also heads the Clinical Translational Research Core within the Intellectual and Developmental Disabilities Research Center of the Carolina Institute for Developmental Disabilities. She has served as a faculty member at UNC for 18 years.
"I am excited to serve as the new director of the Frank Porter Graham Child Development Institute, which has led the fields of developmental research, technical assistance, implementation science, outreach, public policy and evaluation, and professional development for over 50 years," Belger said. "I look forward to engaging with each FPG scientist and specialist and identifying areas where we can grow our Institute, while maintaining its national and international reputation, setting up the next 50 years of excellence."
Belger's research recently has included studying abnormalities in young children with autism, as well as children and adolescents at high risk for schizophrenia. Her lab explores the behavioral and neurophysiological underpinnings of sensory and cognitive impairments. She said the guiding principles of her research are rigor, reproducibility, impact, and translation.
"I look forward to working with an awesome community of scientists and merging my research in brain and cognitive sciences across child and adolescent development with FPG's expertise in early child development and implementation science to continue the landmark work of the Institute," Belger said. "We can bridge FPG's research with the developmental clinical cognitive neuroscience research ongoing across campus and in national and international arenas."
FPG houses over 50 projects and employs scientists, specialists, and staff that lead the field in research and its application. Signature initiatives include annual evaluations of North Carolina's pre-kindergarten program, technical assistance in support of programs that administer services to hundreds of thousands of children with disabilities in every state and territory in the U.S., and online training that teachers and families from 160 countries around the world have accessed several million times.
FPG is also home to a suite of cutting-edge implementation science projects, as well as the Abecedarian Project, the most famous study in child development. The Abecedarian Project determined that educational, social, and health benefits of high-quality early education for children in poverty persist for decades.
Throughout Belger's career, she has forged faculty collaborations across UNC and other institutions to better understand the effects of early childhood adversity. She said that equity, diversity, engagement, and transparency guide her leadership.
"Dr. Belger's interdisciplinary approach to studying child development will facilitate new opportunities for FPG at UNC, across the country, and around the world," said Desiree Murray, FPG's associate director of research.
Belger has been working with the FPG executive team, core directors, and interim director Stephen Hooper to ensure a smooth transition.
"I look forward to being engaged in all aspects of the Institute," Belger said. "From training the next generation of scientists and scholars who will impact and transform the field of child and adolescent research and education through translation and implementation, to disseminating our work to communities both nationally and internationally to inform and guide policy and to improve the everyday lives of children and families."