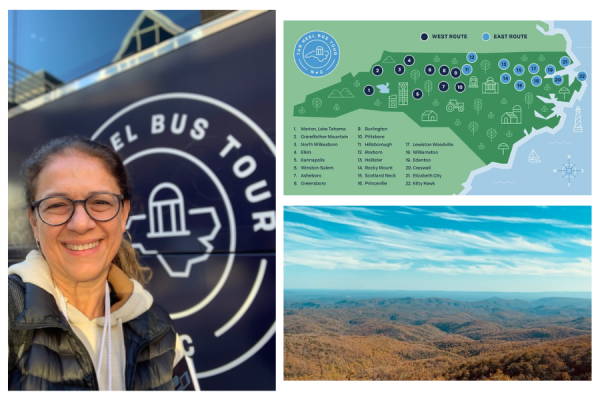 Belger boards bus, tours Western NC with UNC colleagues
Launched in 1997, the Tar Heel Bus Tour is designed to demonstrate UNC-Chapel Hill's impact in the state of North Carolina and its commitment to public service; promote scholarship and service that respond to the concerns of the state and contribute to the common good; introduce faculty and senior administrators to people, ideas, and programs that can inform their teaching and research; learn about the state and visit areas that many of UNC students call home; and encourage connections of faculty across disciplines.
Knowing the tour would offer her an opportunity to examine pressing issues facing North Carolinians that could inform her work and that of the Institute, Aysenil Belger, PhD, director of the UNC Frank Porter Graham Child Development Institute (FPG), was thrilled to be among those boarding a bus. During the 2022 tour, which took place October 19 to 21, one busload of faculty and administrators headed to the eastern part of the state for three days while another busload headed west.
Belger joined the westbound contingent with the goal of gaining a better understanding about opportunities and potential collaborations for FPG throughout the state and hearing directly from community members. Because of many changes on campus—including a number of new deans and the return to in-person work and teaching— she was excited to have the opportunity to network and reconnect with UNC peers and colleagues beyond FPG.  A non-native North Carolina resident, Belger enjoyed digging deeper into the history and identities of individual North Carolinians to better understand the lives of people in the western counties. She was curious to learn about programs for which FPG could be a good partner.
As a professor of both psychology and psychiatry, Belger was particularly interested in tour stops related to youth and family well-being and mental health. Like many other states nationwide in the post-pandemic era, North Carolina is facing a youth mental health crisis, which can be even more difficult to address in communities where children, youth, and families have less access to needed resources. Belger observed tremendous potential for collaborating with programs that support opportunity youth—youth between the ages of 16 and 24 who are neither enrolled in school or employed—and programs that support maternal child health services, particularly given the significant rise in substance abuse during COVID. In addition, she identified other opportunities for supporting access to quality early childcare and education for both families and schools, noting that schools are a central hub for providing a range of services.
 
At each stop along the tour, Belger considered how FPG could build partnerships with these community-engaged organizations and programs and pondered what tools and expertise the Institute has to offer them. Belger noted that there were a lot of systems-level conversations—whether with local community members, a job training internship program, or a policy and legal resource program working with migrant families—with a clear focus on awareness and commitment to reducing inequities. "Everywhere we went, the shared concern for equity in access to quality health, education, and justice programs was palpable" said Belger. "These shared concerns fostered discussions around how partnerships between the University and local communities can accelerate the dissemination and implementation of evidence-based programs to reduce inequities and disparities."
A field guide filled with details about stops provided bus tour participants with a packed agenda for the three days, which included visits to and conversations with leaders of such diverse organizations as North Carolina AT&T University, Grandfather Mountain Stewardship Foundation, and Fairystone Fabrics. While Belger saw the possibility for partnership during many stops on the tour, she made special note of two projects: the Tiny Homes Village at the Farm at Penny Lane and the SUN Project in Cabarrus County.
Located in Kannapolis, the SUN (Substance Use Network) Project is a "cross-sector collaborative system of care that uses best practices to support the health, safety, well-being and recovery of pregnant patients with a substance use disorder, their infants, and families." Belger is interested in exploring whether FPG investigators can collaborate with onsite project leaders to leverage their expertise and develop resources for perinatal maternal and child well-being.
The Tiny Homes Village (THV) uses tiny homes to provide affordable housing for people with serious mental illnesses. At the same time, THV supports individual well-being through amenities and community-based services. This project, whose current partners include the UNC School of Social Work and the UNC Center for Excellence in Community Mental Health, is another example of an organization where FPG's expertise could be of service.
Belger remarked that everyone seemed truly invested in creating stronger relationships, especially utilizing scientific and evidence-based practices and resources to advance the needs of local communities and counties. And she understood community members' desire to be heard and seen and wish to inform and build closer alliances with the University.
She noted that FPG's strong reputation preceded and framed her conversations, as the Institute is already working within communities and programs throughout the state. Similarly, issues around children, education, and mental and physical health were top of mind for tour participants. Belger has been sharing news of the bus tour experience with FPG investigators to determine how her colleagues may be interested in engaging with the communities she visited. She expressed appreciation for the connections created with UNC colleagues on the trip, including staff and faculty from the School of Government, UNC Global, School of Social Work, Gillings School of Global Public Health, and Public Policy among others, and hopes to serve as a bridge between units on campus and FPG researchers.
"I am committed to promoting community-engaged collaborations and community partnerships," said Belger. "FPG investigators bring a wealth of expertise in evaluation, implementation, and technical assistance that can be strengthened through community-partnerships and contribute to the implementation, scaling, and sustainability of local programs with an equity lens and a goal to reduce health and educational disparities for children, youth, and families within and across North Carolina communities."