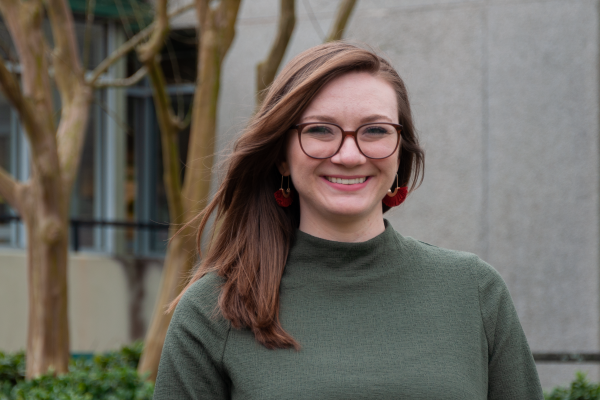 Bezdek Receives Pre-Doctoral Fellowship From Society for Research in Child Development
Kylie Garber Bezdek, a UNC doctoral student in developmental psychology who works on multiple projects within the UNC Frank Porter Graham Child Development Institute, has received a state policy fellowship from the Society for Research in Child Development (SRCD).
The purpose of the SRCD U.S. Policy Fellowship Program is to provide researchers with immersive opportunities to learn about policy development, implementation, and evaluation, and to use their research skills in child development to inform public policy at the federal or state level.
As one of the 2019-2020 SRCD State Policy Fellows, Bezdek, whose research focuses on early child care education and kindergarten readiness, earned a placement with the N.C. Department of Health and Human Services' Division of Child Development and Early Education (DCDEE).
Since September 2019, she has worked with NC DCDEE on projects to improve the quality of infant-toddler child care and social-emotional outcomes for children in North Carolina.
"The goal is to give PhD students and recent graduates exposure to the policy world and bridge the gap between research in early care and education policies," says Bezdek. "Part of the reason why this fellowship is so important to me is that I can gain more exposure to state government and learn how to collaborate in ways that can have a big impact on the services children receive."
Bezdek works under the mentorship of Margaret Burchinal, PhD, a senior research scientist at FPG. Through the fellowship, she hopes to gain experience applying her research findings to create real-world programs that will improve the lives of young children, especially those growing up in rural, low-income regions.
Bezdek has already had extensive experience in this area. On the local level, she worked with the Orange County Health Department to help evaluate its kindergarten readiness camp, offered as part of a larger project to connect families to community resources in the county. At the state level, she helped provide background literature that informed NC DCDEE's application for the NC Preschool Development Grant.
"The state was awarded a $40 million preschool development grant for early care and education policies and practices, and I got to be involved with parts of the application. It was interesting to see how the state acquires funding for such projects and learn what goes on behind the scenes."
She is also a graduate research assistant on the North Carolina site of an ongoing, nationwide Early Learning Network project. The team follows a group of children who were enrolled in NC Pre-K—alongside a group who were not—through third grade, measuring academic, social and cognitive development outcomes and studying classroom and school practices that may be related to those outcomes.
"The children are currently in the second grade. Overall, we know that pre-k has had a positive impact on these children when it comes to pre-literacy, math, and language skills. We also see the other group seems to be catching up, so we'll be investigating what factors are contributing to that."
A current research interest for Bezdek is identifying what pre-k transition practices may help children the most when it comes to their kindergarten year and how to make that a part of the real-world education experience.
"Through practices such as data sharing, we can give teachers more information on the children coming into a classroom and prepare that teacher for best practices on how to behaviorally and academically help that child," she says.