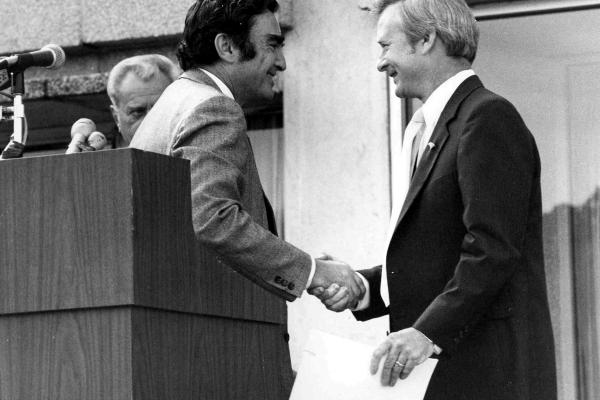 The Child Development Field Mourns the Passing of Pioneer James J. Gallagher
Read coverage in The New York Times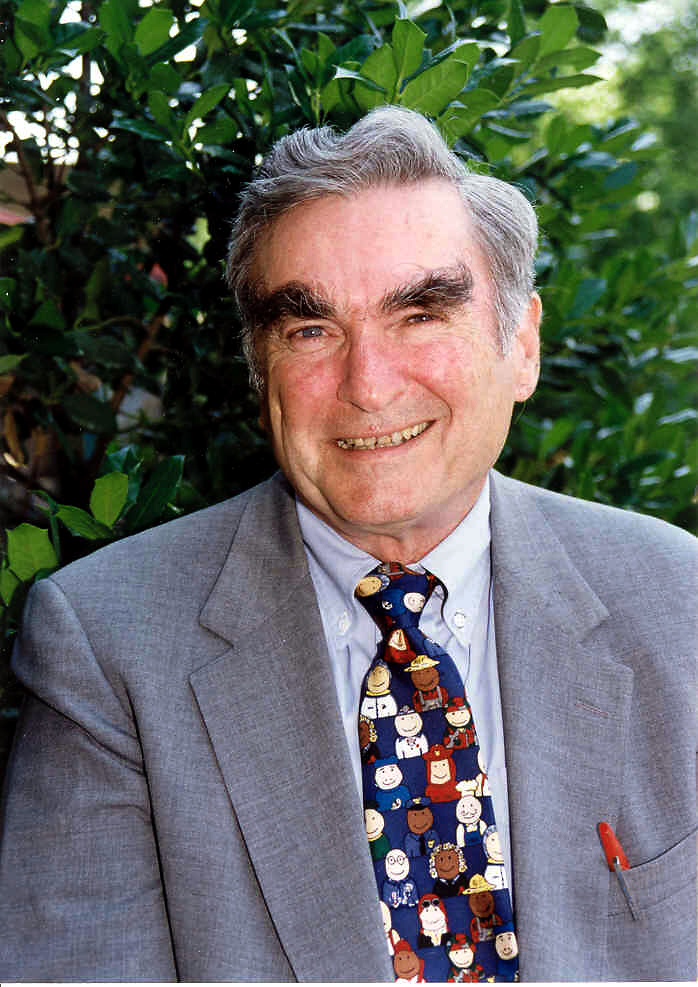 James J. Gallagher, an internationally recognized expert on special education and gifted education, died on Friday, January 17, at the age of 87. He was the former director of UNC's Frank Porter Graham Child Development Institute and a senior scientist emeritus, as well as former Kenan Professor in UNC's School of Education.
"For many years, Dr. Gallagher was a mentor, colleague, and friend," said FPG director Samuel L. Odom, who added that the former FPG director was irreplaceable. "With this grief, we also need to remember his great life and achievements."
Gallagher's career full of awards had continued this past year with more major recognition. In November, UNC's School of Education honored him with the Peabody Award for his extraordinary contribution to the field of education.
"James J. Gallagher has sparked, shepherded, and inspired an age of enlightenment in more than six decades as a pioneer in the discipline of child development and social policy—and as the nation's premier scholar in the fields of giftedness and developmental disabilities," said Bill McDiarmid, dean of the School of Education, who presented the award.
Earlier in 2013, former N.C. state senator Howard Lee had presented Gallagher with another honor, the prestigious Old North State Award. N.C.'s Office of the Governor issues the award to people with a proven record of exemplary service and commitment to the state.
As news of Gallagher's passing spread, his colleagues were quick to note a lifetime of priceless service, and former N.C. state senator Ellie Kinnaird called him a giant. "I am so sorry for his loss to the field for all children," said Kinnaird.
For Ron Haskins, a senior fellow at the Brookings Institute, Gallagher evoked a centuries-old remark by the English poet Andrew Marvell: "So much can one man do who doth both know and act."
Donald J. Stedman, president and CEO of New Voices Foundation and former Dean of UNC's School of Education, emphasized his 55-year friendship with Gallagher. "He cared about children," Stedman added. "He was relentless in his pursuit of real issues in research and teaching."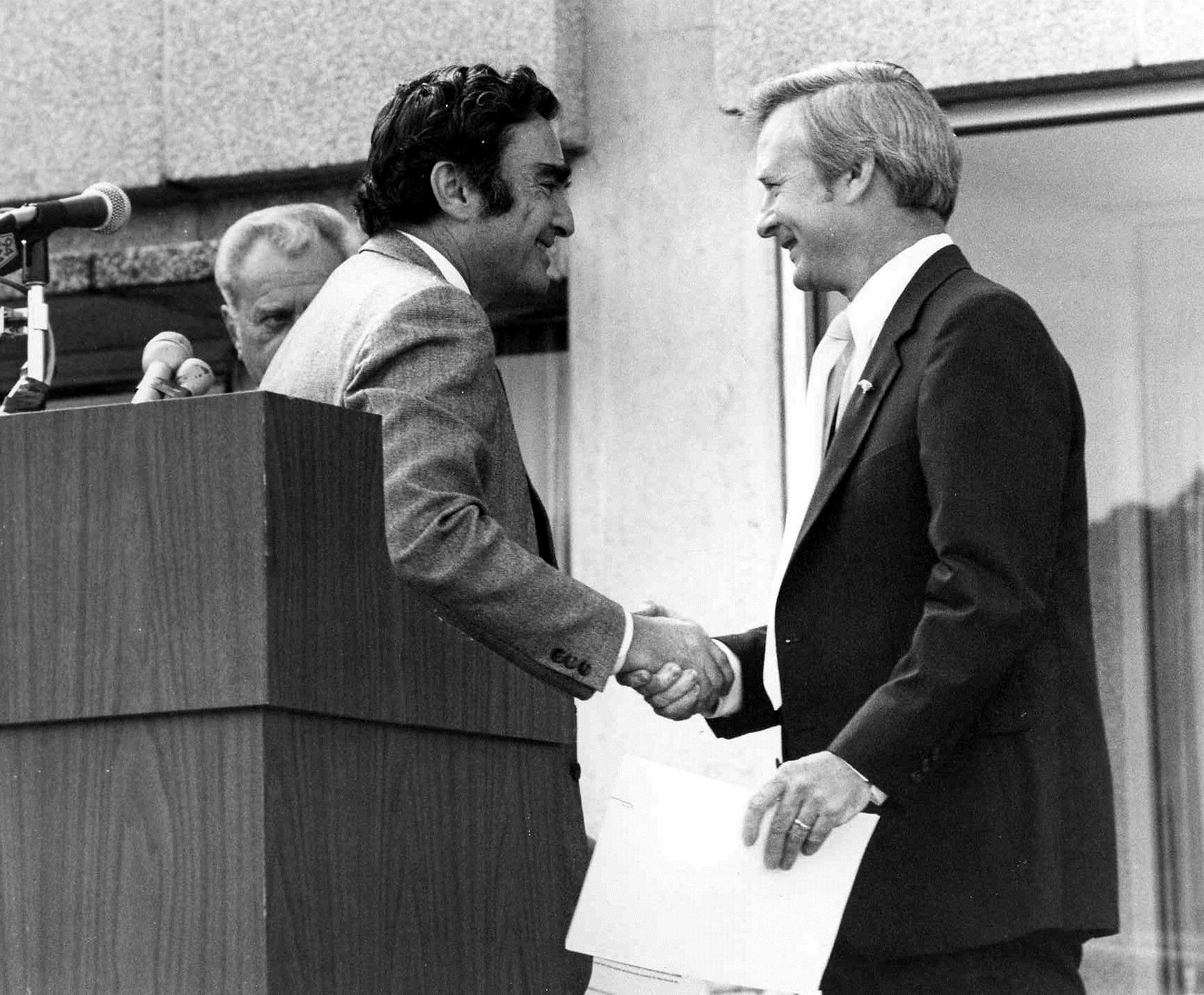 Among his many contributions, Gallagher played an integral role on Governor James B. Hunt's planning team to develop the North Carolina School for Science and Mathematics, which was the first residential school of its kind focusing on talented students in science and mathematics at the secondary level. Gallagher (left, with Hunt) also was instrumental in updating state law and regulation to better serve gifted students in North Carolina.
Prior to joining FPG, Gallagher was the first Chief of the Bureau of Education for the Handicapped in the then U.S. Office of Education. He oversaw a wide range of new legislation representing the first major efforts to ensure a free and appropriate education for children and youth with disabilities.
In 1970, Gallagher became Kenan Professor of Education at UNC and director of FPG. "His leadership was foundational in FPG's development," said Odom. "FPG became one of the nation's leading research institutions."
Gallagher wrote over two hundred articles for a wide range of professional journals, as well as 39 books, including one of the most widely used textbooks in gifted education, which he co-authored with his daughter, Shelagh Gallagher.
In 2009, the National Association for Gifted Children (NAGC) honored Gallagher as the third inductee into the NAGC Legacy Series. More than four decades had passed since he had delivered a timeless speech to the NAGC.
"This generation cannot afford to be a spendthrift in intellectual resources as it has been in its physical gifts," said Gallagher in 1965. "This price of failure is too high."
Writing for Roeper Review last July, Gallagher echoed that same call, arguing for an end to the "unilateral disarmament" of our educational system. "If the national defense plans for the 21st century are based on brains, not just bombs," he contended, "then we need time and concentrated effort to create conditions where our education system turns out intelligent citizens ready to build a society that is impervious to outside influence or economic attack."
Recently, Gallagher had been finishing the 14th edition of the textbook "Educating Exceptional Children" with co-author Mary Ruth Coleman, FPG senior scientist emerita.
Olson Huff, former chair of the Board of Directors of the North Carolina Partnership for Children, joined others who described Gallagher as an inspirational figure: "His legacy will live on as long as there are children to be born."
Memorial Service:
1PM, Saturday, January 25, 2014
UNC's George Watts Hill Alumni Center
104 Ridge Road
Chapel Hill, NC
In lieu of flowers, the family requests donations to the James J. Gallagher Dissertation Award and/or the Food Bank of Central and Eastern North Carolina.
Read more about Dr. Gallagher's work in FPG's Fall 2002 Early Developments and Fall 2013 Early Developments
FPG grants permission to publish this story in part or in its entirety, as well as to use the above photograph(s) in conjunction with this story.