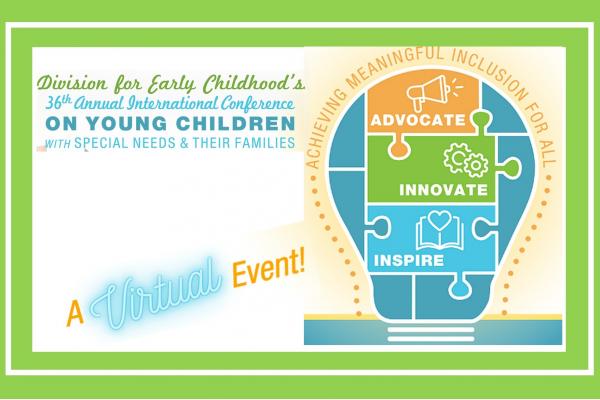 ECTA Center partnering to sponsor DEC's 36th Annual International Conference
The ECTA Center is partnering to sponsor the Division for Early Childhood's 36th Annual International Conference on Young Children with Special Needs & Their Families, a virtual event that runs from January 21 through January 29. In addition, the Center is excited to be supporting the opening Keynote Speaker, Ibram X. Kendi.
 
This essential conference will offer the latest research, evidence-based practices, and "just in time" advice for working with young children with disabilities, their families, and the professionals who serve them.
 
Many FPG staff will be presenting on a variety of topics including early childhood inclusion, addressing issues of suspension and expulsion, using data for program improvement, implementing and sustaining evidence-based practices, and more. Below is a sampling of some of the ECTA Center and FPG staff sessions and presentations—visit the conference page to see the full calendar of events.
 
Thursday, January 21
(Pre-conference Workshop) Making Inclusion Work: (ECEE) Indicators of High-Quality Inclusion 2:00 pm - 5:00 pm - Alissa Rausch; Phillip Strain; Megan Vinh
Friday, January 22
ECTA is co-sponsoring the Opening Keynote (Professor Ibram X Kendi) 11:30 am - 1:00 pm
Monday, January 25
Implement and Sustain Evidence-Based Practices Throughout Your State! 3:00 pm - 4:00 pm - Sherri Britt Williams; Barbara Smith; Megan Vinh; Katy McCullough; Alissa Rausch
Tuesday, January 26
Poster: Current State & Jurisdictional Part C Eligibility Definitions & Policies 9:30 am - 10:30 am - Evelyn Shaw; Kathryn Morrison; Siobhan Colgan
The DEC Recommended Practices Are for Families, Too! 4:15 pm - 5:15 pm - Stephanie Moss; Allison Jones; Adriana Fontaine; Leslie Junkin; Meedra Surratte
Wednesday, January 27
Using Child Outcomes Data to Drive State and Local Program Improvements 3:00 pm - 4:00 pm - Jennifer Barrett-Zitkus; Christina Kasprzak; Cornelia Taylor; Carol Maliszewski; Jon Vanoeveren; Kathleen Hebbeler
Digging Deeper on State Policies for Suspension and Expulsion 3:00 pm - 4:00 pm - Lise Fox; Toni Miguel; Megan Vinh; Chelsea Morris; Leigh Ashley; Myrna Veguilla
Thursday, January 28
DEC Child Maltreatment Paper Four Years Later: Where are We Now? 11:45 am - 1:15 pm - Evelyn Shaw; Haidee Bernstein; Sharon Walsh
Laying the Foundation for High-Quality Inclusion 1:45 pm - 2:45 pm - Megan Vinh; Kathy Whaley; Alissa Rausch
Building State and Local Professional Development Capacity with DEC RPs 4:15 pm - 5:15 pm - Betsy Ayankoya; Chelsea Guillen; Serra Acar; Marisa Macy