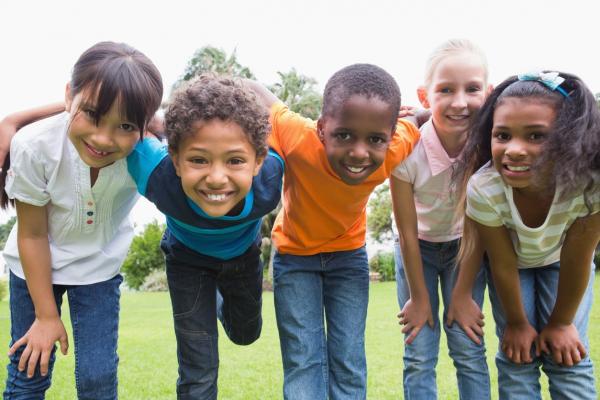 Embedding racial equity in research and evaluation
In support of the Institute's strategic plan, researchers and members of the Research and Evaluation Division at the UNC Frank Porter Graham Child Development Institute (FPG) have been working to embed racial equity in everything they do. Concentrated efforts toward group trainings and workshops include the Diversity, Equity, and Inclusion in Research (DEIR) Certificate Program offered at UNC, which was created by the Office of the Vice Chancellor for Research and the Odum Institute to foster a new standard of inclusion, sensitivity, and intentionality in the UNC research community, and multiple 30-day Equity Challenges. FPG Faculty Fellow Iheoma Iruka, PhD, Advanced Research Scientist Allison De Marco, PhD, and Senior Research Scientist Noreen Yazejian, PhD, and several other colleagues at FPG are currently applying these learnings in their work with the Educare Learning Network, a coast-to-coast consortium of state-of-the-art, full-day, year-round schools serving children from birth to 5 years who are at risk for school failure.
LEP CoP on Racial Equity
As the Educare Learning Network's National Evaluation Partner (NEP), FPG serves as the consortium's research and evaluation arm. Local Evaluation Partners (LEPs) work with each of the 25 Educare schools around the country as a liaison for research. A Community of Practice (CoP) has been a regular part of the Educare Network since 2005, bringing together research and evaluation staff monthly to discuss issues of common interest, meeting in person twice a year, when in-person meetings are feasible. There currently are 65 CoP participants.   
"While the Educare Learning Network has long considered issues of culture and marginalization, primarily due to poverty, the racial reckoning that started in the Summer of 2020 due to the murder of George Floyd, Breonna Taylor, and so many unarmed Black men, also created urgency in the Network," says Iruka. This urgency led to the development in 2020 of the NEP/LEP Community of Practice on Racial Equity.
 
As the research core for the network, FPG is committed to ensuring that research and evaluation processes and practices are interrogated in order to advance the science and ensure racial equity. The CoP on Racial Equity uses evidence-based and evidence-informed practices to interrogate how Network research and evaluation staff engage and partner with one another and the Educare programs, including families, staff, teachers, and administrators. The same commitment is given to examining Educare's evaluation measures and ways of interpreting and sharing information.
 
The aims of the NEP/LEP CoP on Racial Equity are to: strengthen FPG's work in ensuring NEP/LEP and the entire Educare Network are engaging in anti-racist research, evaluation, and data utilization practices; elevating and prioritizing the focus on issues of racism, white privilege, biases, and other inequities, as well as intersectionality in all aspects of FPG's work; and identifying and mitigating barriers to increasing the representation of Black, Latine and Indigenous NEP/LEP members.
 
The goals are to: increase the group's knowledge about racism and its impact on early childhood, child development, and other related fields; conduct self-interrogation and self-reflection as a CoP to understand biases and values; engage in conversations about race and racism within the CoP and with ELN partners; and actively promote anti-bias, anti-racist and inclusive practices in all aspect of the work especially in hiring, training, and promoting staff, developing research and evaluation questions, engaging stakeholders, designing and selecting measures, analyzing data, interpreting findings, making recommendations, and dissemination.
 
"Through this work over the last two years, we've learned a lot from each other about the work going on in Educare sites across the country to interrogate their research practices, to more authentically engage families, to incorporate more inclusive language, and to support each other in the on-going work," says De Marco.
De Marco and Iruka are in the process of drafting a manuscript about this work, which they plan to submit for publication this fall. The research paper will assess and provide analysis of the group's progress on personal understandings of race, racism, and racial equity and the infusion of anti-racist practices into their work.
Educare Research Agenda on Racial Equity
The Educare Research, Evaluation, and Data Strategy Workgroup is co-led by a member of the NEP team and an executive director of an Educare school. This work group—which also consists of Local and National Evaluation Partners, school leaders, funders, and backbone staff—oversees all aspects of research and evaluation in the Network. Over the past year, this work group has led the development of a research agenda focused on racial equity. The FPG members of the work group—including Yazejian, Iruka, and FPG Senior Research Scientist Donna Bryant, PhD—have contributed to conceptualization, writing, and seeking feedback from all audience groups within the Network.
 
The work group is gathering feedback from audiences outside the Network, including other researchers, practice leaders, and funders, before this fall's release of the agenda, which is designed to highlight innovations, provide opportunities for learning, and guide continuous quality improvement. The research agenda includes sample research questions designed for Educare members to understand systemic barriers, experiences and beliefs of families and staff, leadership issues, and strengths and assets within racially minoritized individuals, families, and communities.
 
"This work is toward ultimately changing practice and policy to improve early childhood program quality and the outcomes of children, families, and the professionals who serve them," says Yazejian. "The research agenda also describes anti-racist research principles and practices that we have been learning about in our LEP CoP and concludes with indicators of success that will allow the Network to know whether the research agenda has met its goals."
 
"Our CoP and the Educare research agenda on Racial Equity are just two of the ways that we are trying to intentionally address systemic racism and bias in our scientific process," says Iruka. "It is a journey where we all learn new things about ourselves and how to do culturally grounded and community-engaged research. We believe that every ripple we make in the ocean of science will eventually create the tsunami for real systemic change that benefits children, families, and communities."