Eye-Openers: FPG's Professional Development Projects Bring "A-ha!" Moments
feature article from the new issue of Early Developments
Eye-Openers and A-ha! Moments:
Three Professional Development Projects at FPG
Professional development (PD) encompasses teaching and learning experiences designed to support the acquisition of knowledge, skills, and dispositions and to help with their application in practice. PD projects can utilize traditional modes of delivery and new technology, including modules, lessons, workshops, curricula, retreats, guides, videos, and other vehicles, with the primary goal of enhancing the competence of professionals—and sometimes this can happen through moments of great revelation.
Many projects enhance competencies by directly addressing a group of professionals—such as teachers of young children. FPG's Targeted Reading Intervention (TRI) webcam coaching exemplifies this approach and helps struggling kindergarten and first grade readers  in rural classrooms to keep pace with their peers. Not only does the TRI reduce the gap between readers who struggle and those who do not, but it does so by using a low-cost technology that eliminates geographic barriers.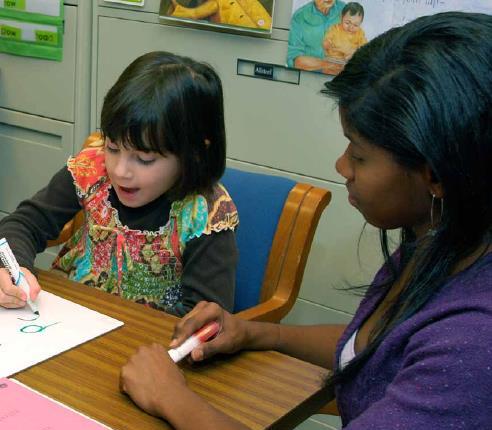 Unlike many other strategies designed to improve reading skills, the TRI webcams make use of classroom teachers already in place to deliver enriched instruction. Literacy coaches, who can be located far off-site, provide state-of-the-art professional development in the form of coaching to teachers in classrooms as they work in 15-minute one-on-one sessions with struggling readers (right).
Each teacher uses a laptop with a webcam so that she can see and hear her off-site coach's real-time feedback and the coach can see and hear the teacher as she works with a child. "Teachers need to see results with their students or they won't stick with it," said Lynne Vernon-Feagans, the researcher behind the TRI webcam strategy. "When their readers make rapid gains, teachers have those A-ha! moments."
Other professional development projects emphasize addressing knowledge mediators, technical assistance specialists, and higher education faculty—the professionals themselves responsible for guiding, supporting, and educating other professionals. One such project, FPG's Supporting Change and Reform in Preservice Teaching in North Carolina (SCRIPT-NC), also abounds in A-ha! moments. Through new partnerships with early childhood education departments, SCRIPT-NC is helping community colleges to offer cutting-edge programs for the next generation of teachers who will serve young children.
Tracey West, SCRIPT-NC's principal investigator, says the FPG project works to better prepare early childhood educators to meet the needs of young children with disabilities and children who are culturally and linguistically diverse. SCRIPT-NC offers online resources, including course-specific advice and widely viewed webinars open to all North Carolina community colleges. The FPG project also works intensively with four community colleges in the state, including Vance-Granville Community College (VGCC).
"It's been a real eye opener," says Tracey Bennett, who has taught at VGCC for ten years and now serves as department chair. "We had a good program already, but with SCRIPT-NC we realized what we really wanted to be."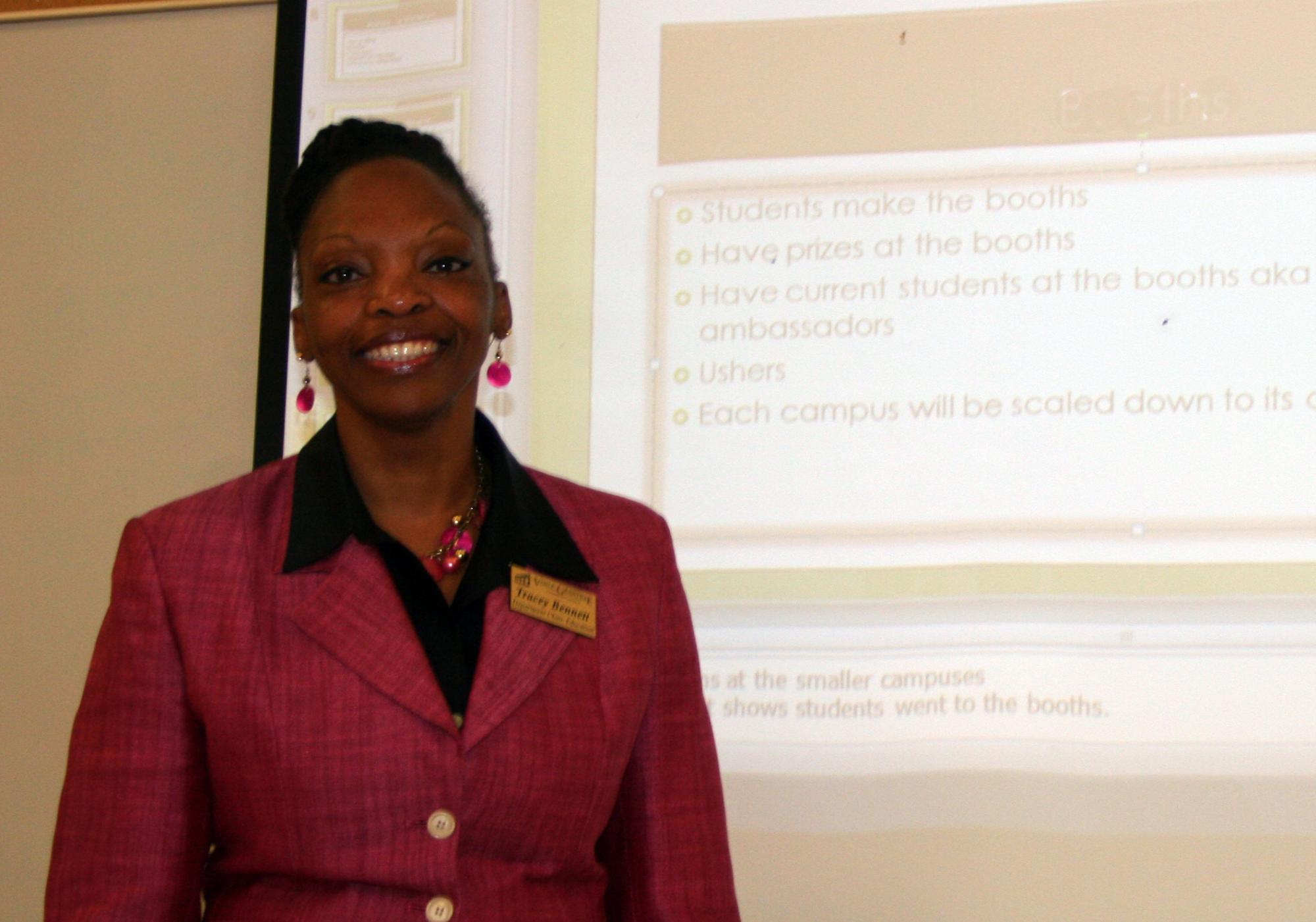 Not only did SCRIPT-NC help Bennett and her faculty enrich the content of their courses with the latest evidence-based research, the partnership also led her department to examine its role in the community. "We realized that programs in our area are serving a lot of young children whose families' first language isn't English—or they don't speak English at all," says Bennett (left). "These programs also serve children with different kinds of abilities."
Early in the partnership, SCRIPT-NC's team organized a retreat that brought together the community's program directors, the VGCC department's alumni, Bennett's early education faculty, and other stakeholders. "The retreat really sharpened our perspectives," says Bennett. Since then, her department has focused on developing early childhood educators who are best equipped to work for local programs.
"One of SCRIPT-NC's key objectives is to help future early childhood educators in North Carolina become more knowledgeable and comfortable working with young children from diverse backgrounds," says Dale Epstein, who, along with Chih-Ing Lim, serves as co-principal investigator for the project.
SCRIPT-NC has roots in Crosswalks, an earlier FPG project that also prepared educators to work with culturally and linguistically diverse children and families. FPG scientist Camille Catlett, an investigator on the SCRIPT-NC team, has been the project's primary liaison with Bennett. "In the last year and a half, Tracey already has taken a good program a long way toward being an extraordinary one," says Catlett.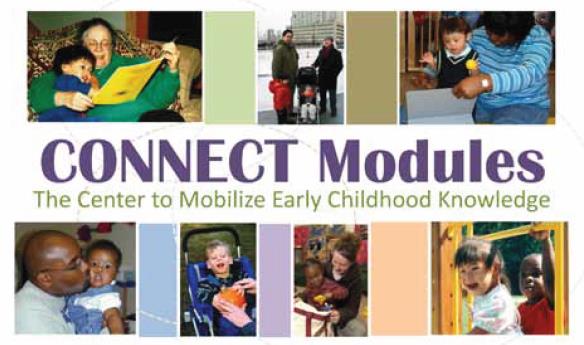 There's also no shortage of A-ha! moments for users of CONNECT modules, developed by FPG's Center to Mobilize Early Childhood Knowledge (Project CONNECT). These multimedia modules have been popular across the country and around the world since FPG scientists developed them for university faculty and professional development providers to use in PD for practitioners and preservice learners. In the last two years alone, CONNECT modules have been a resource for over 90,000 online users.
Each module focuses on a specific research-based practice or set of practices for meeting the needs of young children in inclusive settings and is organized within an innovative 5-Step Learning Cycle™. The modules incorporate videos, handouts, and activity guides and address seven content areas that reflect early childhood practices with a strong evidence base: Embedded Interventions, Transition, Communication for Collaboration, Family-Professional Partnerships, Assistive Technology Interventions, Dialogic Reading Practices, and Tiered Instruction.
"There are quite a few of us who are one-man shows in community colleges," says Cheryl Bulat, who teaches at Morton College in Cicero, Illinois. "Because of this, we sometimes have to teach content that we may not be well-versed in and need help to find the best available resources. CONNECT has served as a support."
Sandy Wilberger, co-director of the Virginia Department of Education's Training and Technical Assistance Center at Virginia Commonwealth University, says that CONNECT modules are central to her class work. "Actually, I was starting off with the thought that the CONNECT modules would really augment the work that we were doing through the readings in the textbook," she says. "But it turned out to be the opposite. CONNECT was the stand-alone—and then I used the textbook to augment what was shared there."
Wilberger also sees broad applications for the CONNECT modules' 5-Step Learning Cycle™. "It's a really good framework to teach students to use when they are practicing. You could apply it to any of the dilemmas that come up within inclusive settings, working with families or children," she says. "If you get into the habit of using it, then it becomes the basis for what you go to for problem solving on many different  things that are going to take place in service delivery to young children with disabilities."
FPG's CONNECT Modules, SCRIPT-NC, and the Targeted Reading Intervention—as well as many other initiatives—continue to harness their projects to new technologies in order to deliver PD in multiple forms and by multiple vehicles. Through a partnership with Quality Assist, Inc., FPG began offering its newest form of instruction this past summer.
"We received lots of inquiries about offering CEUs for CONNECT material," says Pamela J. Winton, CONNECT's principal investigator. As a result, faculty and professional development providers now can direct early childhood teachers to new material based on the CONNECT modules: self-guided, self-paced, online continuing education courses—yet another vehicle for opening eyes.
More on Targeted Reading Intervention
This article appears in the latest issue of Early Developments.
Read and/or download the issue.
DS