FPG Fellow and Innovator J. Steven Reznick Receives the Order of the Long Leaf Pine Award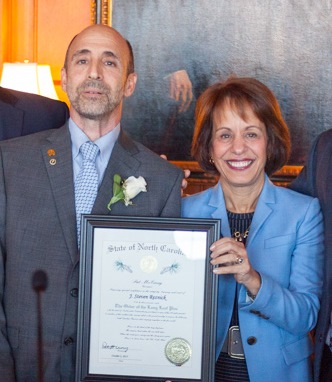 FPG fellow and UNC professor J. Steven Reznick has received the "Order of the Long Leaf Pine" award. Since its inception a half-century ago, the award has become one of North Carolina's highest honors for civilian service.
"When I first came to Carolina, people started telling stories about Steve, and they were all good," said Chancellor Carol Folt, who conferred the award at a ceremony at UNC. Folt (here, with Reznick at the ceremony) called the stories "quite remarkable in their variety."
Addressing Reznick, she said, "Your mentorship that was something I heard about from so many people. Others, of course, talked about your research." She added that testimonies often noted Reznick's "incredible generosity and good cheer."
"Every single one of these amazing stories also had a deep, constant theme—and that was about the respect and admiration, and indeed the love, that so many people have felt for you," said Folt. She characterized Reznick's service as not only exemplary on behalf of the university and the state but "indeed the nation and the world."
Throughout Reznick's career, he has played a variety of key roles as innovator, launching new initiatives inside and outside North Carolina. He established or helped establish the Cognitive Development Society, the Society for Research in Child Development's journal Child Development Perspectives, Carolina's First Year Fellows program, UNC-Duke Collaborative Program in Developmental Psychology, the Carolina Seminar on Behavioral Research on Minority Populations, and the Center for Developmental Science's Durham Child Health & Development study.
"Dr. Reznick has been the consummate professor and professional since arriving at UNC," said Samuel L. Odom, FPG's director. "His work has contributed to our scientific knowledge of child development, incorporated the collaboration of colleagues, furthered the research enterprise at FPG and the university, and supported his doctoral students." 
Reznick's research primarily has centered on early cognitive development, especially on working memory and attention, language, and aspects of perception.
With FPG senior scientist Barbara Davis Goldman and others, he published a new study earlier this year in Developmental Cognitive Neuroscience, which, according to the authors, includes findings that "shed light into early functional brain development and provide a new perspective for future searches for functional developmental abnormalities."
Reznick also has contributed to research projects on autism spectrum disorder (ASD), and during a process lasting several years he co-developed an instrument that identifies infants who later will be diagnosed with ASD. He additionally has created or co-created several other widely-used measurement and assessment tools.
"It was clear in that event that Steve has been an active member, and often the leader, of a wide variety of groups, dealing with many areas of academic life, broadly speaking," said Goldman. "FPG has benefitted greatly already, and will continue to benefit from his wisdom and his support at many levels."
Watch J. Steven Reznick's acceptance speech, including his revision of the hallowed toast associated with the Order of the Long Leaf Pine.
DS