FPG Fellow Ann Turnbull Receives Special Education Lifetime Achievement Award
from an announcement from the Council for Exceptional Children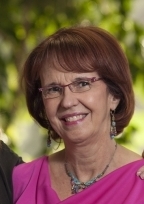 FPG Fellow Ann P. Turnbull, a premier scholar of family systems theory in special education, was honored with a national 2016 J. E. Wallace Wallin Special Education Lifetime Achievement Award by the Council for Exceptional Children (CEC) at its annual convention on April 15 in St. Louis.
The CEC J. E. Wallace Wallin Special Education Lifetime Achievement Award recognizes an individual who has made continued and sustained contributions to the education of children and youth with exceptionalities.
Turnbull's research covers multiple topics across the lifespan. Her inquiry into the ways school, home, and family partnerships might improve quality of life for families of individuals with disabilities has resulted in a programmatic body of research that ranges in focus from preschool services and inclusion to questions of employment and independent living for adults with disabilities.
In her 40-year career, she has published nine textbooks and made more than 600 presentations. Her seminal text, "Exceptional Lives: Special Education in Today's Schools," has been adopted more than 500 colleges and universities. She has received grants totaling more than $30 million and is the winner of many awards, she was selected by the National Historic Preservation Trust on Developmental Disabilities as one of 36 individuals who changed the course of history for individuals with intellectual and developmental disabilities in the 20th century.
Turnbull is co-founder of the Beach Center on Disability at the University of Kansas which she co-directed for 26 years. She has also served as president of the American Association on Intellectual and Developmental Disabilities. Her students praise her for her generosity as a mentor and colleague. Upon retirement from the University of Kansas, she moved to North Carolina and currently is a Faculty Fellow at the Frank Porter Graham Child Development Center at the UNC-CH.
The Council for Exceptional Children (CEC) is a professional association of educators dedicated to advancing the success of children with exceptionalities. CEC accomplishes its mission through advocacy, standards and professional development.