FPG Launches Large-Scale Study of Preschool Quality Ratings and Child Outcomes
Date Published:
07/17/2015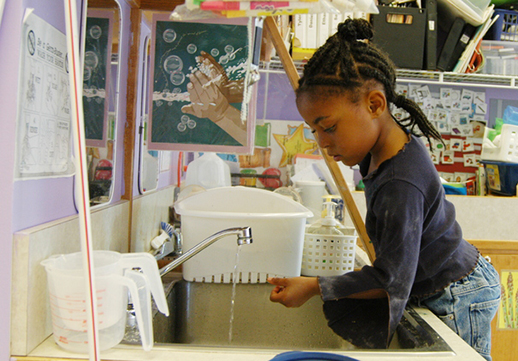 The Frank Porter Graham Child Development Institute (FPG) is undertaking a large-scale study of a widely used observational tool that assesses the quality of preschool classrooms. FPG senior scientist Diane Early and her research team will analyze and refine the scoring system for the recently published third edition of the Early Childhood Environment Rating Scale (ECERS-3).
Practitioners and researchers have used the ECERS for decades to assess the quality of early childhood programs and examine associations between quality and children's school readiness skills. Early's study will investigate how the ECERS-3 functions and how the factors it measures relate to children's social and academic growth.
"It is important that we understand how this latest version of the tool operates," Early said. "Research and programmatic efforts to improve early childhood outcomes would benefit from a way to measure early childhood environment that is more strongly linked to children's outcomes."
Early's project comes at a time when several state and national initiatives have been developed to increase overall quality in preschool programs and improve access to high-quality programs for young children. She explained that classroom quality is associated with young children's pre-academic and social-behavioral skills in preschool and with later school achievement, but the links are often small.
"Improving and refining how classroom quality is measured may increase our ability to see those linkages," Early said.
Since its creation at FPG in 1980, the original ECERS and its subsequent versions have become highly popular measures of early childhood environments. Major research projects, as well as almost all state efforts to evaluate and improve early childhood classroom quality, use the ECERS tools.
In 1998, a revised edition of the scale (the ECERS-R) was published, which was further updated in 2005. Thelma Harms, Debby Cryer, and FPG senior scientist emeritus Richard M. Clifford debuted the ECERS-3 last fall in Dallas at the annual meeting of the National Association for the Education of Young Children.
The ECERS-3 emphasizes the teacher's role in creating an environment conducive to developmental gains. Subscales evaluate space and furnishings, personal care routines, language and literacy, learning activities, interaction, and program structure. The ECERS-3 also includes additional items that assess math and literacy activities and is designed to distinguish between "good" and "truly excellent" programs.
Early, along with co-principal investigators John Sideris and Jennifer Neitzel, will analyze data from preschool programs in Georgia, Pennsylvania, and Washington. These programs will include state-funded pre-k, child care, and Head Start.
Funded by the Institute of Education Sciences, the study will involve 900 teachers and 600 preschoolers. According to Early, participating children will take part in assessments of their language, literacy, math, and attention skills, and teachers will complete ratings of the children's social skills.
"Parents also will provide information about their family's characteristics and children's health and wellness," Early said.
Given the long history and popular use of the ECERS tools, Early anticipates a wide range of audiences will be interested in the FPG team's conclusions about the scale's latest incarnation.
"We expect to disseminate our findings about the ECERS-3 to researchers, early childhood practitioners, policy makers, administrators, and professional development providers," she said.
Contact:
Diane Early, Senior Scientist
Frank Porter Graham Child Development Institute
University of North Carolina at Chapel Hill
diane_early@unc.edu
Read about FPG's new IES-funded studies on a program to support elementary school students with autism spectrum disorder and on a program to teach children self-regulation skills.
FPG grants permission to publish this story in part or in its entirety.