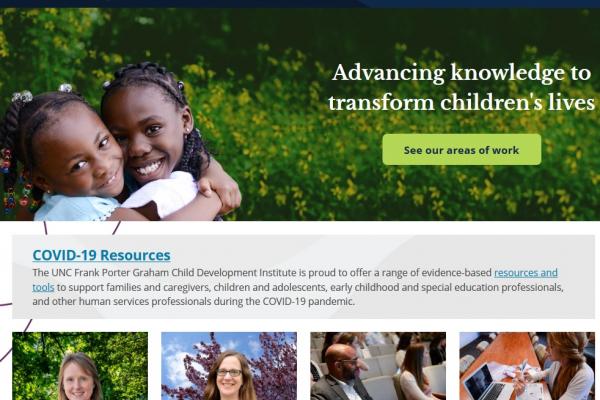 FPG launches redesigned website with better functionality and a user focus
The UNC Frank Porter Graham Child Development Institute is excited to announce a new look and feel for the Institute's website, fpg.unc.edu, after nearly a year of planning, design, development, and seamless coordination between FPG's Information Technology Services Core, and our external affairs, and communications and marketing teams.
The redesign, led by Andrea Ross, FPG's lead web developer, and Stephanie Maher Ridley, EdM, director of development and external affairs, resulted in a site that is more user-friendly and easier to navigate, responsive to mobile devices, and aligned with FPG's recent comprehensive brand strategy, which was designed to better showcase the expert, thoughtful work that takes place in every area of the Institute.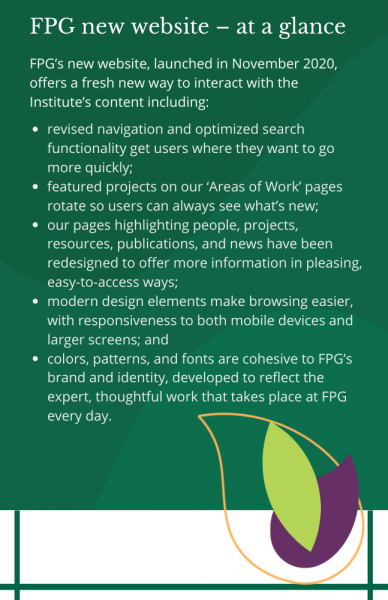 "A website redesign is a design project, a communications and writing project, and it's an IT and programming project," says Ross. "We're very fortunate that at FPG we have people in all these areas, with expert skills, in-house. We have the resources to manage a project like this, and that helped us build such a quality product much more quickly than you might when using an outside source."
Ridley says she and Ross started the process by brainstorming on what was needed for an improved user experience that focused on FPG's external audience. With new navigation, better search functionality and accessibility, more ways to feature new content, and modern design, the new site builds on the wealth of people, projects, and resources housed on the old site, while making information easier to explore and more pleasing to read.
"We knew we needed a web presence that would better serve an external audience that is interested in who we are and what we do. We had a lot of great content on the website, but we knew that much of it was hard to find," says Ridley.
In creating designs for the site, FPG Applications Specialist Julie Chin imagined a fresh and inviting look that was both clean and playful, and she used modern elements of web design that fit within FPG's brand identity and would appeal to outside users.
"We worked to highlight our new look and feel, taking advantage of the new colors in the brand guide and new design elements for a cohesive look with brand recognition. We made this a full-width design that is great for mobile, but is also responsive to larger screens, and we used high-quality photography, which gives the site its own sense of identity and enhances the quality of user experience," says Chin.
FPG Director of Communications and Marketing Katherine Fordham Neer arrived at FPG in May 2020. She says she was able to jump right in on the project because of how efficient and cohesive the redesign team worked together on an aligned vision.
"A good home base – your website – is integral to strategic communications. Anything we put out as an Institute, whether that's on social media, or from someone giving a presentation or writing an op-ed, is going to lead back to our website. This team worked to build something that really reflects the attitude of the Institute – it's approachable, it's friendly, it's engaging. In any research institute, it can get very siloed, based on the different projects that are happening, but this website brings it all together so that those who are interested in what we do can become aware of our scientists and other professionals, learn about our work, find new opportunities for research, or imagine collaborations or partnerships with us."
Also central to the work of the redesign team are Jeffrey Alpi, ITS director, Max Mayhew, web developer, and Will Shropshire, web and social media manager. To learn more about the ITS Core and the scale of services it provides to the Institute, visit https://fpg.unc.edu/about-fpg/our-cores/information-technology-services.