FPG Matchmakers Throw Professional Speed Dating Event

Instead of doe-eyed glances, tall-tales, and awkward displays of bravado, last week FPG turned the speed dating format on its head to ignite new relationships across UNC departments and the community. An FPG planning team designed "The Professional Speed Dating Event" to provide a novel opportunity to generate new collaborations.
"The speed dating format allowed time to meet several new people, have brief conversations about potential projects and ideas, and exchange contact information," said FPG scientist Kara Hume, who helped organize the event. "Essentially it offered time to light a spark in the collaborative relationship, which will lead to ongoing conversations and future work together."
FPG invited collaborators to anchor tables, and participants rotated from station to station in 20-minute shifts. Attendees also had the opportunity to connect during the "Happy Hour" of snacks at the end.
Hume said FPG's professional matchmakers asked people to come armed with business cards and ideas, as well as with "positive energy and collaborative spirit."
As opposed to regular speed dating, participants impressed each other primarily with their abilities to cooperate. One attendee characterized it as "a chance to talk to people I normally would not have a research-related conversation with."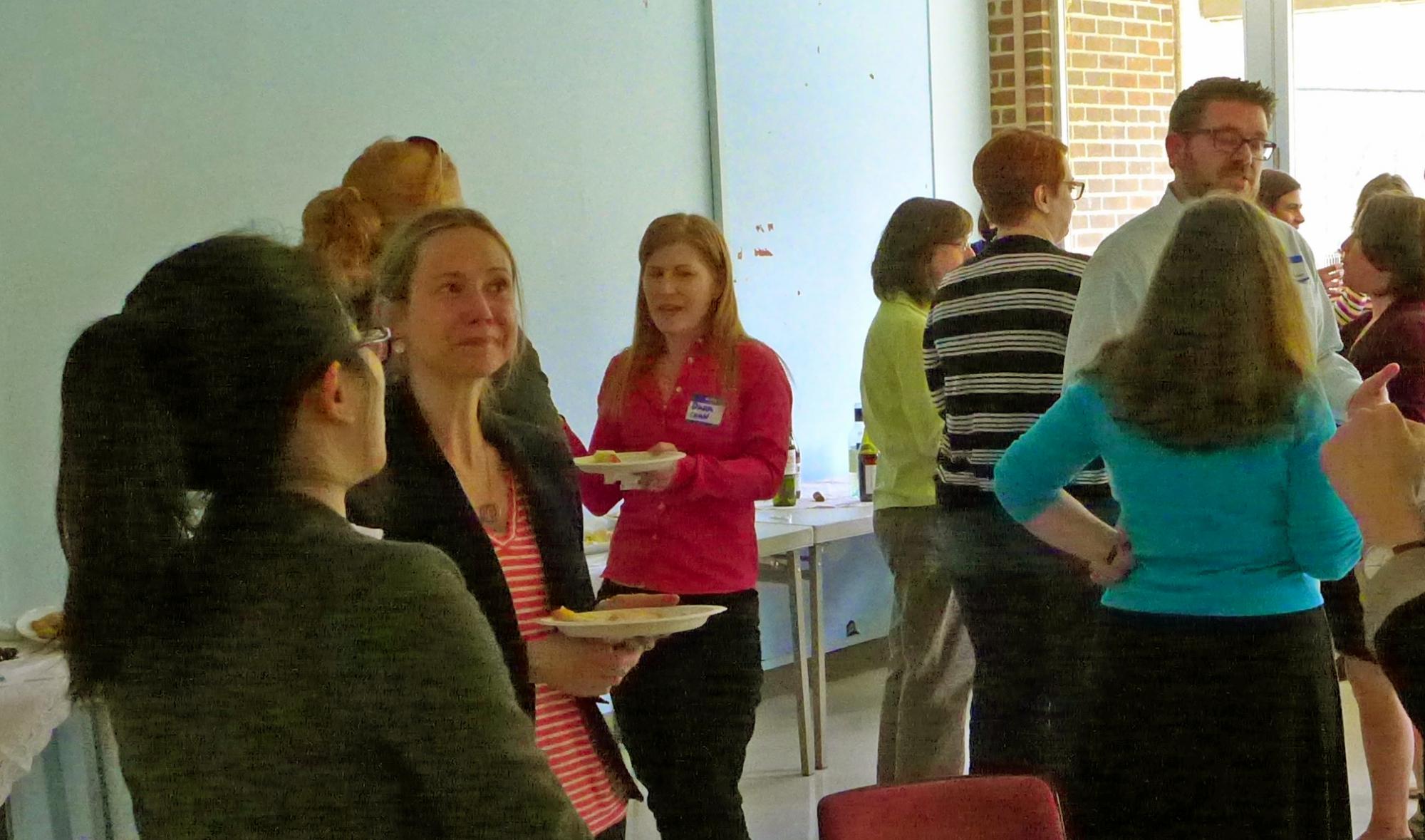 "It was great hearing about the resources and projects," said another. "Meeting in small groups of 3 to 4 helped facilitate good conversations and presented an opportunity to get to meet new colleagues."
Attendees noted the event's effectiveness in fostering useful and relevant collaborations—and they also said they planned to bring their colleagues to FPG's next Professional Speed Dating Event.
FPG celebrates its 50th anniversary this year, and associate director Desiree Murray said the event is part of a broader initiative at FPG to strengthen collaborations across the university, the local community, and other institutions.
"Events like these unite experts with common goals and interests, which we hope will lead to innovative projects that build upon FPG's long tradition of applied research," Murray said.
Attendees had the opportunity to visit with FPG director Sam Odom (top photo, far right) and other FPG experts, including Kirsten Kainz, Christina Kasprzak, and Barbara Sims, as well as with Jill Singer from the state's Division of Public Health and UNC collaborators from Allied Health, Psychology, and Social Work. 
Joining Hume in organizing the event were FPG's Kate Gallagher, Camille Catlett, and Laura Louison, as well as Murray. They might have thrown the only speed dating event after which all the phone calls were returned.
Contact
Kara Hume, Scientist
Frank Porter Graham Child Development Institute
kara.hume@unc.edu
919-843-2291
---