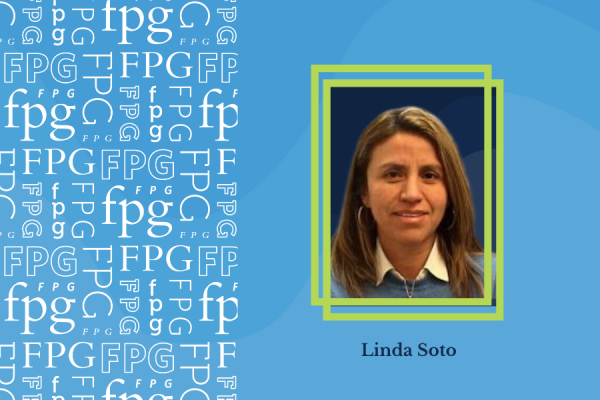 Growing up in the Eastern Plains (Llanos Orientales) of Colombia and travelling to Bogotá for her schooling, Linda Soto developed a love of education and children. After graduating high school, she spent a school year teaching children in a small rural town in her country. After receiving her college degree from The Universidad Pedagógica y Tecnológica de Colombia, Soto attended a summer program in English as a Second Language at New York's Adelphi University. She then returned home but ultimately settled in North Carolina in 1999. She joined the UNC Frank Porter Graham Child Development Institute (FPG) in 2006 as a temporary assistant, utilizing her fluency in both English and Spanish. Now, as a full-time social research assistant, she enjoys being behind the scenes, working to ensure that the Latinx community is included in FPG's research and programs.
Why did you join FPG?
I have always been involved in the Chapel Hill, Carrboro, and Chatham Hispanic communities, supporting families. I know how hard it is to participate when you come from South America or Latin America, because we come from backgrounds where there is little interaction between parents and the "professionals" in the health system and the school system. I had to learn how to become involved and advocate for my children, and then taught other parents. A woman who knew of my community work told me FPG was looking for someone who could interview Latino families for the More at Four project. I started just a few hours per week, collecting data on children. And my work has grown since then.
What does your work day include?
Now I'm a social research assistant, helping on several projects. Most of my time is committed to the Educare Learning Network Evaluation Project, led by Noreen Yazejian, PhD. I'm also involved in the Georgia Pre-K Program Evaluation Project, led by Sandra Soliday Hong, PhD. I help coordinate the production and distribution of packets of materials for recruitment and assist with translation of letters and interviews for the Spanish-speaking parents in the projects. I also review child assessment videos by local evaluation partners (LEP)—in English, Spanish or both—and give feedback.
I help with reports from our LEPs, keeping in contact and sending them materials. We work with people from Miami, Phoenix, and Kansas, who all speak different Spanish dialects. I am mindful about everyone, using standard Spanish and doing my best to find common ground. In the past, I have helped collect data for different projects, using my bilingual skills to support this work. I conduct classroom observations and child assessments, as well as interview families by phone. I play a key role in helping our researchers achieve reliability.  
What do you enjoy about working at FPG?
What I enjoy most is working with the people on my team. This team works as a family, and we take care of each other. When I interviewed for this job, my former supervisor told me, "We have a lot of problems in our daily lives; we come here to de-stress. If you feel under stress, please let me know and I will help you. We are here to enjoy this time together." And what she said is true—we work hard and put in extra time and effort when we need to, but we are always there for each other. When I finish my workday, on most days, I'm happy with what I've accomplished. There is something positive about helping someone else that makes me happy and proud.
How does your work fit into the mission of FPG?
FPG is working to be more inclusive. That's part of my role, because when people know that I speak their language, it makes them feel comfortable. Being from Colombia—bicultural and bilingual—I can use my skills to help FPG be more inclusive and to provide equity for all families. This summer, I worked at our table at the Latin American Fair in Carrboro, giving support to families in early reading. So many people stopped by to say, "hola," and were happy that I was there speaking Spanish. It's very important for the community to have connections, and with me, they have someone they can relate to, who is there to support them.