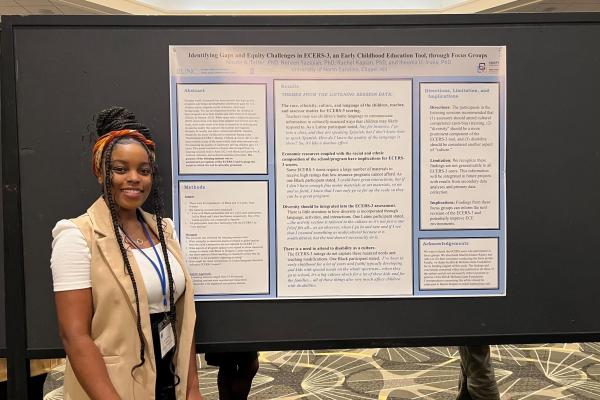 FPG researchers use focus groups to identify gaps and equity challenges in ECERS-3
Nicole Telfer, PhD, a postdoctoral scholar working with Noreen Yazejian, PhD, Rachel Kaplan, PhD, and Iheoma Iruka, PhD, at the UNC Frank Porter Graham Child Development Institute, recently presented a poster titled, "Identifying Gaps and Equity Challenges in ECERS-3, an Early Childhood Education Tool, through Focus Groups" during the Eastern Psychological Association Conference.
The poster summarizes themes that emerged from six listening sessions held with Black and Latine pre-K teachers, directors, and technical assistance providers. The purpose of the listening sessions was to understand perceptions of one of the most widely used observational tools for assessing the quality of classrooms serving children ages 3-5 years―the Early Childhood Environment Rating Scale, third edition (ECERS-3)―and to gauge the extent to which the tool is culturally grounded.
Participants responded to a collection of questions including one seeking aspects of teaching or classroom culture that the ECERS-3 is not accurately capturing or rating and another querying how the racial composition of a classroom or school might influence ECERS-3 scores. From these listening sessions, four primary themes emerged:
The race, ethnicity, culture, and language of the children, teacher, and assessor matter for ECERS-3 scoring. Teachers may use children's home language to communicated information in culturally nuanced ways that children may likely respond to.
Economic resources coupled with the racial and ethnic composition of the school/program have implications for ECERS-3 scores. Some ECERS-3 items require many materials to receive high ratings that low-resource programs cannot afford.
Diversity should be integrated into the ECERS-3 assessment. There is little attention to how diversity is incorporated through language, activities, and interactions.
here is a need to attend to disability as a culture. The ECERS-3 ratings do not capture the nuanced needs and necessary teaching modifications for children with disabilities.
Participants in the listening sessions made three recommendations:
Assessors should attend cultural competence (anti-bias) training.
Diversity should be a more prominent component of the ECERS-3 tool.
Disability should be considered another aspect of "culture" within the tool.
While Telfer and her FPG colleagues recognize the findings from these listening sessions are not generalizable to all ECERS-3 users, they plan to integrate the findings with data from future projects to help inform the next revision of the ECERS-3 and potentially improve early childhood education environments.
"We're grateful to the ECERS users who participated in our six listening sessions," says the research team, "The information we gathered from their responses and insights could help inform the next revision of ECERS, which in turn, could improve ECE environments throughout the United States."