FPG's Mary Ruth Coleman Delivers Keynote Address at 2014 NCAGT Conference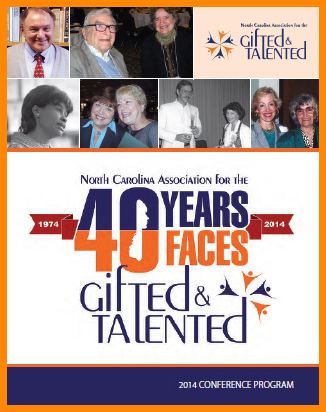 FPG Senior Scientist Retired Mary Ruth Coleman delivered the keynote address at the 40th annual conference for the North Carolina Association for the Gifted and Talented (NCAGT). Coleman presented "Growing Up Gifted in North Carolina: 40 Years, 40 Faces" when the two-day event kicked off on February 27 at the Winston-Salem Marriott & Embassy Suites Hotels. 
Marking NCAGT's 40th Anniversary, the conference celebrated the influential figures who helped shape North Carolina's gifted education history. The conference included talks by national leaders, dozens of concurrent sessions, and resources to develop more effective teaching, support, and advocacy practices. Presenters typically represent expertise across a wide variety of domains, fields, and curriculum content.
Coleman began her career as a teacher in public and private elementary schools, with both regular classroom and special education assignments. She has directed several FPG projects, including Project U-STARS~PLUS (Using Science, Talents, and Abilities to Recognize Students ~ Promoting Learning for Under-Represented Students) and Project ACCESS (Achievement in Content and Curriculum for Every Student's Success).
She was co-principal investigator for the Early Learning Disabilities Initiative, and from 1994 to 1998, with James J. Gallagher, she co-directed North Carolina's Statewide Technical Assistance for Gifted Education Center.
Coleman also has served three terms on the Board of Directors for the Association for the Gifted (TAG), including one as president, and three terms on the Board of the National Association for Gifted Children. In 2007, she was president of the Council for Exceptional Children. N.C. Governor Pat McCrory also recently appointed her to the state's Early Childhood Advisory Council.
Coleman's long list of publications includes the 13th edition of the seminal Educating Exceptional Children, with co-authors Samuel A. Kirk, James J. Gallagher, and Nicholas J. Anastasiow.
Browse the NCGAT's 40th Annual Conference Program
Contact:
Mary Ruth Coleman
UNC Frank Porter Graham Child Development Institute
maryruth.coleman@unc.edu
919.962.7375