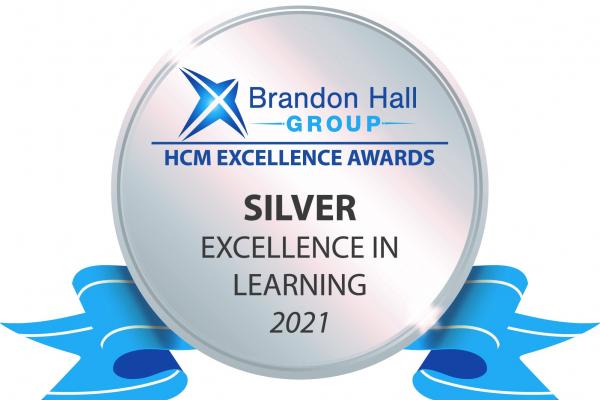 Frank Porter Graham Child Development Institute AFIRM for Paraprofessionals modules win Silver Award
The UNC Frank Porter Graham Child Development Institute (FPG) won a coveted Brandon Hall Group© 2021 Silver Award for Excellence in Learning. The AFIRM for Paraprofessionals modules earned an award for Best Advance in Custom Content.
The 2021 Brandon Hall Group HCM Excellence Awards are given for work in Learning and Development, Talent Management, Leadership Development, Talent Acquisition, Human Resources, Sales Performance, Diversity, Equity & Inclusion, and Future of Work.
The award was announced on Monday, August 23. The 2021 winners are listed at: https://www.brandonhall.com/excellenceawards/past-winners.php.
FPG's and Torrance Learning's AFIRM for Paraprofessionals modules focus on evidence-based practices for paraprofessionals supporting elementary students with autism. The modules provide interactive case examples of planning for, using, and monitoring evidence-based practices through realistic and highly interactive, virtual simulations of special education scenarios.
"Brandon Hall Group Excellence Awards in 2021 provide much-needed and well-deserved recognition to organizations that went above and beyond to support their stakeholders during the unprecedented disruption of the COVID-19 pandemic," said Brandon Hall Group COO and leader of the HCM Excellence Awards Program Rachel Cooke. "The awards provide validation of best practices in all areas of HCM at a time when they have never been more important to employers, employees, and customers."
Entries were evaluated by a panel of veteran, independent senior industry experts, Brandon Hall Group analysts and executives based upon these criteria: fit the need, design of the program, functionality, innovation, and overall measurable benefits.
Excellence Award winners are scheduled to be honored at Brandon Hall Group's HCM Excellence Conference, Feb. 1-3, 2022, at the Hilton West Palm Beach, Florida. Select winners also will serve as presenters in breakout sessions, sharing their leading practices during the conference.
"We added several awards categories this year to specifically address critical needs, including how organizations addressed the new dynamics of work and embedded the principles of diversity, equity, and inclusion in their HCM practices," Brandon Hall Group CEO Mike Cooke said. "Winning organizations in all categories demonstrated a people-centric approach while driving superior business results under challenging and unprecedented conditions. Demonstrating HCM's impact on the business is what sets our awards apart."
###
About Frank Porter Graham Child Development Institute
The UNC Frank Porter Graham Child Development Institute (FPG) is one of the nation's oldest and largest multidisciplinary centers devoted to the study of children and their families. As one of the nation's leading child development research centers, we generate scientific evidence, inform policies, and support practices to promote positive developmental and educational outcomes for children of all backgrounds and abilities from infancy to adolescence.
FPG has a particular focus on the study of vulnerable populations and those who have special needs. In addition, FPG is committed to addressing the critical issues of equity, diversity, and inclusion as well as the ways that educational inequality and barriers to inclusion impact children's wellbeing.
Approximately 280 researchers, implementation and technical assistance specialists, staff, and students work on more than 75 projects related to developmental disabilities; physical, social, and emotional health; early care and education; early intervention and special education, prevention science, and more to address important issues facing all children and families.
About TorranceLearning
TorranceLearning is a custom learning strategy, design, and development firm that creates unique online learning experiences and performance support solutions for their clients. Based in Michigan, USA, the company's team of experts designs learner-centered solutions that help drive results, combining performance-based instructional design with the rich media, interaction, and reflection that fuel learning and performance improvement. Hosts of the xAPI Learning Cohort since 2015, TorranceLearning is a leading expert on xAPI and using learning analytics to improve business impact from training and performance support.
About Brandon Hall Group
Brandon Hall Group operates the largest and longest running awards program in Human Capital Management. As an independent HCM research and analyst firm, they conduct studies in Learning and Development, Talent Management, Leadership Development, Diversity, Equity & Inclusion, Talent Acquisition, and HR/Workforce Management. These benchmark studies help organizations by providing strategic insights for executives and practitioners responsible for growth and business results.