Howard N. Lee Receives the North Carolina Award for Public Service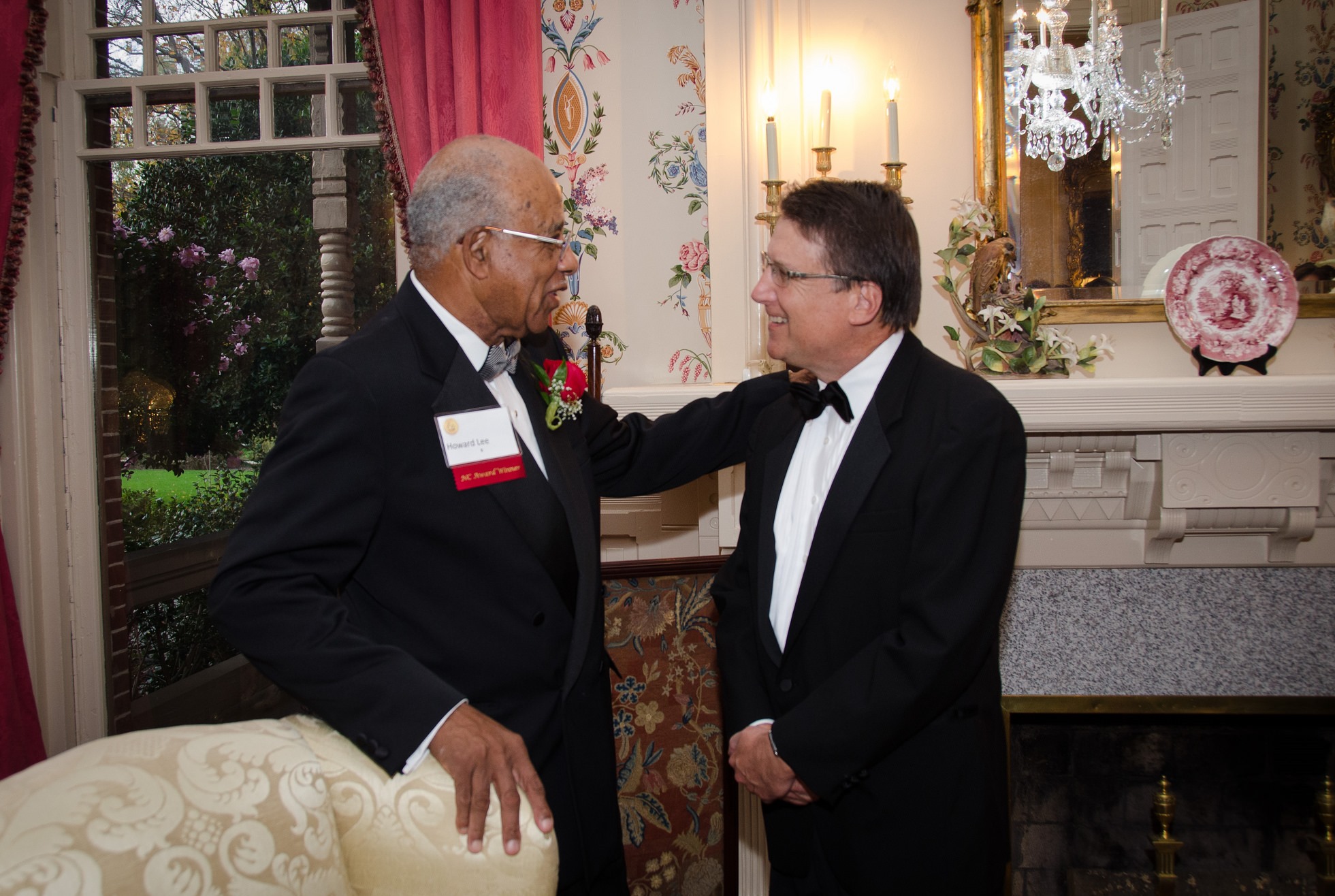 On November 12, North Carolina Governor Pat McCrory presented Howard N. Lee, longtime member of FPG's Executive Leadership Board, with the North Carolina Award for Public Service. In 1961, the N.C. General Assembly established the prize, the highest civilian award from the state of North Carolina.
The North Carolina Department of Natural and Cultural Resources (NCDNCR) administers the honor and in describing Lee's lifetime of achievements said that Lee might still be best known "as the first African-American to be elected mayor of a predominantly white southern town since reconstruction."
However, according to the NCDNCR, this was only one such important first for Lee. When he became secretary of the N.C. Department of Natural Resources and Community Development, he was the first African-American to hold the position of cabinet secretary. He also was the first African-American to chair North Carolina's State Board of Education.
The NCDNCR said Lee's biography reveals "a life-long commitment to education," noting, for instance, that "while in the state Senate [he] was co-chair of the Senate subcommittee on education policy and also of appropriations." In numerous capacities, Lee (left, with Governor McCrory) has "served the public, including creating a transit system and public housing in Chapel Hill, mentoring disadvantaged youth while employed at Duke University, managing all education reform enacted by the legislature from 1997-2000, and overseeing creation of the state's mountains-to-sea trail."
In 2011, Lee also established the Howard N. Lee Institute for Equity and Opportunity in Education. The mission statement for the Institute characterizes its primary purpose as partnering "with parents, schools, and communities to ensure at-risk middle and high school students have equitable access to high quality educational experiences and graduate from high school prepared to succeed in college, career, and life."
Since 1964, the North Carolina Award has recognized significant contributions to the state and the country in fine art, literature, public service, and science. Past recipients total over 250 luminaries and include John Hope Franklin, David Brinkley, Maya Angelou, Billy Graham, Branford Marsalis, William Friday, and James Taylor.
In addition to Lee, the 2015 award-winners are Anthony S. Abbott, Dr. Anthony Atala, Senator James T. Broyhill, Dr. A. Everette James, Jr, and Patricia McBride. The Sheraton Imperial Hotel and Convention Center in Durham was the site of this year's award gala.