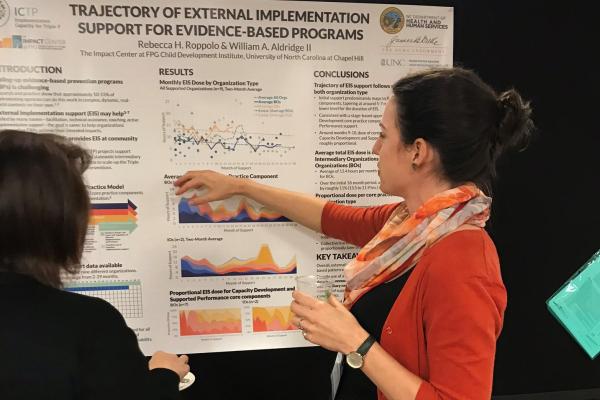 The UNC Frank Porter Graham Child Development Institute recently launched its newest unit, The Impact Center at FPG. The center focuses on catalyzing the impact of effective programs, practices, and policies with implementation science and support. Through the center's portfolio of projects, FPG team members contribute to the capacities that communities and public systems need to successfully scale effective prevention and well-being strategies.
"In developing The Impact Center at FPG, we wanted to make significant contributions to FPG's mission to transform children's lives through innovation in research, practice, and policy," said center director, Will Aldridge. "Implementation science and support offer a wealth of opportunities for ongoing learning and innovation at FPG. Additionally, offering effective implementation support to our partners in practice and policy can help them generate the kinds of impact they seek for children, families, and communities across the country."

The center has a portfolio of seven projects that are focused across public systems such as child welfare, public health, juvenile justice, and mental/behavioral health. A large part of their work nurtures public-private partnerships for wide-scale collective impact. The projects that represent the largest commitments by the center are the two Implementation Capacity for Triple P projects; the Building Bridges Initiative-Six Core Strategies project in partnership with the UNC School of Social Work; a project with the Child and Family Policy Institute of California that contributes to regional and state capacities to support local implementation of the California Child Welfare Core Practice Model; and a partnership with the RFK National Resource Center for Juvenile Justice.
How can we help system leaders and administrators apply implementation science within their local contexts to achieve better and more sustainable results?
The group's challenge was to provide an effective method of implementation support that would realistically help partners at local, regional, and state levels solve implementation problems. Their solution was to make the implementation support process a collaborative effort. Instead of acting as the authority on implementation, the group put a strong emphasis on collaborative relationships, ongoing assessment, and collective goal setting. This approach allows partners to leverage their strengths while members of the center contribute to the remaining developmental needs with implementation science and best practices. This tailored support process increases responsivity to local context and partners' needs toward sustained progress over time. Overall, the aim is to ensure that community and state partners have the resources and abilities they need for success and sustainability.
The Impact Center at FPG's resources and abilities are concentrated within three core areas.
The center's Implementation Support Core is developing core practice components for implementation support that are based on evidence and well-supported theories. As part of their work, they've developed a theory of change that integrates key concepts and processes across implementation science to guide partners toward stronger outcomes. The idea has been to move away from approaches that emphasize teaching academically oriented frameworks and theories, toward engaging community and state partners in more effective methods for learning and applying implementation science in ways that make sense for local practice and policy.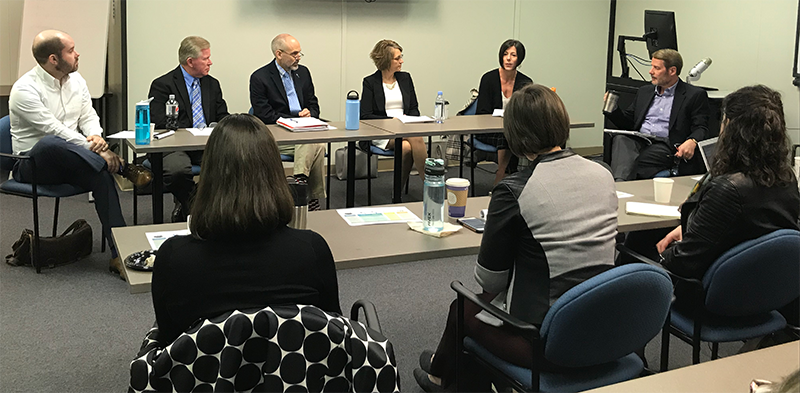 The Quality and Outcome Monitoring for Improvement Core houses the center's data, evaluation, and research activities. The center focuses these activities on using data to improve implementation processes and outcomes, which are precursors to program outcomes. One of the center's initial projects, the Triple P Implementation Evaluation, used repeated measures of community efforts to scale the Triple P system of interventions to develop several recommendations for partners across North Carolina and South Carolina aimed at implementation improvement and sustainability. This core is currently measuring the quality and outcomes of the center's implementation support activities, to allow the center's implementation specialists to learn about and improve their work with project partners in an innovative way. On the research side, the center recently used funding from the North Carolina Translational and Clinical Sciences Institute (NC TraCS) to develop a novel measure of implementation teams' abilities to effectively navigate implementation activities without dependency on external support.
The newest area of activity in the center is the Media & Networking Core which reinforces program knowledge and skills at universal levels, and shares key messages about implementation science and best practices. Activities in this core focus on mobilizing the center's research knowledge beyond providing direct support to its partners. This core focuses on identifying existing communication networks and overlays media, messaging, and communication strategies about current research in implementation science. Their goals are to create readiness and encourage behaviors that will lead to better child and family outcomes.
Advancing FPG's strategic plan and new division structure.
The Impact Center at FPG joins the National Implementation Research Network (NIRN) and the Early Childhood Technical Assistance (ECTA) Center as key FPG units heavily focusing on implementation science and support. Members of The Impact Center at FPG and NIRN anchor FPG's new Implementation Division. Robin Jenkins, associate director of The Impact Center at FPG, leads FPG's new Policy Division.
To learn more about The Impact Center at FPG, visit https://impact.fpg.unc.edu/.