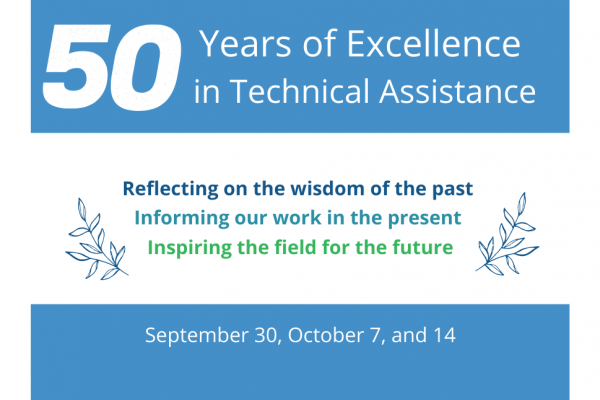 Join us in celebrating 50 years of excellence in technical assistance
The UNC Frank Porter Graham Child Development Institute (FPG) is celebrating a half-century of OSEP-funded excellence in technical assistance (TA). Join us for three 75-minute celebratory keynote presentations and panel discussions, which will take place on September 30, October 7, and October 14 from 3:00 p.m. to 4:15 p.m. (EDT), beginning with the ground-breaking work that Pascal "Pat" Trohanis started in 1971, today's TA continues to educate, support, and provide services through IDEA.
September 30: Reflecting on wisdom of the past
The keynote speaker will be Judy Heumann an American disability rights activist who is a lifelong civil rights advocate for people with disabilities. Her work with government and non-governmental organizations (NGOs), non-profits, and other disability interest groups has produced significant contributions since the 1970s to the development of human rights legislation and policies that benefit children and adults with disabilities.
October 7: Informing our work in the present
The keynote speaker will be FPG's own Jani Kozlowski, MA, who is a technical assistance (TA) specialist for the ECTA Center.
October 14: Inspiring the field for the future
The keynote speaker will be Seena Skelton, PhD, who is director of operations of the Midwest and Plains (MAP) Equity Assistance Center, where she directs the provision of equity-focused technical assistance to state and local education agencies throughout the Center's 13-state region.
Register to attend this virtual celebration: https://trohanis.fpg.unc.edu/fpg50.asp