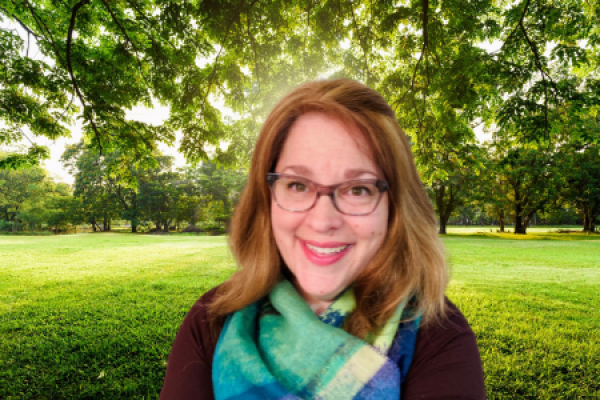 Katherine Fordham Neer Joins FPG as Director of Communications and Marketing
A UNC alumna, Katherine Fordham Neer comes to Frank Porter Graham Child Development Institute with almost 20 years of experience in communications and marketing across a range of organizations, from private companies to academic institutions, and non-profits to the fortune 500. She says her career in communications came about thanks to a mix of curiosity and serendipity (more on that below), and she couldn't be happier about that. Read on to learn more about Katherine and what she's looking forward to in the year ahead at FPG.
Tell us a bit about your background prior to coming to FPG
I went to graduate school to be a librarian, with an eye toward working in special collections, which I did in Charlotte and then at NC State University (NCSU), where I led the natural resources library as interim director. While at NCSU, I heard about an internet startup called HowStuffWorks (HSW). Soon, serendipity prevailed, and I became the corporate librarian at HSW. But within a few months, I transitioned to communications—as book reviewer, newspaper columnist, editorial director of our books projects, magazine editor, and managing editor of special editorial projects, I wrote content for both print and digital platforms, helping launch websites, blogs and podcasts, and launching social media handles and accounts to market them.
My time at HSW spanned more than a decade, during which the company joined Discovery Communications. I wore many hats throughout that time, but the common thread was storytelling. I loved distilling complex topics into engaging, compelling content to inform, entertain, and educate people around the world.
Most recently, just before joining FPG, I was a content and social media strategist for the Duke Clinical Research Institute (DCRI). There, I worked across the organization to develop and execute targeted communications and social media plans and campaigns for internal and external audiences. I managed the day-to-day content and operations of DCRI's Twitter, LinkedIn, and Facebook accounts, including analyzing metrics and optimizing performance. Essentially, I worked with content that translated medical research into stories our audiences could relate to, and I used technology to connect DCRI's stakeholders—the members of the Institute, the broader university, the research community, potential sponsors and funders, and the patients and families who are actually impacted by DCRI's research.
What made you interested in working at FPG?
My first encounter with FPG took place when I was a UNC undergrad. I appreciated the opportunity FPG gave me to interview students and teachers about bias in children's literature and was grateful that UNC had such a resource. So, when I heard about the job opportunity from a friend, I was thrilled and hopeful. I immediately saw parallels between where I was working—DCRI—and FPG. Parallels between the stakeholders my work spoke to every day. Parallels between the communications channels we use. And parallels in how a communications and marketing strategy and program would be at both institutes. Those parallels helped me picture myself at FPG, doing work I truly love, but in a different research environment—one that holds both a personal and professional interest for me.
As I was reacquainting myself with FPG during the interview process, I was drawn to reading about FPG's work related to social and emotional health and learning, and racial equity. And I'm looking forward to discovering more and learning about our other work and projects, such as the National Implementation Research Network, the Trohanis Technical Assistance Projects.
In my heart, I knew I wanted to be a part of the FPG community by helping bring awareness to the work it does to transform children's lives through innovation in research, practice, and policy.
What do you look forward to in the year ahead?
Broadly speaking, I'm looking forward to taking an integrated approach to communications and marketing, using a variety of messaging strategies and platforms to communicate the impact of FPG's work. And specifically, I'm excited to roll up my sleeves and dig in.
The beauty, and fun, of communications and marketing is that there is no one-size-fits all approach. You must think about your purpose or message and your audience, and choose the modes and strategies that work best for that particular situation, while always keeping the organization's mission, vision, values, and strategic plan in mind to help inform those choices. FPG has set a clear path for the next few years with its strategic plan, focusing on high-impact scientific areas (emphasis); cultivating and strengthening partnerships at UNC and beyond (partnerships); and improving FPG's organizational strategy, structure, and communications (culture). As the new director of communications and marketing, my focus in the year ahead will be centered around two of these three areas: partnerships and culture.
While I will be working to help cultivate and strengthen FPG's partnerships at UNC and beyond, I will be paying particular attention to creating partnerships within the FPG community. Since joining FPG a few weeks ago, I've been meeting with internal stakeholders (on Zoom!) to learn more about what they do, their goals, the messages they want to share, and the audiences/other stakeholders they're trying to reach. I've also spent a little time explaining to them how and what I do, in hopes of better equipping them to help me tell their stories. I look forward to building partnerships with and among the investigators and staff—something that is essential so that, together, we can clearly identify communications opportunities. It's through these opportunities that we will be able to shine a light on the incredible work being done at FPG, ensuring a broader awareness of the Institute as a whole, and the work of the amazing community within it.
I'm also looking forward to the launch of our new website. While a lot of work has already been done, I'm glad to be here for the final phases of this project, joining the talented and dedicated cross-functional team that's been working hard on the redesign. And I'm thrilled that I arrived just in time to initiate and manage a similar process for our intranet. Both platforms are essential to improving organizational strategy and structure and strengthening communications within and outside the Institute.