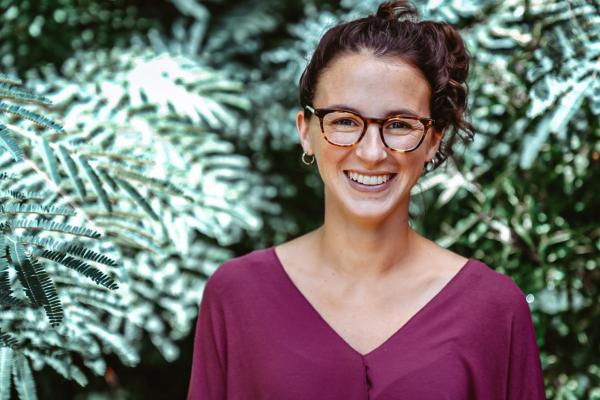 Kelsey Thompson receives 2022 James J. Gallagher Dissertation Award
Growing up in the small town of Burlington, Connecticut, Kelsey Thompson knew that she wanted a career working with children; her original plan was to become a teacher. However, the opportunity to shadow a speech pathologist during a high school career program sparked Thompson's interest in the field of speech pathology, which also met her excitement about working one-on-one with children.
In graduate school at Northeastern University, Thompson was influenced by a speech pathology professor whose specialty is pediatric feeding disorders. Thompson became fascinated by the ability to help infants with these disorders, noting the impact that nourishment has on early neurodevelopment. Her doctoral dissertation, "Introducing Solids to Preterm Infants: Support and Strategies for Families," reflects this interest.
In her doctoral research, Thompson—a doctoral candidate in the Division of Speech and Hearing Sciences in the UNC School of Medicine Department of Allied Health Sciences—examines current parent resources and strategies and subsequent infant feeding outcomes. Her goal is to develop family and provider resources to guide a successful introduction to solid foods. Her investigations have been inspired by the work she does with children and families in her private speech pathology practice, and the lack of research offering strategies to help families whose infants struggle with feeding and eating.
For her dissertation, Thompson has been awarded this year's James J. Gallagher Dissertation Award from the UNC Frank Porter Graham Child Development Institute (FPG). The award—which honors the legacy of the late Jim Gallagher, FPG director from 1970 to 1987—provides a $4,500 stipend for a work-in-progress that is reflective of Gallagher's legacy of advancing policy and practice that supports children and families. Thompson is using the funds in a variety of ways including providing stipends to the families she interviews and widely disseminating her research by publishing it through open access channels so that clinicians can access the work without facing the paywall of academic journals.
In a letter of recommendation to the award selection committee, Cara McComish, PhD, CCC-SLP, associate professor and graduate program director, MS/SLP Program—who serves as Thompson's mentor and dissertation advisor—wrote, "Kelsey is on a clear trajectory toward pursuing a position in research and higher education and will be a future leader in pediatric feeding research."
Supporting children and families is at the heart of Thompson's work. "In my research, I am marrying the parent perspective with quantitative work so that the research is meaningful to both families and clinicians and is not just research for the sake of research," she says. In her two-part dissertation, Thompson initially examines qualitative data gathered from her interviews with families. This will be followed by quantitative research during which she will analyze data collected from families of preterm infants.
She notes that the literature lacks research on encouraging families to use feeding guidelines as rules but not doctrine, since each parent knows their own baby better than anyone else. Thompson also mentions that in the literature, parents of preterm infants are encouraged to introduce solid foods according to their chronological age, instead of adjusting their age for their prematurity. As a result of feeding challenges, and the lack of information specific to preterm infants, parents may introduce solids before their infant is developmentally ready, use maladaptive strategies, or delay introduction to textures.
While these strategies are detrimental to feeding development in otherwise healthy infants, the effect of these strategies in preterm infants has not been systematically studied. The hypothesis is that misinformation, along with the stress and dynamics of navigating this transition, can lead parents to use maladaptive strategies that serve to reinforce or exacerbate infant feeding difficulties. Thompson aims to be proactive with support for families, providing them with resources before children have challenging feeding problems and the parents feel stressed. "Let's intervene early and provide them supports instead of waiting," she says. "Many parents assume they're alone in this struggle and don't bring it up to the child's pediatrician until the situation is dire."
Thompson appreciates the mentorship of FPG advanced research scientist Cathi Propper, PhD, who has guided Thompson in her complementary work examining how physiology can be used to measure feeding skills. Licensed speech-language pathologist Sallie Nowell, PhD, a research scientist at FPG, includes Thompson in a pediatric feeding research group that meets weekly to work on papers and discuss ideas and grants.
Winning the award made Thompson feel supported. "Speech pathologists get overshadowed in a big university because we're a tiny part of the system," she says. "I'm proud and excited to be able to represent the field and show the scope of the work that we do."
After receiving her doctorate in spring 2023, Thompson plans to stay in academia, hoping to be at a university that encourages faculty to maintain a clinical practice. "It's really important to keep connected to families and professionals to inform clinically applicable research," says Thompson.
If you'd like to support the James J. Gallagher Dissertation Award Fund, you can do so with a secure gift online.