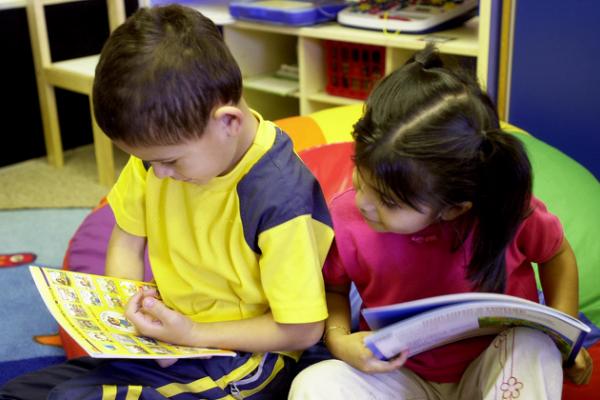 NC Pre-K Earns High Marks for Its First 15 Years
North Carolina's pre-kindergarten program has supported over 350,000 children in multiple areas of learning and development, according to a new summary report from the Frank Porter Graham Child Development Institute (FPG) at the University of North Carolina at Chapel Hill. The report says favorable outcomes from the program can last for years after children enter elementary school.
"The NC Pre-K Program has enhanced children's language development, communication skills, cognitive development, and social and emotional development," said FPG senior research scientist Ellen Peisner-Feinberg, who has led annual evaluations of the program since its inception as "More at Four" in 2001. "Not only does the program benefit children while they attend it, but its positive effects persist."
NC Pre-K is a statewide educational program for eligible 4-year-olds, primarily children whose family income does not exceed 75% of the state median. The program was designed to prepare children for kindergarten by enhancing their school readiness skills.
"Our studies have shown that children who participated in NC Pre-K have made greater than expected gains in language, literacy, math, general knowledge, and social skills through pre-k and into kindergarten," said Peisner-Feinberg.
FPG's most recent evaluation compared children who did not attend NC Pre-K to those who did. At the end of kindergarten, the children who attended the program had significantly better math skills, as well as significantly better executive function skills, a group of abilities related to self-regulation that predict children's later academic performance.
Peisner-Feinberg said the FPG team's earlier evaluations have found that some of NC Pre-K's benefits endure even longer.
"One of the hallmarks of the program is that it brings some of the greatest benefits to children who have the most to gain," she said. "Our research has shown that children from low-income homes who attended the program scored higher on third-grade reading and math End-of-Grade tests than their peers who hadn't attended the program."
Peisner-Feinberg's evaluations of NC Pre-K also have revealed strong benefits for dual-language learners, whose skills improve in both English and Spanish.
"Children with lower levels of English proficiency make gains at an even faster rate than other children in NC Pre-K," she added.  
The NC Pre-K Program primarily has served a diverse population of children from different racial and ethnic backgrounds, including a substantial number of dual-language learners. The majority of children in NC Pre-K have not previously been enrolled in a preschool program.
"Stability has been crucial to the impact of NC Pre-K," said Peisner-Feinberg. "Over time, many of the characteristics of the program have been consistent with good quality standards for early care and education practices."
FPG's summary report of the program's first 15 years notes that classroom quality steadily has been in the medium-to-high range, and teacher qualifications have been improving regularly from year to year.
"In our most recent evaluation, more than 99% of lead teachers in the NC Pre-K Program have a BA degree or above," she said. "In addition, nearly all NC Pre-K teachers in public school settings and over three-quarters in private settings have a 'B-K' license."
Peisner-Feinberg said FPG's history of bringing researched-based recommendations to NC Pre-K has helped the program maintain its quality as it has grown.
"The state has examined our evaluation findings to ensure that all children are benefiting from the program and to consider areas where they might improve practices," she explained. "It's been very positive from our perspective to see the program make such good use of our research."
The NC Department of Health and Human Services houses the Division of Child Development and Early Education (DCDEE), which administers the NC Pre-K Program. Officials report the results of FPG's evaluations to the state legislature each year.
"The evaluation results show that NC Pre-K continues to yield a high return on investment for our state—improving children's outcomes through third grade, which we know reduces later costs in grade retention and special education services," said Susan Perry-Manning, Deputy Secretary for the N.C. Department of Health and Human Services. "The Department is committed to maintaining the high quality standards that yield NC Pre-K's positive results for children, and we couldn't be more pleased that the legislature approved expansion funding for more than 1,500 additional children this school year."
read North Carolina Pre-Kindergarten Program Evaluation: Key Findings (2002-2016)
Contact
Ellen Peisner-Feinberg, Senior Research Scientist
UNC's Frank Porter Graham Child Development Institute
epeisner.feinberg@unc.edu
919.962.7354