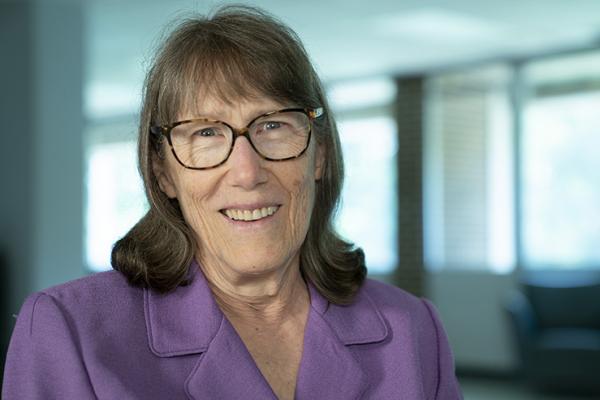 New Award Honors FPG Investigator's Longtime Support for Student Research and Mentorship
The UNC Frank Porter Graham Child Development Institute is announcing the creation of the Barbara Davis Goldman Award for Excellence in Undergraduate Research.
The newly endowed award was named after Barbara Davis Goldman, PhD, a UNC-Chapel Hill research professor in the Department of Psychology and Neuroscience, for her commitment to empowering, mentoring, and teaching Carolina's talented future investigators over her nearly four-decade career. Goldman, a senior research scientist at FPG, has played a pivotal role in bringing meaningful research experiences to many of Carolina's undergraduate students by offering the opportunity for students to experience valuable autonomy and creativity as they learn to ask important questions and seek answers.
Investing in Students
When asked about Goldman, Peter Ornstein, PhD, former director of the senior honors thesis program in the Department of Psychology and Neuroscience said, "Barbara was devoted to working with students in a variety of capacities—as assistants on her studies, as independent research students, and as honors students. In each case, she was committed to introducing students to the research process and the excitement of research. This award honors her commitment to students and serves to demonstrate that the university (and especially FPG) is committed to undergraduate research…because we all believe that students learn many important skills when they go beyond reading textbooks by learning about the research process."
The award, offered for the first time this academic year, comes with a small prize and recognizes an outstanding undergraduate student who has participated in research activities at FPG as a student completing an independent study, directed research for course credit, or an honors thesis, or as an unpaid intern or paid employee. Nominations for the award are made by the research supervisor, and selection criteria include personal initiative, productivity, and potential.
"When I was getting my undergraduate degree at Smith College, I had the idea that children needed to be able to believe in themselves to be creative. They had to find out what they were capable of and enjoy what they're doing and be proud of their 'end product'," says Goldman. "For my own year-long independent study, I read a lot, but mostly designed experiences that examined what children could accomplish if they felt free and productive. I knew they needed to 'see it' for themselves and have permission to be creative and to believe in themselves."
It was this love of research, and the joy she finds in helping others discover their passions, that led Goldman to mentor undergraduate students in her laboratories over the years.
Learning by Doing
Margot Williams, now a doctoral student in clinical psychology at University of North Texas, met Goldman during her senior year when she applied to be Goldman's undergraduate research assistant. With double majors in psychology and Spanish at Carolina, she was interested in Goldman's lab because of the opportunity to learn about language assessments for children.
"I can't speak highly enough about the impact Dr. Goldman has had on my work and career," says Williams. "The assessment and research experience I gained working for Dr. Goldman helped make me a much more competitive applicant for psychology doctoral programs, and the assessment skills I learned were a major advantage when I started graduate training. These experiences have continued to have a lasting impact on my work."
Williams says she also learned from Goldman's guidance as a mentor, which has had a powerful influence on how she now supervises undergraduates in her own program.

"She cares deeply about the people she works with and makes the effort to support them not only in their work, but also in their personal lives. The opportunity to work with her helped me find my own passions in research and was truly pivotal in my decision to pursue my doctorate in clinical psychology."
"I learn with them," says Goldman, whose enthusiasm and appreciation for her students comes through naturally in how she speaks of them. "I help them get started, and I let them know they don't have to do everything like me—they can go out on their own and explore things. They often tell me later that they were the only ones in their graduate programs who knew how to do certain things, because I had let them try new things."
Making a Difference
Goldman's research focuses on the development, assessment, and enhancement of cognitive, communication, and social skills in infants and young children, along with the impact of environmental forces such as early nutrition and early exposure to known and potential neurotoxicants. She also studies the effects of parent-child and teacher-child interactions on child outcomes.
Goldman says FPG is the perfect place for undergraduates to get research experience in areas that truly make a difference in the lives of others and that will make a difference in their own lives as future scientists, as well.
"If we really want to move forward in science, then we have to have people who are willing to take chances on themselves, and this award opens up that opportunity for our students. They can say, 'let me give this a try.' None of us are sure how something will work out at the start, but we have to try, and we can learn, and we can do better as we go along."
To make a secure gift to the Barbara Davis Goldman Award Fund, visit the University Development website.