The PDC@FPG Offers New Free Online Course on Program Transitions
"Smooth Moves: Program Transitions"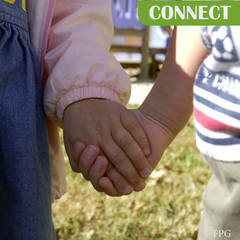 Through a new partnership between FPG's Center to Mobilize Early Childhood Knowledge (CONNECT) and Quality Assist, Inc. (QA), FPG's Professional Development Center (The PDC@FPG) is again expanding its menu of continuing education courses.
Faculty and professional development providers already have been sending learners to these free, self-guided, self-paced, online CONNECT Courses for CEU for early childhood teachers. The courses integrate Project CONNECT's subject matter with QA's interactive online learning.
The newest release is Smooth Moves: Program Transitions. Transition practices are an intentional set of activities that promote communication between sending and receiving teachers or programs, engage families in collaborative planning, and support the preparation and adjustment of children and families. This is a 5 hour course worth 0.5 CEUs.
The PDC@FPG opened last August to meet the current and future needs of administrators, faculty, researchers, evaluators, specialists, researchers, teachers, and professional development providers. At the PDC, people and organizations have opportunities to expand capacity, knowledge, and skills in areas related to child development and learning. Designed with the same rigor that FPG brings to its research and outreach, the PDC's options include: Institutes and Intensive Workshops, Online Learning, Technical Assistance Services, and Study Visits.
Contact:
Pamela J. Winton
Senior Scientist, Frank Porter Graham Child Development Institute
Principal Investigator, CONNECT: The Center to Mobilize Early Childhood Knowledge
University of North Carolina at Chapel Hill
919.966.7180
pam_winton@unc.edu
FPG grants permission to publish this story in part or in its entirety.
DS