Physical Health: Diet, Exercise, and More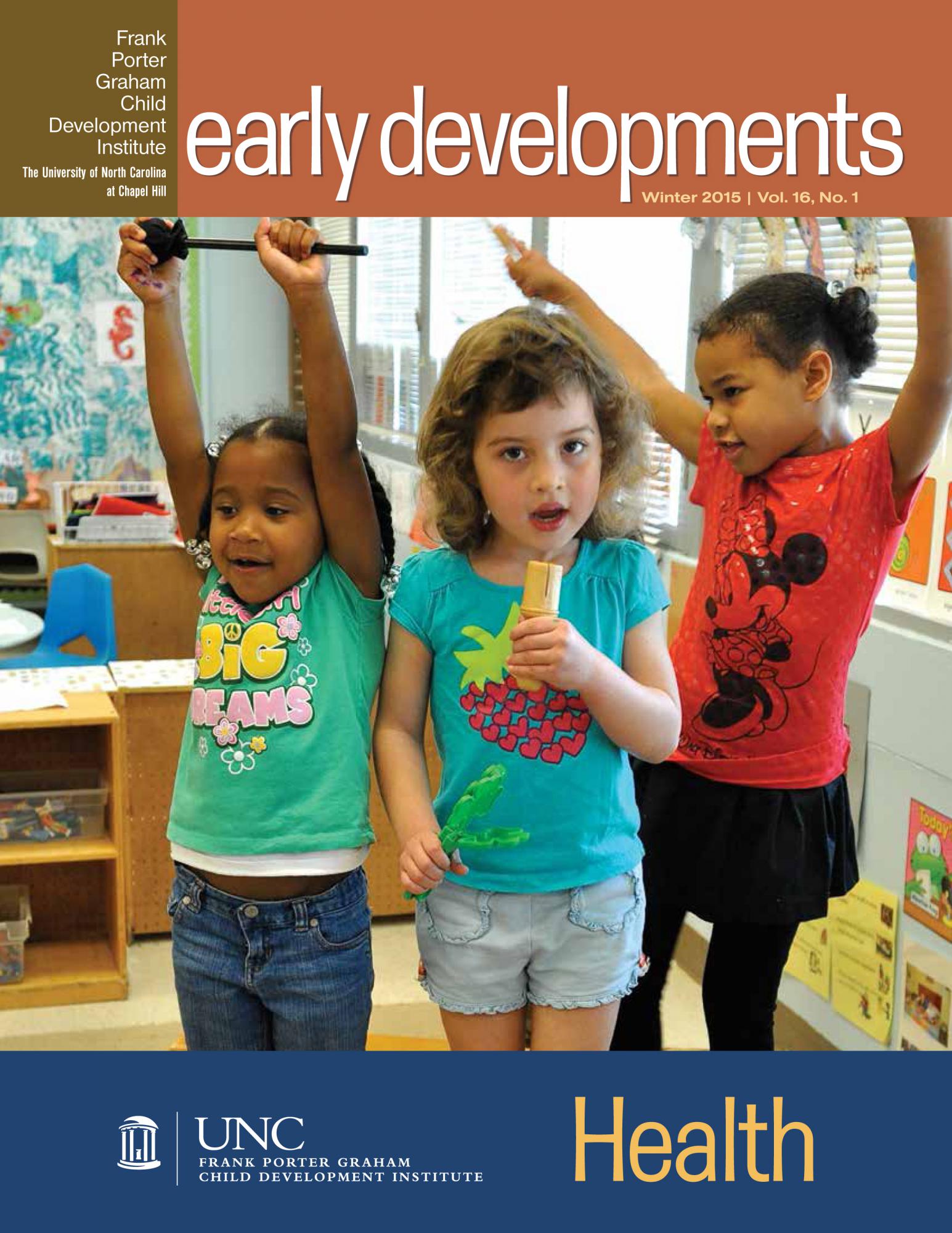 from the Winter 2015 issue of Early Developments: Health
FPG's ongoing research and service address many aspects of the physical health of children and their families.
Below are stories and snapshots of FPG's latest research, resources, and projects on physical health. As First Lady Michelle Obama's Let's Move! initiative aims to solve the problem of obesity within a generation, our first story shows how FPG stands among those at the forefront of this battle. Our second story reveals how the most famous study on early education and care is leading scientists to ask a new question: is it possible that high-quality early care in and of itself can bring a lifetime of physical health benefits?
FPG scientists also have conducted studies and supported projects on lowering children's Body Mass Index and understanding the relationships between childhood stressors and immune outcomes, as well as providing consultation for important new health programs.
Overcoming Childhood Obesity
FPG investigator Allison De Marco often plays a crucial role in projects designed to help children exercise. De Marco helped develop an innovative physical activities guide, for instance, to help North Carolina fight childhood obesity, and new research has shown that when teachers direct these physical activities, young children become more active and less sedentary.
"In the past twenty years, childhood obesity rates have skyrocketed," said De Marco. "And for the first time in over a century, children's life expectancies are declining because of increased numbers of overweight kids."
De Marco said these statistics are especially alarming because research has long shown that being overweight during childhood is associated with health issues later in life. Obesity, coupled with a lack of physical activity, can lead to coronary heart disease, hypertension, Type II diabetes, and other chronic diseases.
"About one-third of overweight preschoolers and one-half of overweight school-age children remain overweight as adults," she explained.
She also noted that studies have shown how physical activities can reduce the chances of developing obesity and chronic diseases, while positively influencing other areas of development. Childhood physical activity is related to better health, higher test scores, and fewer behavioral problems.
"But preschoolers engage in mostly sedentary activities," said De Marco. "Surprisingly, children don't just run outside and play, and even at recess, preschoolers actually are fairly inactive."
"Clearly, it's important to get children up and keep them moving," said FPG director Samuel L. Odom. He and his colleagues wanted to create a program that would include children even younger than the 3 to 5-year-olds that other physical activity programs previously tried to target.
"Child care programs can be excellent avenues for increasing children's physical activity," Odom said. "We designed our guide especially for children birth to age 5 in these settings."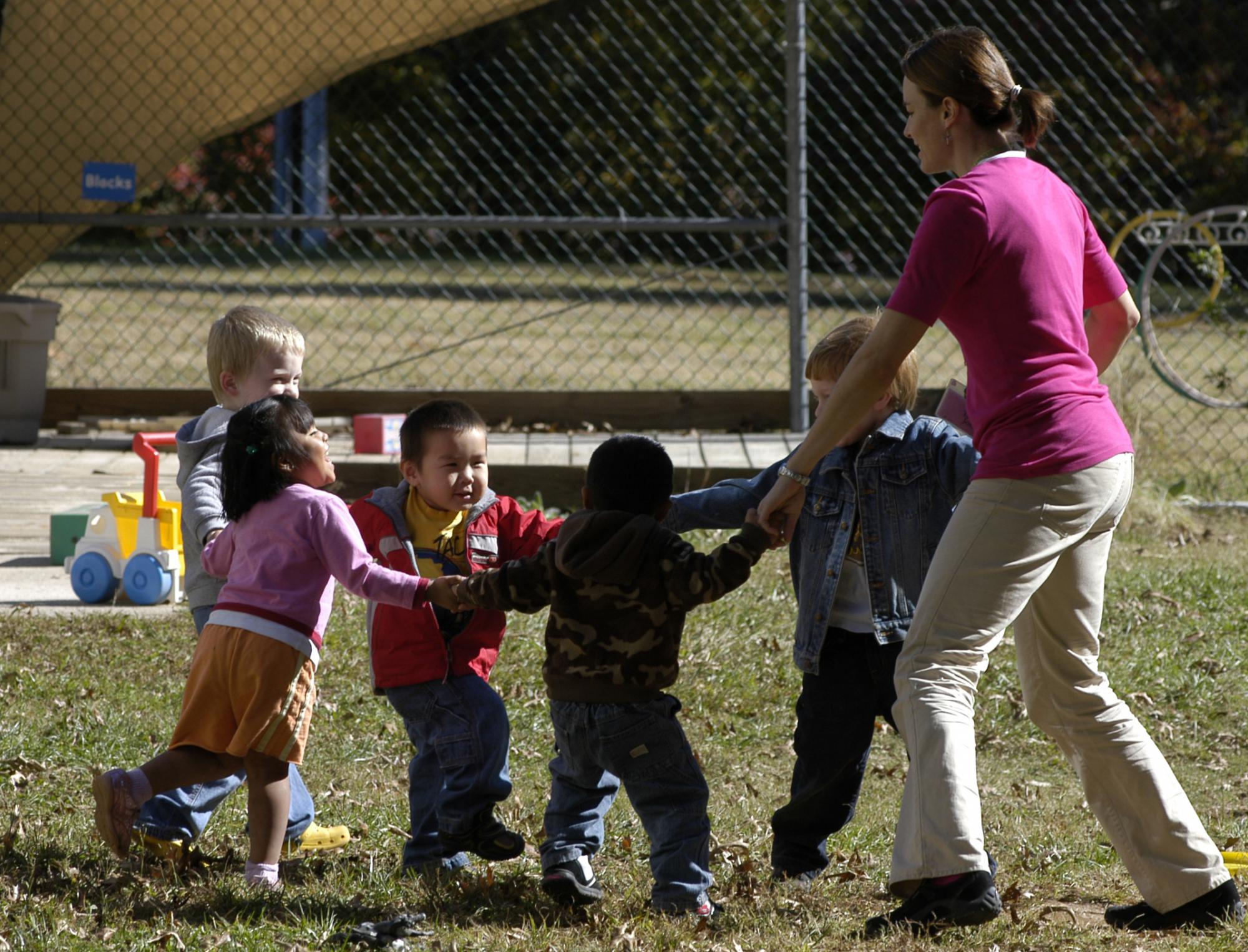 De Marco, FPG investigator Susan A. Zeisel, and Odom—with support from the Blue Cross Blue Shield of North Carolina Foundation—developed a guide for the foundation's Be Active Kids program. The guide contains dozens of age-appropriate activities, such as catching bubbles and pretending to be storks, complete with teacher instructions. In addition, teachers can incorporate other aspects of learning into the activities.
After training lead child care teachers and their assistants, the FPG team provided materials—including balls, chalk, scarves, beanbags, and hula hoops—and asked teachers to incorporate activities like "Jump for the Sky" and "Inchworm Wiggle" into their lesson plans. De Marco, Zeisel, and Odom then conducted a study of the program's effectiveness in both indoor and outdoor environments for children from six NC classrooms.
De Marco said the Be Active Kids guide works to increase activity and to decrease sedentary behaviors, and results are most striking when teachers head the activities.
"When teachers directed the activities, activity levels increased in all six classrooms," she said. "And moderate to vigorous activity increased in five of six."
Whether through "Tip Toe Through Puddles" or "Lily Pad Walk," she added, results show why child care teachers must take the lead to promote high levels of physical activities for their children.
"It was fun to see how creative they could be when working from our instructions, adapting and enhancing the activities for their own kids," she said. "Teachers are more comfortable providing activities they know are safe and developmentally appropriate."
Be Active Kids is making the physical activity guide available at no cost to child care teachers around North Carolina and beyond, offering sample activities online.
"Teachers want to promote healthier child outcomes," De Marco said. "Our work with Be Active Kids shows just how important teachers are to that process."
While the news about the Be Active Kids program was promising in North Carolina, far from the program De Marco's research was revealing a different story in kindergartens in China. Collaborating with Bi Ying Hu, Kejian Li, and Yuewen Chen on a study published last year in the International Journal of Early Childhood, De Marco looked at 174 classrooms from 91 kindergartens in the Zhejiang Province. According to the study, children had "inadequate opportunity for outdoor play, including free play, as well as low level of physical activity."
The research team also determined that the quality of outdoor play differed significantly across locations in urban and non-urban areas. For practitioners, they recommended increasing opportunities to use "a wide range of outdoor activities and to improve teachers' professional competencies in organizing quality outdoor activities for children." For policymakers in Zhejiang Province, they emphasized supporting the quality of outdoor environments so that children's play could enhance early childhood development and learning.
Currently, De Marco heads FPG's project to evaluate Shape NC, an initiative that assists communities and child care programs across North Carolina in promoting healthy eating and physical activity among the state's youngest children. By analyzing secondary data and conducting new interviews, focus groups, and web- based surveys, her team will determine Shape NC's effectiveness.
High-Quality Early Education—and Its Health Benefits 30 Years Later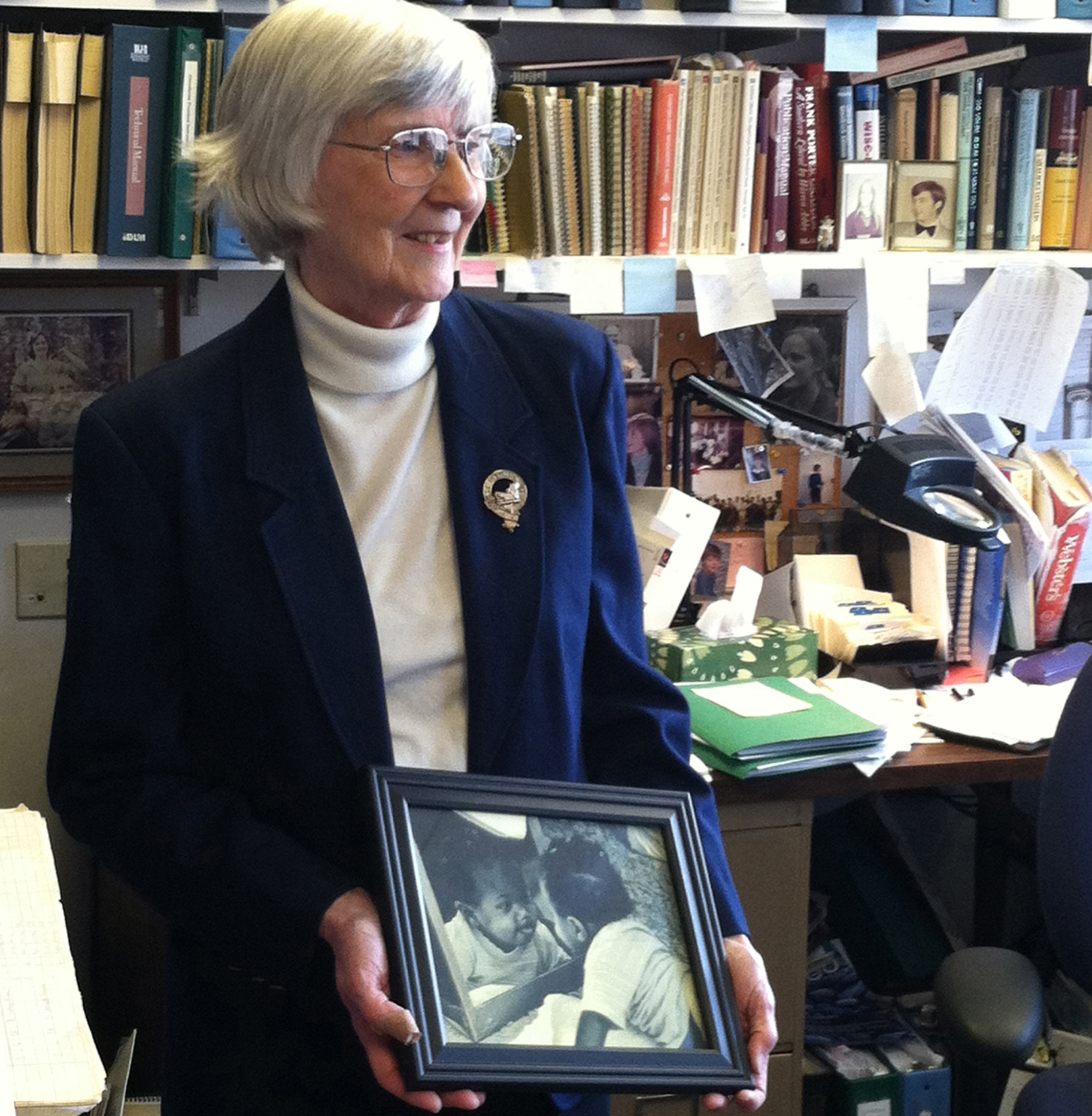 While FPG continues to conduct research and outreach designed to directly enhance the physical well-being of children and their families, this year a groundbreaking study of FPG's most famous project also determined that experiencing a high- quality early care and education setting in and of itself can bring health benefits that last for decades.
With substantial implications for health care and prevention policy, FPG scientists found that children who received high-quality early care and education in FPG's seminal Abecedarian Project from birth until age 5 were enjoying better physical health in their mid-30s than peers who did not attend the childcare-based program.
The findings appeared in Science and were the result of FPG's collaboration with scientists from the University College London and the University of Chicago, where Nobel laureate James J. Heckman spearheaded an intricate statistical analysis of data from the Abecedarian Project. Not only did FPG and Heckman's team determine that people who had received high-quality early care and education in the 1970s
through the project were healthier now—significant measures also indicated that better health is ahead for them.
"To our knowledge, this is the first time that actual biomarkers, as opposed to self-reports of illnesses, have been compared for adult individuals who took part in a randomized study of early childhood education," said Frances Campbell, FPG senior scientist and principal investigator of the Abecedarian Project's follow-up studies.
"This study breaks new ground in demonstrating the emergence of the relationship between education and health," added Craig Ramey, the original principal investigator on the project, who now serves as a professor of pediatrics and a distinguished research scholar at Virginia Tech. "It broadens our understanding of the power of high-quality early experience to change lives for the better."
The study determined that people who received early care with the Abecedarian Project had lower rates of pre-hypertension in their mid-30s than those in the control group. They also had a significantly lower risk of experiencing total coronary heart disease (CHD)—defined as both stable and unstable angina, myocardial infarction, or CHD death—within the next 10 years.
Compared to the control group, males treated in the Abecedarian Project had lower incidences of hypertension in their mid-30s. In addition, treated men less frequently exhibited combinations of both obesity and hypertension, and none exhibited the cluster of conditions known as "metabolic syndrome," which is associated with greater risk of heart disease, stroke, and diabetes.
From the start, the Abecedarian Project represented a revolutionary approach to early childhood education by providing care from early infancy and exposing children to a high- quality center for five years, instead of the shorter durations typical of other programs. Children in the treated group benefited from stable early childhood environments, which included on-site health care and nutritious meals.
They also attended full days, five days a week, year round, and they learned under the "Abecedarian Approach," an innovative curriculum that began in infancy.
"It is of particular significance that an early educational intervention produced long-term health effects," said FPG senior scientist emeritus Joseph Sparling, who co-created the Abecedarian Approach. Sparling noted the importance of the curriculum's educational content and five- year duration, which he and colleagues are now adapting and applying in Canada, Mexico, China, and Australia.
"Good health is the bedrock upon which other lifetime accomplishments rest, and without it, other gains are compromised," Campbell said. "Investing in early childhood programs has been shown to pay off in ways we did not anticipate forty years ago when the Abecedarian study was founded."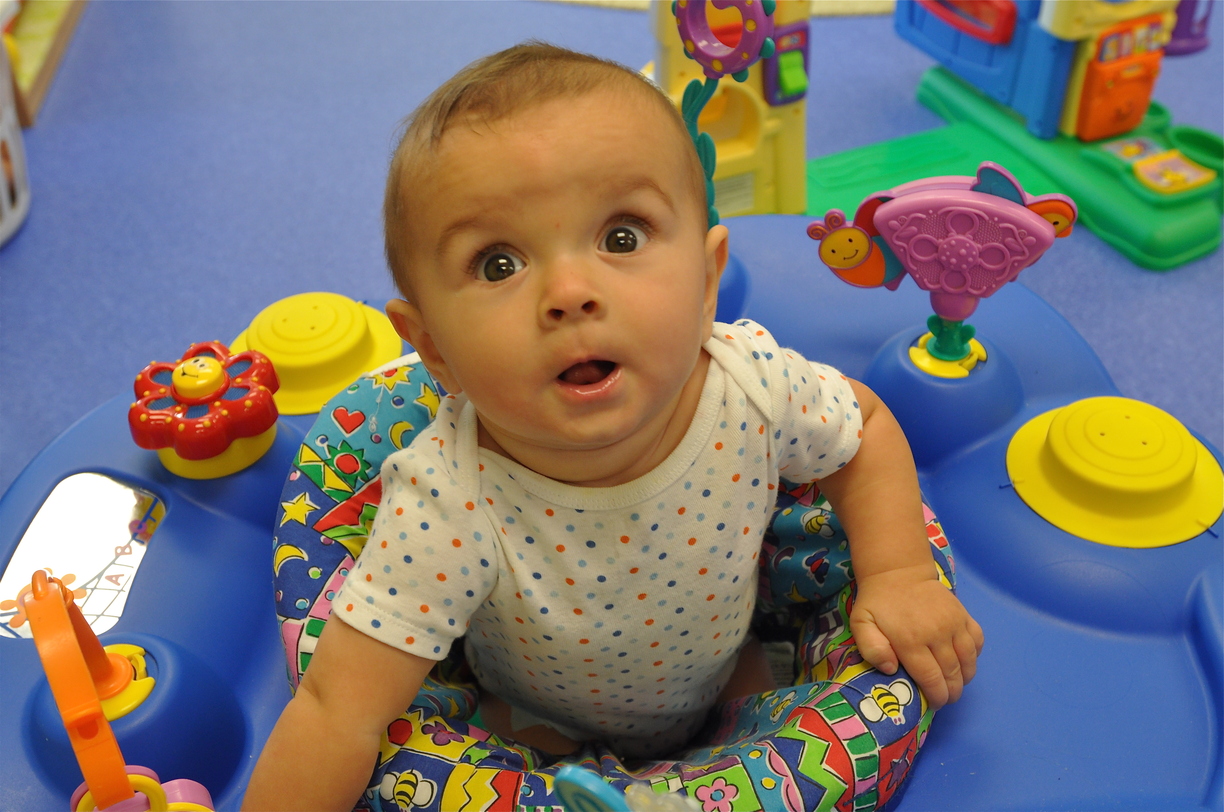 More on Physical Health
These snapshots provide a quick look at more of FPG's research, resources, and outreach on Physical Health.
How to Lower Children's Body Mass Index
FPG's Pan Yi (statistician), Nina E. Forestieri (researcher), and Jonathan B. Kotch (fellow) collaborated with scientists from several universities on a study that revealed the effectiveness of the Nutrition and Physical Activity Self Assessment for Child Care intervention. Nurse childcare health consultants delivered the intervention, and the researchers concluded it increased provider knowledge, improved center policies, and lowered BMI for enrollees in child care centers.
Flame Retardants in Breast Milk?
A new study from FPG senior scientist Barbara Goldman and a team of researchers says yes: some flame retardants do appear in breast milk and may affect young children. Polybrominated diphenyl ethers are in the environment, household dust, and humans— and are known for their detrimental effects on neurodevelopment in animals.
Stress Exposure and Immune Outcomes in Children
FPG fellow Lynne Vernon-Feagans heads a new project that will examine the associations between and among economic adversity, parent-child interactions and relationships, and children's immunological functioning in middle childhood.The project will use existing data from the Family Life Project, as well as new data, from families living in poor, rural communities.
Evaluating Smart Start's Child Care Health Consultant Project
Smart Start's Race to the Top–Early Learning Challenge Child Care Health Consultant Project utilizes health professionals to provide consultation through site visits and by telephone, promoting healthy and safe environments in child care settings in North Carolina. The project is designed to increase the percentage of children with high needs who participate in ongoing health care as part of a schedule of well child health visits, as well as to increase the percentage who are up-to-date in a schedule of well-child care and developmental screenings.
Resources Housed at FPG's Early Childhood Technical Assistance Center
The ECTA Center posts resources and links to a vast array of materials on numerous sub- jects, including a new report that summarizes research on what children need for a healthy start, as well as the positive effects of nurturing relationships, safe and secure environ ments, access to nutrition, health-promoting behaviors, and enriching early learning experiences. The report also provides policy and practice recommendations for supporting children's lifelong health.
DS