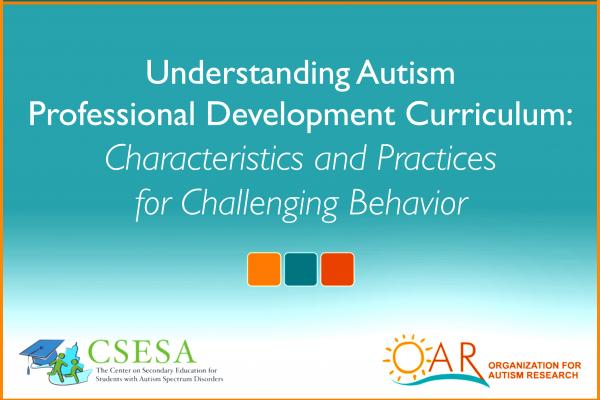 Pioneering Curriculum Supports Teachers of Students With Autism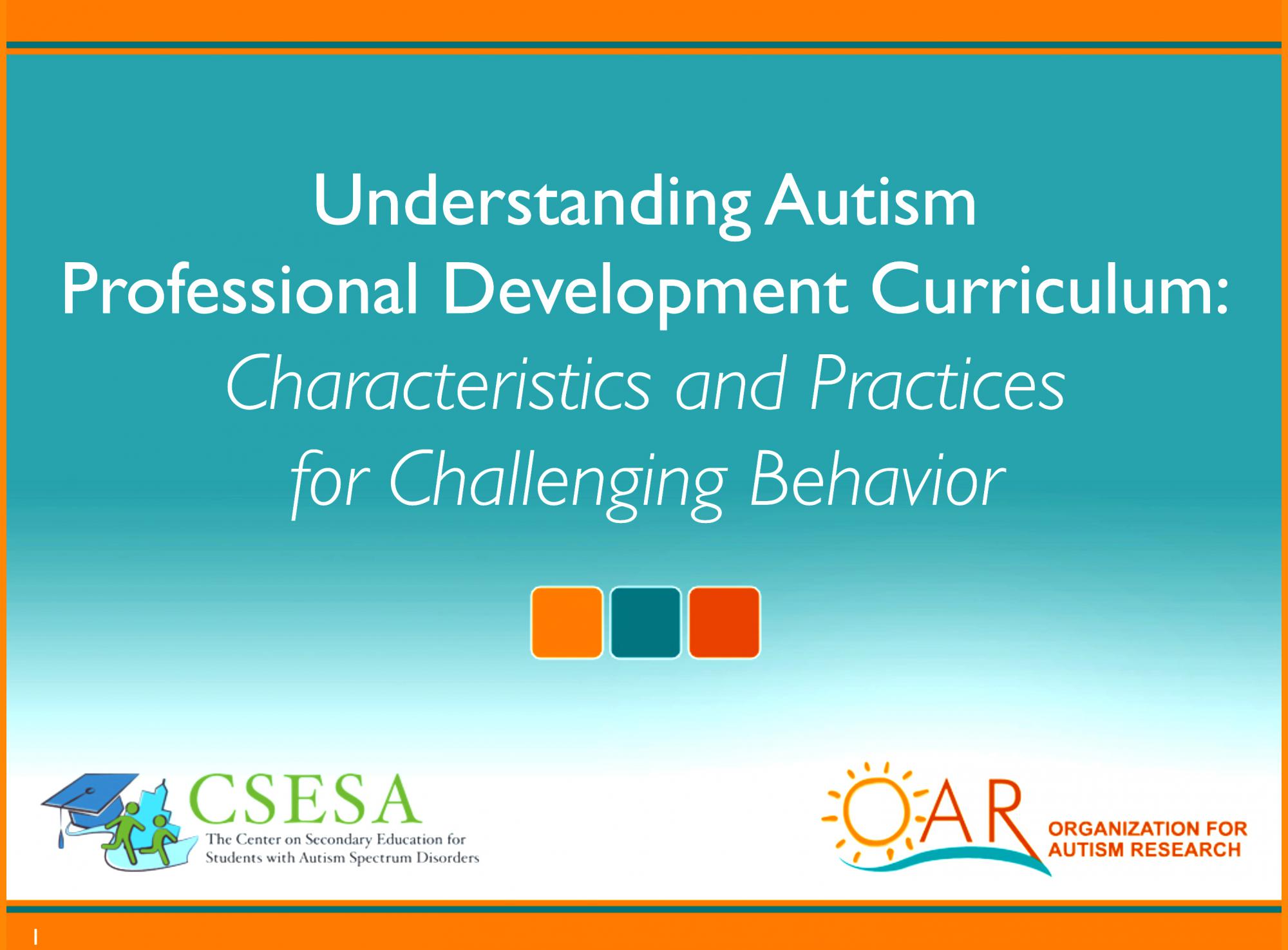 Students with autism attend school in general education classrooms more than ever before, but many teachers feel unprepared to serve them. To help meet these students' needs and appreciate their strengths, FPG's Center on Secondary Education for Students with Autism Spectrum Disorder (CSESA) has designed ready-made, flexible resources for school districts to support professional development for teachers.
Developed in partnership with the Organization for Autism Research (OAR), the Understanding Autism Professional Development Curriculum works in multiple small and large group settings, including staff meetings, in-service training, professional learning communities, and department meetings, as well as self-study and one-on-one coaching. This comprehensive tool provides middle and high school teachers with foundational knowledge and evidence-based strategies that support students with autism.
"We designed this curriculum package with the busy teacher in mind," said CSESA Investigator Suzanne Kucharczyk. "We focused on ways to help teachers think through strategies they could apply immediately in their classrooms to support students' learning."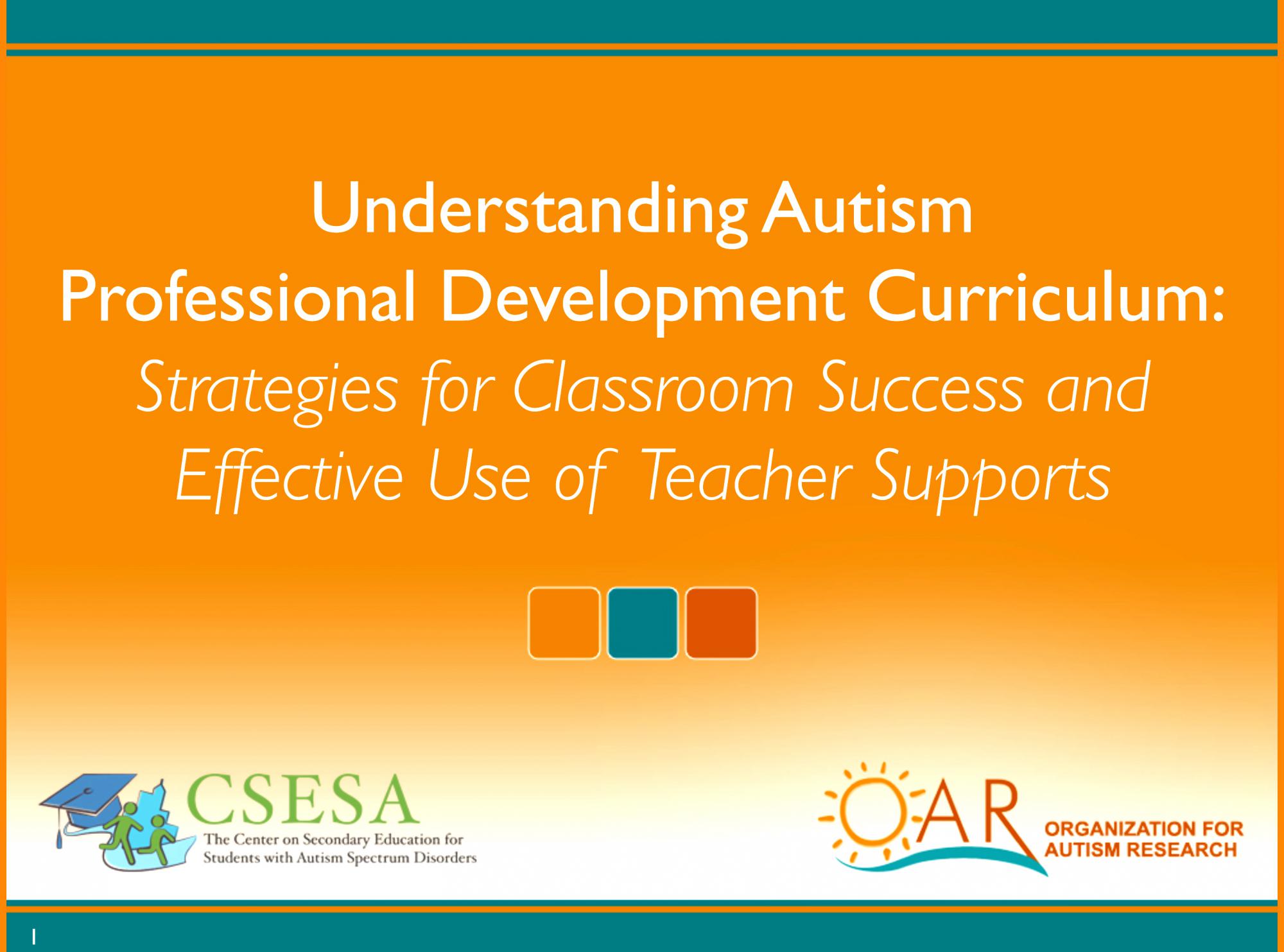 The Understanding Autism Professional Development Curriculum centers on two 75-minute presentations, which school staff can adapt to fit their schedules: Characteristics and Practices for Challenging Behavior and Strategies for Classroom Success and Effective Use of Teacher Supports. Each presentation includes video from the Understanding Autism: A Guide for Secondary School Teachers multimedia resources that CSESA and OAR released last year.
Any school or district staff familiar with autism can implement the curriculum, which comes with notes for facilitators, handouts, and activity worksheets to help participants apply learned concepts to their own classrooms.The curriculum offers insight about how autism may affect students and shows how teachers can use available resources to promote success. It also provides specific strategies, such as using visual supports, which teachers can implement easily.
Understanding Autism Professional Development Curriculum
Understanding Autism: A Guide for Secondary School Teachers
Contact
Suzanne Kucharczyk, Investigator
Center on Secondary Education for Students with Autism Spectrum Disorder
UNC's Frank Porter Graham Child Development Institute
suzanne.kucharczyk@unc.edu
919-843-6525
DS