Project CONNECT Reaches Around the Globe
Date Published:
06/23/2014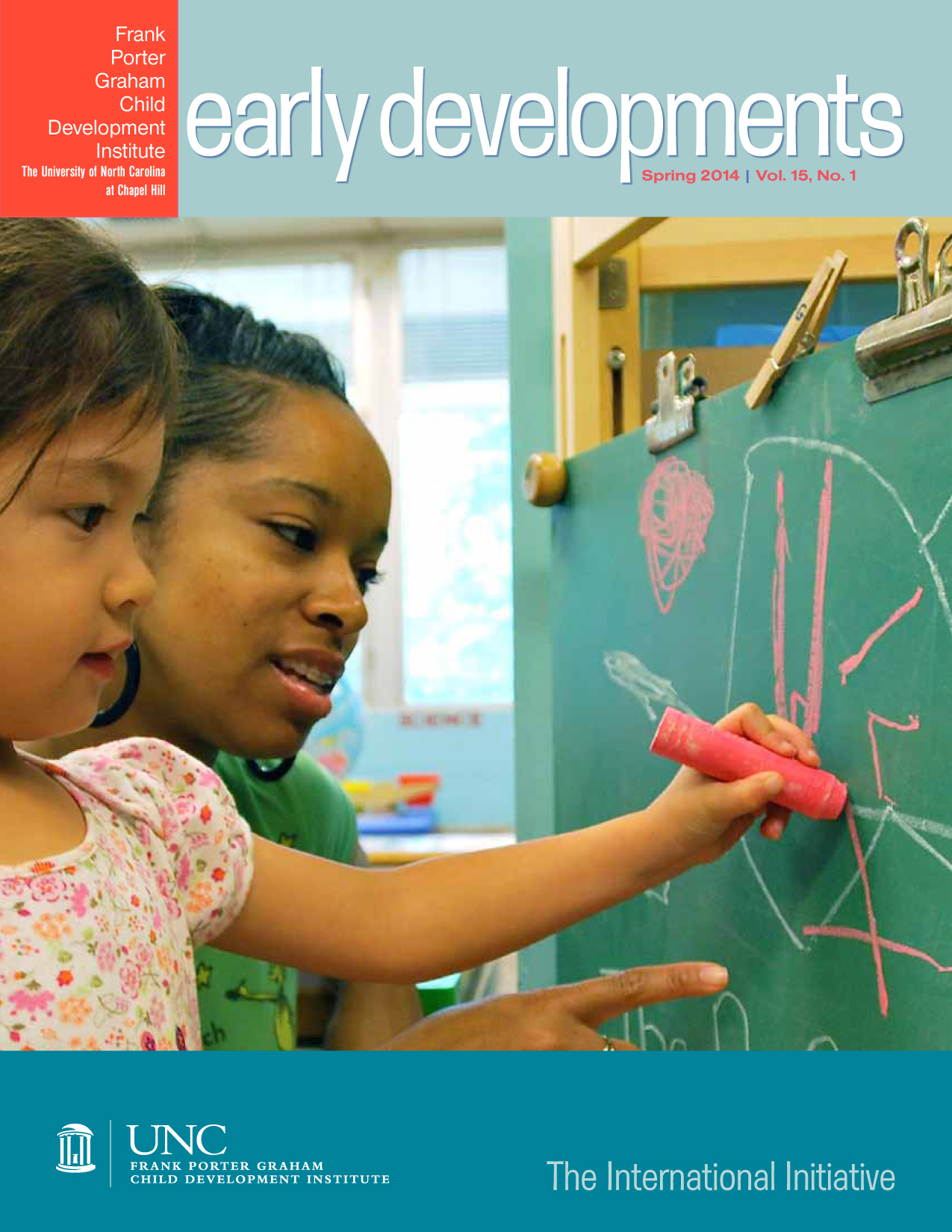 Professional Development Project Finds International Popularity
from the new issue of Early Developments
FPG has been providing free training to a rapidly growing worldwide audience, helping early childhood educators learn how to teach young children with disabilities. Since FPG's Center to Mobilize Early Childhood Knowledge (Project CONNECT) first pioneered the use of their online multimedia modules in 2010, the project has delivered cutting edge instruction to users in more than 180 countries.
For FPG senior scientist Pamela J. Winton, CONNECT's principal investigator, the popularity of the online modules was a classic case of supply and demand. "The research showed that many early childhood practitioners didn't have the confidence and skill they really needed to serve young children with disabilities," said Winton. "Early childhood teacher preparation programs often don't require any courses on working with children with disabilities—even when a program's stated mission is to prepare early interventionists and early childhood special educators."
Since many higher education programs designed to produce the next generation of teachers for classrooms with children with disabilities never actually offered professional development regarding those children, Winton and colleagues launched CONNECT. Through a partnership with the University of Kentucky and the University of Kansas and with funding from the U.S. Office of Special Education Programs, the project was born. CONNECT began developing its web-based modules on effective research-based practices in order to help faculty and professional development providers fill that vacuum of program content on children with disabilities.
Each of CONNECT's seven modules focuses on a discrete practice in a key content area and builds the capacity of early childhood practitioners for evidence-based decisions—a crucial emphasis, according to Winton. "The modules show educators how to recognize realistic problems they can solve and how to understand the importance of bringing multiple perspectives and sources of evidence to home-based and classroom situations," she said. Winton added that CONNECT also helps practitioners to identify which content is high quality and most pertinent.

Winton (left) and the CONNECT team developed the modules through ongoing feedback from faculty and other professional development providers, administrators, and families. Constant collaboration, testing, and refinement established a two-way flow of information, which Winton termed "a core value of our work." The result was instruction that came in a variety of formats—including audio and video clips, activities, handouts, and supporting resources for instructors—content that was easily adaptable to the needs of multiple audiences and contexts.
In short, that two-way flow of information helped to make for modules with built-in popularity. With a no-cost price tag for users during the federal funding period and the globe-shrinking power of the web, CONNECT's multimedia instruction has circumnavigated the planet—generating over 1.8 million page views of the modules alone.
The project's international appeal has fostered even greater demand, such as the invitation for Winton and co-principal investigator Virginia Buysse to deliver several presentations and workshops this past fall in Melbourne at Australia's inaugural National Early Childhood Inclusion Conference. Buysse (right) and project coordinator Chih-Ing Lim also have answered requests to travel to Singapore to discuss the project, with Lim having trekked to speak to IndoCare in Jakarta last year as well.

Lim (below) also recently co-authored an article in Early Childhood Education Journal on a new study of CONNECT modules, which revealed learners reported the modules were effective over and above other instructional methods.
This past year the project also developed The Foundations of Early Childhood Inclusion Training Curriculum after a request from the NC Division of Child Development and Early Learning to provide technical assistance practitioners with a state-wide curriculum to help them support child care teachers. The Foundations of Early Childhood Inclusion Training Curriculum engagingly introduces the laws, policies, and research-based practices on early childhood inclusion and includes a facilitation guide, the Foundations of Inclusion Birth to Five video, handouts, and activities. Despite the state-specific impetus for its creation, the free online content is relevant across the country.
In addition, faculty and professional development providers soon will be able to send learners to self-guided, self-paced, online CONNECT Courses for CEU, designed for early childhood teachers. These courses will integrate Project CONNECT's subject matter with interactive online learning.

With so much interest in CONNECT's user-friendly instruction, it might seem the FPG project has no limit to its audience. Who, after all, couldn't CONNECT reach?
"Technology removes many barriers," said Winton. "But not all of them."
Indeed, perhaps the largest challenge left for CONNECT is one of the oldest to face humankind: the language barrier. However, with all modules now available in Spanish, the project already has begun making significant progress in translating content for audiences at home and abroad.
In addition, CONNECT currently collaborates with FPG visiting scholar Haiying Guo, a professor of Special Education at Handan College in China's Hebei Province, and Biying Hu, a professor at the University of Macau in Taipa, to offer versions of CONNECT Modules in Chinese Mandarin. Haiying Guo's research addresses early childhood education and preschool inclusion in China, and while at FPG she has worked to adapt, translate, and tailor the modules China's cultural context. Biying Hu recently piloted the Chinese version of CONNECT's first module with a group of preschool teachers in Beijing.
Another fruitful cross-national collaboration has brought CONNECT Modules to Europe. Raquel Corval (right) was an FPG visiting scholar from Portugal, where she lectures on early intervention for the School of Education at Instituto Superior de Educacao e Ciencias, as well as serving as a team member of the school's early intervention center. During her time at FPG she translated, adapted, and implemented CONNECT Modules for her home country.
"I can see how the CONNECT Modules can fill the gap in Portugal for early childhood professionals who may not have enough skills and knowledge to respond to the everyday challenges that they face," she said during her stay in the U.S. According to Corval, new Portuguese legislation had initiated a broad-based public-private partnership for the development of the "Early Childhood Intervention National System," which planners have designed to ensure the provision of early intervention services throughout the nation.
"It certainly raised expectations amongst professionals, experts and families," Corval said. "As I worked through Module 1, I saw activities that I think will work well in the context of Portugal with some modifications."
Corval pilot tested the first CONNECT Module ("Embedded Interventions") and later received funding from Fundação Calouste Gulbenkian to do the same for the "Family-Professional Partnerships" module. She plans to pilot the family module by conducting five professional development sessions with pre-school teachers and early intervention teams.
CONNECT recently contributed to a symposium on "Improving Quality in Inclusive Early Childhood Education and Care Settings" with Portuguese scholars at the BRAGA2014 Embracing Inclusive Approaches international conference. However, Winton believes CONNECT's real power to influence lives in Portugal and other countries comes across stories like one that came out of Corval's pilot of the first module for a group of preschool teachers.
The group's final assignment was to present a personal dilemma and explain how CONNECT helped them consider evidence-based strategies. According to Corval, the CONNECT Module helped participants use insights and decision-making skills in multiple contexts for solving new dilemmas. One participant even applied CONNECT's approach in order to address a family's quandary about the lack of adaptive equipment in their neighborhood public park. Such parks, inaccessible for children with disabilities, are the norm in Portugal, but the teacher in Corval's pilot group was intent on developing a project that partnered with private investors in order to create a park that all children could enjoy.
"In the future," Corval said, "who knows if this doesn't change policies in Portugal?"
Or around the rest of the globe?
Access the Foundations of Early Childhood Inclusion Training Curriculum:
Read more about Project CONNECT
This article is adapted from the latest issue of Early Developments.
DS