Purposeful Implementation Increases Success Rates
feature article from the new issue of Early Developments
When Just Do It! Doesn't Do It:
Purposeful Implementation Increases Success Rates
Months before the tragedy at Sandy Hook Elementary School in Newtown, Connecticut, the co-directors of FPG's National Implementation Research Network (NIRN) published an article in the American Journal of Community Psychology, in which they quoted a decade-old lament from the 2001 Executive Summary of the Surgeon General's report on youth violence:
"After years of effort  and massive expenditures of public and private resources, the search for solutions to the issue of youth violence remains an enormous challenge. Some traditional as well as seemingly innovative approaches to reducing and preventing youth violence have failed to deliver on their promise."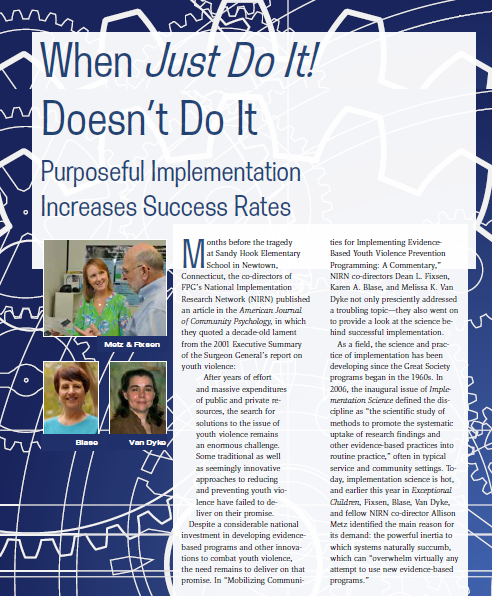 Despite a considerable national investment in developing evidence-based programs and other innovations to combat youth violence, the need remains to deliver on that promise. In "Mobilizing Communities for Implementing Evidence- Based Youth Violence Prevention Programming: A Commentary," NIRN co-directors Dean L. Fixsen, Karen A. Blase, and Melissa K. Van Dyke not only presciently addressed a troubling topic—they also went on to provide a look at the science behind successful implementation.
As a field, the science and practice of implementation has been developing since the Great Society programs began in the 1960s. In 2006, the inaugural issue of Implementation Science defined the discipline as "the scientific study of methods to promote the systematic uptake of research findings and other evidence-based practices into routine practice," often in typical service and community settings. Today, implementation science is hot, and earlier this year in Exceptional Children, Fixsen, Blase, Van Dyke, and fellow NIRN co-director Allison Metz identified the main reason for its demand: the powerful inertia to which systems naturally succumb, which can "overwhelm virtually any attempt to use new evidence-based programs."
Not surprisingly, a passive "train and hope" approach to implementation rarely succeeds in the meaningful realization of evidence-based practices. Also ineffective: implementation by laws, mandates, or regulations alone; implementation by only providing funding or incentives; implementation without changing supporting roles; and implementation solely based on the diffusion or dissemination of information.
Such strategies routinely produce only 5–15% success rates. In short, Nike's motto doesn't apply to bringing evidence-based practices to fruition; Just Do It! doesn't do it.
However, a purposeful investment in implementation can produce significantly greater gains for recipients of programs. After synthesizing years of research, Fixsen and Blase maintain that such active implementation must include five frameworks: Usable Interventions, which are effective
and well-operationalized; Implementation Teams that support the full, effective, and sustained use of effective instruction and behavior methods; Implementation Drivers, the key components of capacity that enable the success of innovations in practice and assure development of relevant competencies, necessary organization supports, and engaged leadership; Implementation Stages, which show the integrated, non-linear process of deciding to use an effective intervention and finally having it fully in place to realize the promised outcomes; and Improvement Cycles that support systematic and intentional change.
In their article on youth violence, Fixsen, Blase, and Van Dyke focused in particular on Implementation Stages and Implementation Teams for employing evidence-based practices and bridging the science-to-service divide. They first outlined the interactive, four-stage process  for successful implementation of a program or innovation:
1. The Exploration Stage begins when community members learn about potentially new solutions to persistent problems. This stage involves sharing ideas, forming groups, engaging leaders, and seeking detailed information about problems, potential solutions, and methods and resources required to implement the intervention.
2. The Installation Stage often begins while community groups still are exploring the possibility of using one or more evidence-based programs. This stage consists of securing resources to support implementation activities and support the uses of the chosen interventions in practice. The use of an evidence-based program usually requires access to implementation expertise, funding for positions and services, referral sources, attention to licensing and accreditation, space, and equipment, as well as other considerations. This stage involves selecting staff, organizing and providing initial training, and developing coaching and data routines.
3. The Initial Implementation Stage includes supporting the development of staff competencies as the staff implements the innovation, creating organization supports, enhancing leadership, and redirecting system resources to facilitate the full and effective uses of the evidence-based program. Initial Implementation is a rocky period. Everything is new to practitioners, organization managers, leaders, system units, and community members, all of whom are attempting to use the core components of the evidence-based program while creating changes in practices, organizations, and systems to accommodate and support new ways of work.
4. At the Full Implementation Stage, half or more of the practitioners begin to meet performance standards routinely. As Full Implementation is sustained for a few years, the intervention and the implementation supports become embedded. The evidence-based program is actually "in use;" funders, community members, administrators and others will expect their assessments of outcomes to show that the program has begun to bear fruit.
According to NIRN's co-directors, stage-based work is not common, and challenges occur when stages are neglected. Policies or funding practices commonly exert pressure on communities and organizations to skip stages altogether. Often, due to funding and grant processes, expectations are for programs to start at Initial Implementation with little buy-in from stakeholders or access to necessary supports and resources. In addition, funding requirements include assessing intended benefits in the first year, which often means that results reflect programs in the awkward Initial Implementation Stage. Predictably, outcomes do not meet expectations, promising programs are dropped before they are implemented, and attention turns to the next "shiny object."
In "Mobilizing Communities for Implementing Evidence-Based Youth Violence Prevention Programming: A Commentary," NIRN's co-directors championed Implementation Teams as a critical means to developing the capacity to move evidence-based programs successfully through the stages. An Implementation Team consists of skillful users of implementation methods who know interventions from a "practice point of view." They also are thoroughly engaged in continuous quality improvement cycles in all aspects of their activities. They are not necessarily new entities; current teams and structures can be repurposed to do the work of implementation.
Implementation Teams promote sustainability by serving as a continuing resource to local community groups and provider agencies to cope with staff turnover, shifts in socioeconomic and political contexts, and issues that arise when people interact. These teams also can assure the effective involvement of stakeholders.
Without Implementation Teams, the burden to utilize evidence-based programs falls on would-be practitioners and related personnel, and "Mobilizing Communities for Implementing Evidence-Based Youth Violence Prevention Programming: A Commentary" cites formidable statistics to show that do-it-yourself implementation results in only modest outcomes, but Implementation Teams improve success rates from under 15% to 80% and reduce timeframes for successful use from 17 years to 3 years.
The authors also noted that only about 20% of people and organizations may be ready to be mobilized, and creating readiness therefore is an important role for Implementation Teams. During the Exploration Stage, experienced Implementation Teams can work with individuals to form community groups, identify and nurture leaders, develop ''buy in'' for evidence-based programs, locate or provide supports for implementation, and help community groups anticipate issues they will face as the uses of the evidence-based program send ripples through organizations and systems.
In addition, Implementation Teams can be a great comfort to communities when a new evidence-based program is beginning. During Initial Implementation, efforts teeter precariously. Many implementation attempts fail within a year or two, but comfort with change increases with the presence of Implementation Teams, who know what it takes to build practitioner competencies. The teams also remain alert to changes needed in organizations to support the intervention and can help negotiate system changes in order to facilitate the work of organizations and practitioners as they fulfill new responsibilities.
Successful implementation also has other facets and complexities, and NIRN's co-directors believe that embedding the capacity for effective implementation in human services is the means of realizing the promise of evidence-based programs. Purposeful implementation is crucial, and implementation science is the field well-equipped to replace Just Do It! approaches.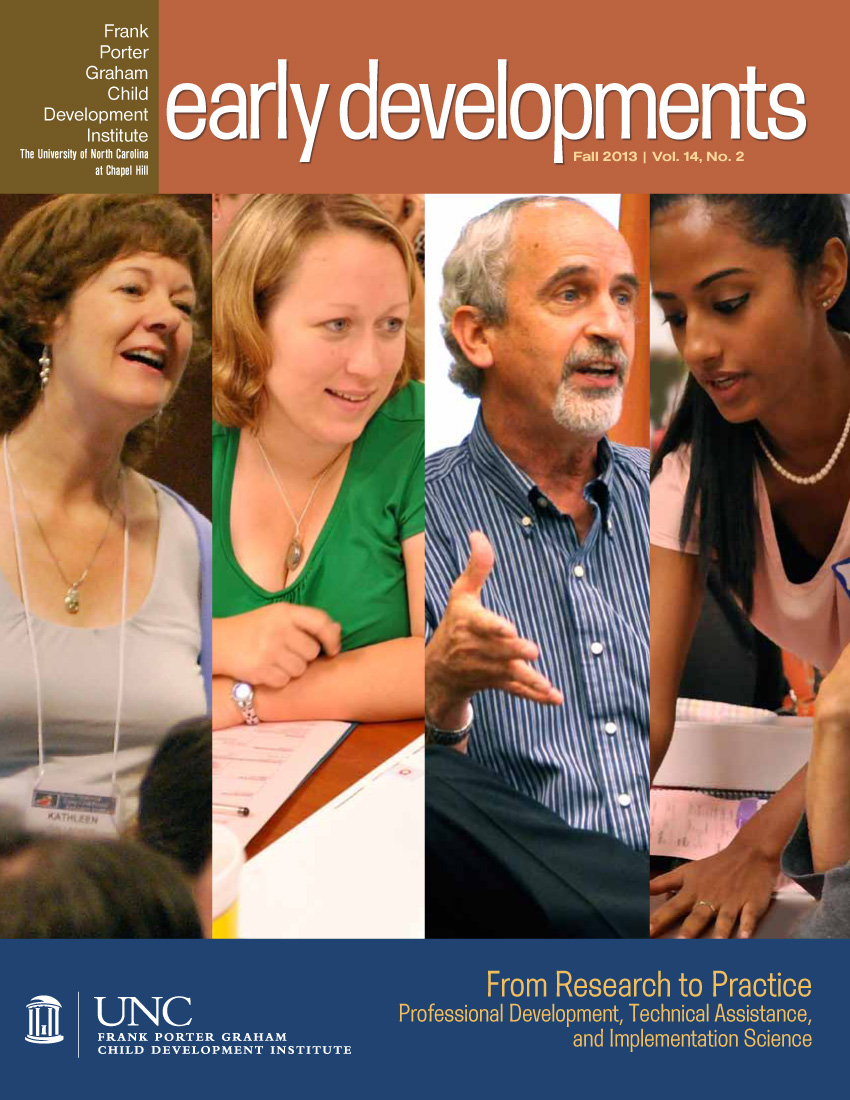 FPG's National Implementation Research Network (NIRN)
FPG's State Implementation & Scaling-up of Evidence-based Practices Center (SISEP)
This article draws upon "AI Hub Handout #1" on Active Implementation Frameworks and several journal articles. For full list of references, access the article in the latest issue of Early Developments.
Browse the contents of the new issue of Early Developments
Read and/or download the issue
DS