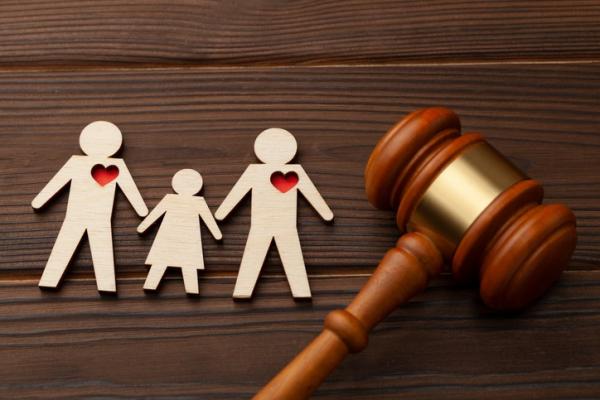 To reform juvenile justice systems, look to implementation science
Implementation science led by experts in child development can be a powerful tool for the improvement of systems that serve children, families, and communities―and this includes juvenile justice, says Robin Jenkins, PhD, the Policy Division Lead at the UNC Frank Porter Graham Child Development Institute who has spent decades working in juvenile justice and child behavioral health systems.
Juvenile justice is based in a historical culture that is hard to change, with its origins in the adult criminal justice system, which is heavily built around ideas about behavior compliance and accountability. When state leaders can infuse systems with child development knowledge, prevention science, and implementation science, they not only bring a significantly higher likelihood of better outcomes for those children and families, but they also support the safety of the public they serve.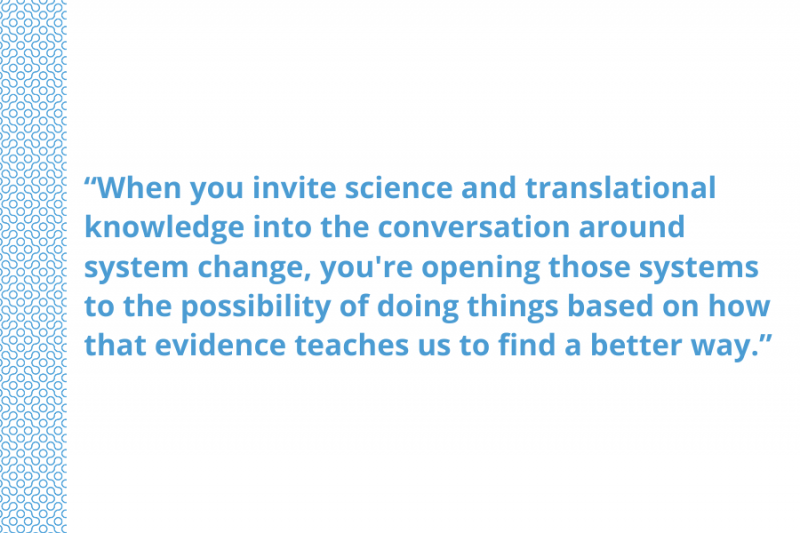 "When you invite science and translational knowledge into the conversation around system change, you're opening those systems to the possibility of doing things based on how that evidence teaches us to find a better way," he says.
Research from developmental science, trauma, and resiliency shows that children respond much better when you treat them in a developmentally appropriate way, when you build in the balance of holding them accountable and keeping the public safe, while also ensuring the resources and support they need to develop even while facing adversity.
"Their minds aren't fully developed at that age," says Jenkins. "So, when they make impulsive judgments, instead of just reaching into the punishment toolbox, you've got to understand what's driving that impulsiveness and problematic decision-making."
Over the years, Jenkins has partnered on juvenile justice reform projects funded by the Robert F. Kennedy National Resource Center for Juvenile Justice (RFKNRCJJ) and the Office of Juvenile Justice and Delinquency Prevention (OJJDP). His expertise on the use of evidence-based practices in this kind of reform has had a ripple effect. In the fall of 2018, he worked with Nebraska as one of the initial cohort sites of an RFKNRCJJ Dennis Mondoro Juvenile Justice Reform grant and met Kari Rumbaugh, Nebraska's assistant deputy administrator in their Administrative Office of the Courts and Probation, when she attended a two-day learning summit along with a team from Lancaster Co, Nebraska. Rumbaugh shared what she learned with Deb Minardi, the state administrator, who wanted to hear more from Jenkins about what could be done statewide in juvenile justice reform.
"We talked about her vision for infusing their statewide probation system, both adult and juvenile, with better evidence-based practices and implementation science at a field visit, and things evolved from there. Deb's office applied and was selected for another OJJDP-funded juvenile probation reform grant―this one involving the entire state of Nebraska. That work kicks off in June 2021 for a three-year project cycle."
Jenkins and Renee Boothroyd, PhD, are the principal investigator and senior implementation scientist on this project, which is designed to advance state level juvenile justice systems in Nebraska toward the adoption and delivery of evidence-supported practices stemming from a full system review, recommended modifications, capacity building where needed (or desired), and enhanced performance of chosen reforms.
Sometimes leaders don't realize that implementation is already happening as soon as they begin asking themselves questions about policies, programs, or practices they'd like to put in place or change, Jenkins says. But Rumbaugh and Minardi understood the importance of having implementation scientists at the table as strategic thought partners to help them think through their ideas and saw how this partnership could make their projects even stronger and more impactful.
To inspire others to think through this lens, Minardi invited Jenkins to give a keynote lecture at Nebraska's 2021 statewide probation spring management meeting for the entire statewide administrative and management team for adult and juvenile criminal justice system. Mindardi and her leadership team have been out front in advocating for, and adopting, various evidence-informed leadership, coaching, and other practices.
In his talk, "Leaders' Roles in Ensuring Successful Systems and Program Outcomes in the Changing Justice Landscape: How Use of Evidence Influences Positive Change," Jenkins led attendees through the basics of how implementation science and organization improvement work can dramatically improve systems.
"It's a way of thinking strategically about how you change policy, practices, or programs in a very organized way tailoring frameworks and strategies to local context," says Jenkins. "Does this fit? Are we ready? What is the culture and climate we need in our organization to do this work right now? These are all implementation-informed questions, so having an implementation practitioner at the table helps you think through your readiness to do the work and then design a support system to do the work well."
All across FPG, investigators are working with partners that now see this as an essential ingredient in work that transforms lives. When it comes to inspiring those who work in juvenile justice reform to seek this benefit from implementation science, Jenkins says it has been a matter of "being in the right place at the right time."
Says Jenkins, "At FPG, we think about child development from the prenatal period through adulthood. The juvenile justice and child welfare systems are very much a part of that equation. We should be applying science just as earnestly, and with just as much rigor, to those systems as we are early education, childcare, and all the other things we are known for."