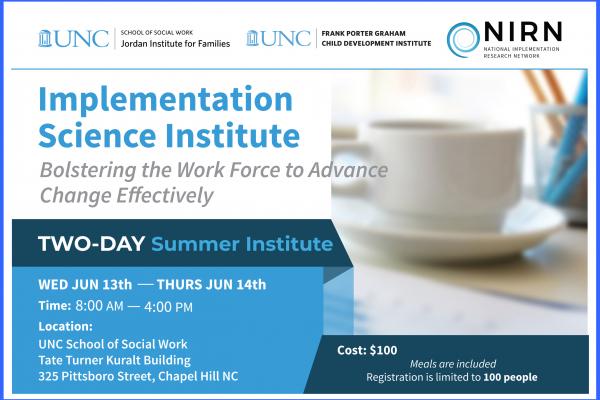 Registration Opens for Summer Institute: "Bolstering the Work Force to Advance Change Effectively"
A new two-day Summer Institute will provide foundational knowledge of implementation science and build professional and graduate students' knowledge, skills, and strategies for supporting change using implementation best practices. Bolstering the Work Force to Advance Change Effectively will orient participants to the skills and competencies of implementation practice and foster the development of skills necessary to support the use of evidence in practice.
As the field of implementation science has grown significantly over the last decade with the proliferation of frameworks, models, and theories, there is mounting interest in building the capacity of professionals in social services and public health to make use of this emerging science to support sustainable practice and systems improvements. This interest has led to an intensifying conversation regarding the need to train researchers and practitioners in implementation science.
The Jordan Institute for Families at the UNC School of Social Work, the UNC Frank Porter Graham Child Development Institute (FPG), and FPG's National Implementation Research Network are co-hosting the two-day event on June 13th and 14th in Chapel Hill. Presenters and facilitators include FPG implementation science experts Allison Metz, Laura Louison, Oscar Fleming, Caryn Ward, Audrey Loper, and Byron Powell.